A Full Day of Medibles by A True Edible Enthusiast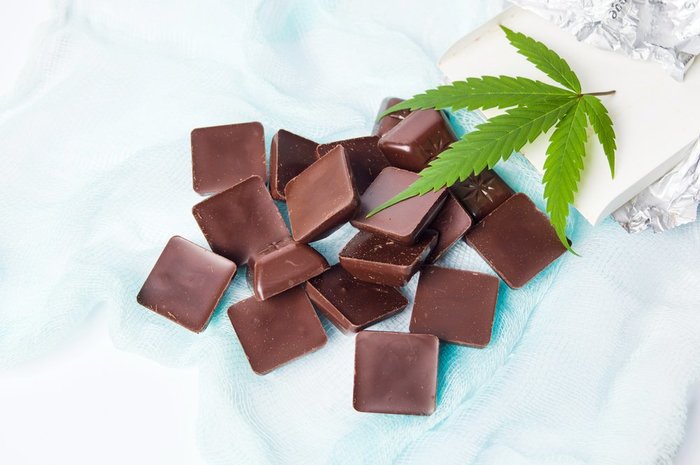 I love to eat. That much is obvious. I don't care what it is or where it comes from; if I can put it in my mouth, it's going in my stomach. I also love smoking marijuana. It helped me to be less anxious about everyones opinions of me, and after so many years of struggling with an eating disorder, I've found something to stimulate my appetite and allow me to disregard my own harsh perceptions of my body.
These are the reasons I've become an edible enthusiast. Food and marijuana go together like peanut butter and jelly. Medibles eliminate the munchies, which is great news because you're satisfying the need to feed as you get high. Cooking is pretty therapeutic for me, and I quickly took an interest in making my own edibles about a year ago. I can whip up a full day's worth of edibles (including snacks!) that are balanced, relatively healthy and (if I do say so myself) delicious. It's my goal today to share with you some of my edible recipes so that you too can experience what an amazing Saturday you can create for yourself with a few simple ingredients and the motivation to spend an entire day relaxing harder than you've ever relaxed before.
To make everything listed, you'll need to start with your two basic building blocks – Cannabutter and Cannabis oil. Both of these are easy to make, although they do require a lot of flower to produce THC rich medibles.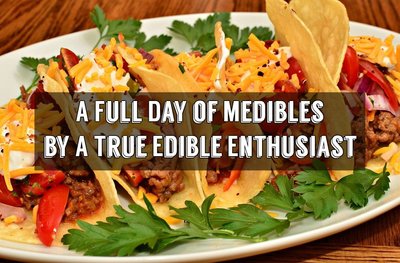 1. Cannabutter
This is a really quick recipe, but to avoid any headaches or loss, be sure to monitor your butter. Don't leave it on the stove for two hours and pray for the best. Take it from me, the most devastating moment is burning the butter and ruining the flower. Also, I recommend using salted butter because it has a higher smoke point. This just means that your butter can cook at a higher temperature for longer as you separate the THC from the flower.
What you'll need:
– 1 cup butter
– 1/2 cup ground cannabis
– Fine mesh strainer
– A container
(This is an easy ratio too, so if you need more or less cannabutter, scale it as needed!)
How to do it:
– Melt the butter in a saucepan on low heat
– Toss in your buds and simmer for 45 minutes, stirring often
– Set your container in the sink and use a fine mesh strainer to separate the butter from the cannabis, cover, and refrigerate.
2. Cannabis Oil
Note: Be careful with oil! My face still bares the scar of one unfortunate water/oil incident.
What you'll need:
– Slow cooker
– Cheesecloth lined strainer
– 1 oz of REALLY frosty trim, OR 1/2 ounce of ground cannabis
– 1 cup of cooking oil (I always use vegetable)
– 3 cups of water
(Why water? Science. Using water ensures the cannabis will never reach a higher temperature than the boiling point of 212 degrees)
How to do it:
– Throw all of the ingredients in the slow cooker and cook on low for about 5 hours
– Be sure to top off the slow cooker as the water evaporates to ensure there's always about 3 cups of water inside
– Pour the contents of the slow cooker into the cheesecloth.
– Once cooled, squeeze every drop of liquid into a container and chill
– The oil will separate from the water, so use a spoon or a gravy boat to separate and preserve the oil
– Strain through the cheesecloth once more to remove any remaining cannabis from the oil
– Enjoy!
Now that you've got the basics, here's a full day of balanced cannabis infused recipes to enjoy!
1. Breakfast:
Baked (pun intended) Cannabis French Toast
(Start this recipe the night before, since it needs to rest overnight in order to blend your flavors and THC for the next morning)
What you'll need:
– French bread
– 2 tbsp regular butter
– 3 tbsp cannabutter
– 4 eggs
– 1 cup of milk (trust me, don't use skim.)
– 1/4 cup sugar
– 3 tbsp maple syrup
– 1 tsp vanilla extract
– 1/2 tsp cinnamon
– 1/2 tsp salt
How to do it:
– Use the regular butter to grease up a 9×13 baking pan (You will have extra)
– Cut the french bread into slices at least 3/4″ thick
– Mix the butters together and spread over one side of the bread slices and put them in the pan butter side up
– Whisk eggs, sugar, salt, vanilla, cinnamon, milk and syrup and pour into the bread pan
– Cover and refrigerate overnight
– Preheat the oven to 350
– Bake for 40-45 minutes or until tops of bread are golden brown
– Dust with powdered sugar, serve, and stuff your face.
2. Lunch:
Mary Jane's Jamaican Jerk Chicken and Mashed Potatoes
(Like I said, healthy and delicious!)
For the chicken –
What you'll need:
– Chicken parts of your choosing – Breasts, thighs, wings… It doesn't matter.
– Storebought Jerk marinade (I use Walkerswood Jerk paste, you can find it at Walmart)
– Honey
– Cannabis oil
How to do it:
– Heat your grill to 350-400 degrees, OR preheat your oven to 350
– Mix equal parts cannabis oil and honey with a jerk marinade
– Toss your chicken parts in the marinade and chill until your grill or oven is heated completely, OR about 30 minutes
– Cook on the grill until they reach an internal temperature of 165 degrees OR place on a baking sheet and bake for about 50-60 minutes.
For the potatoes –
What you'll need:
– 1/2 c Cannabis butter
– 4 large potatoes
– 1 tsp minced garlic
– 1/2 c sour cream OR 1/4 c milk
– salt and pepper to taste
– Fresh parsley
How to do it:
– Peel the potatoes and boil until soft
– Drain excess water and return potatoes to a medium sized bowl
– Add garlic, milk or sour cream, parsley, salt, pepper, and cannabis butter and mix
– Eat it. Eat all of it.
3. Afternoon snack
Ganja Guac
(The best thing you'll never remember)
What you'll need:
– 3 mashed avocados
– 1 small serrano chile
– Lime Juice to taste
– 1/2 cup red onion (Pick a size, any size)
– 3 tbsp Cilantro
– 1 tsp minced garlic
– 1 tsp cannabis oil
How to do it:
-Take a potato masher and pound all those goodie together
– Serve with corn chips
– Cover and chill leftovers
4. Dinner
Tacos
(You won't taste the cannabis butter, but you'll definitely feel it!)
What you'll need:
– Flour tortillas
– Cannabutter
– 1 lb ground beef
– Store bought taco seasoning packet
– 1/4c water
– Fresh Cilantro
– Cheddar cheese
– Tomatoes
– Lettuce
– Sour cream
– Onions (optional, if you're into that)
How to do it:
– Preheat oven to 350 degrees
– Prepare taco meat according to seasoning instructions
– Spread cannabutter on the tortillas and place on a baking sheet, butter side up.
– Scoop meat and cheese onto the tortillas, and bake in the oven until your cheese melts
– Pull them out and add cilantro, tomatoes, sour cream, onion, and lettuce
– PRO TIP: add some of that leftover guacamole from earlier for an out of body experience
– Eat those bad boys with a side of rice or beans
5. Dessert
The Ultimate Cannabis Cupcakes
What you'll need:
– Storebought cake mix of your choosing
– Eggs
– Cannabis oil
– Water
– Paper baking cups
– Storebought frosting of your choosing
How to do it:
– Prepare the cake mix as detailed in the instructions, substituting regular oil for your cannabis oil.
– PRO TIP: For an ultra moist and delectable cake, blend all ingredients one at a time. (ex. add water to cake mix, blend with electric mixer. Then add eggs and blend again until mixed thoroughly, etc.)
– Bake according to instructions
– When they're finished, allow to cool on a wire rack for 20 minutes before icing.
So there it is. A ton of tried and true edible recipes that are sure to couch lock you all day long! don't forget that when it comes to cooking, nothing is set in stone. Try my recipes, and feel free to tweak them as you see fit. I know what works for me, and it's your job to figure out what works for you! Do you have any recipes to share? Let us know in the comments section below.
by Nicole Flanigan