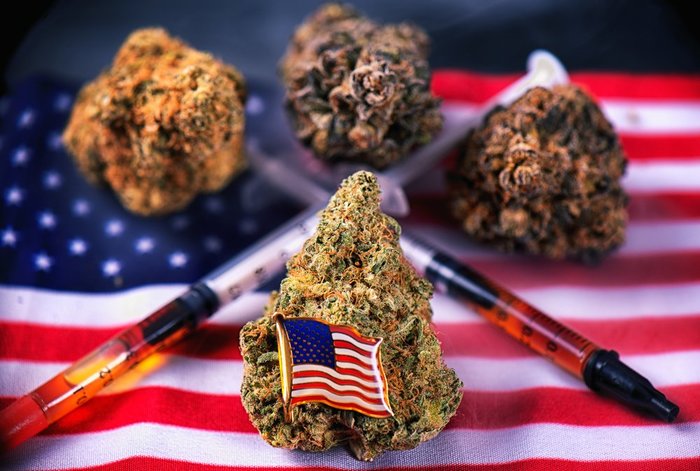 When you think of the 4th of July, the first things to pop into your mind are probably fireworks, family, friends, and summery July 4th festivities. These common Independence Day celebrations are a ton of fun, especially when mixed with weed! Imagine the night sky, filled with colorful displays of fireworks — now imagine those fireworks if you were as high as a kite off weed! If you're a cannabis lover, then every aspect of July 4th can be improved with weed.
But with such a special occasion, how can you possibly choose the best strain for the job? Do you go with your personal favorite, the suggestion of a dispensary worker, or do you find a whole new strain just for the day? Well, Leafbuyer is here to help with any strain selection difficulties by providing this comprehensive 4th of July strains guide.
Looking to add some green to your red, white, and blue this 4th of July? Check out our 4th of July cannabis deals!
For any stoner out there looking to celebrate American Independence Day with a special high, look no further than this blog. We have indicas, sativas, and all the hybrids in-between. And all you have to do is read up and get ready for the best 4th of July high you've ever ha

!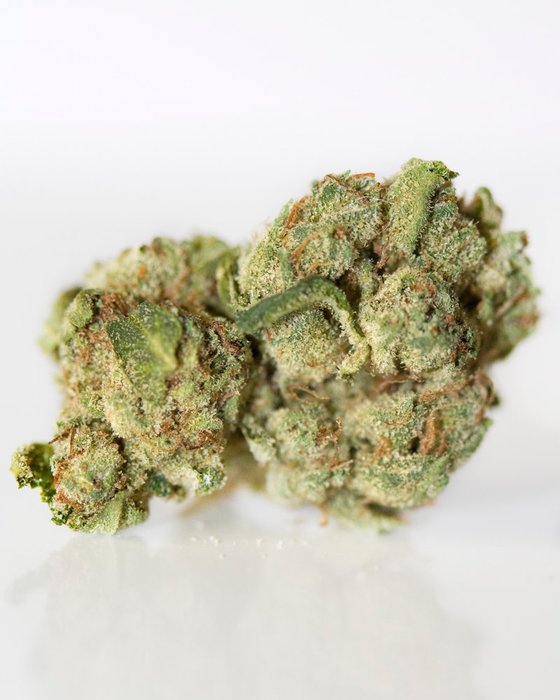 Big Bang, as the name probably suggests, boasts a hard-hitting weed high that may not be good for beginners. A mix between Northern Lights, Skunk, and El Nino, Big Bang boasts a high THC percentage great for hardcore or experienced cannabis consumers. Anyone who enjoys a strong stone should definitely consider this potent strain for their 4th of July excursion.
Consumers of this strain report euphoria, relaxation, and even a focusing element (especially with creative pursuits). So flip some burgers and smoke a little Big Bang to make any 4th of July experience exciting!
Along the same explosive line as the previous 4th of July strain, Blue Dynamite is the perfect weed to smoke this Independence Day! Another indica-dominant hybrid, Blue Dynamite packs a potent punch with a THC percentage of almost 20 percent. A cross between Avalon and Dynamite, this strain is known for being tasty, easy to grow, and relaxing beyond measure.
If you're the kind of person who finds even minor holidays stressful, Blue Dynamite might be the strain for you! You can enjoy Blue Dynamite alone or with friends so long as you do, in fact, enjoy it. Whichever way you decide to spend the 4th of July this year (or the years after that), getting high off some Blue Dynamite could improve the overall mood of the festivities. Just don't overindulge in this indica-dominant weed since you may end up drifting to sleep before dessert, and that would be a tragedy!
Named after the former President of the United States himself, Obama Kush is a perfectly balanced hybrid you won't regret as your weed of choice this July 4th. Not only is the name of this strain very apt for the occasion, consumers report it also comes with a fantastic array of side effects to improve your mood (no matter the event)!
Consumers of this strain report Obama Kush as being an incredibly positive strain with mood-enhancing effects. The worst side effect this hybrid strain has is a bit of consumer-reported paranoia. Either way, with a THC percentage of around 18 percent, this strain is a great middle ground for newcomers to cannabis and hardcore connoisseurs alike! So, just sit back, relax, and take in the creative and mood uplifting side effects of the famous weed strain, Obama Kush, this Independence Day. Nothing says 'murica quite like weed named after a president, after all!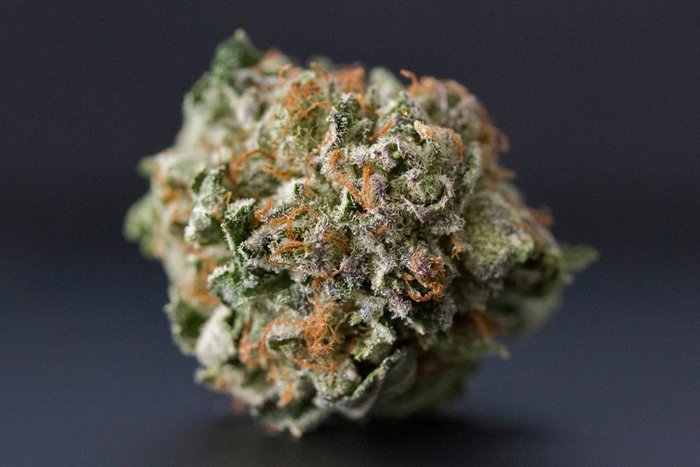 Along the same note as the previous strain, Presidential OG Kush is perfect for any politically moderate cannabis consumer out there looking for a non-offensive 4th of July presidential homage. Not only does the name of this strain go over well with most 4th of July celebrations, Presidential OG Kush also boasts a THC content well over 20 percent! This means that this indica-dominant hybrid is well worth its money since it packs a more than potent punch.
Save your hard-earned cash by buying yourself a 4th of July strain with a stronger high than your average strain – after all, the less you smoke the better off your lungs will feel by the end of the day! You can enjoy this child of OG Kush for the consumer-reported effects of euphoria and deep body relaxation, or just smoke it for the earthy, sweet, and piney terpene profile. No matter where you're spending this July 4, make sure to pack some Presidential OG Kush to improve the day.
You can't celebrate 4th of July with weed without thinking about red, white, and blue – lucky for you, we start our three-part strain homage to the American flag with Red Headed Stranger. This strain has become more popular recently due to its increased CBD ratio (at least compared to other highly psychoactive strains).
While in previous years, strains boasting a higher CBD content may have proven less popular than their THC-only cousins, Red Headed Stranger is flying off the shelves as consumers come to enjoy the effects of a strain high in both CBD and THC! If you're planning to wake and bake for Independence Day, Red Headed Stranger's reported effects of uplifting and creative euphoria might be the best match on the market. So, don't skip Red Headed Stranger in your red, white, and blue weed-smoking tribute on this years' most American holiday.

True Blue, from the same breeders as Blueberry, is a Blueberry variant popular for its well-known weed lineage. The middle man in this red, white, and blue weed strain trifecta, True Blue fills all the hybrid requirements to be labeled a truly wonderful strain for all occasions.
Consumers report a distinct lavender flavor profile, inherited from the characteristic lavender tones on the mother plant's genetic terpene makeup. The THC percentage of True Blue clocks in at around 17 percent, marking it as a high (but not distinctly high) psychoactive strain. This relatively mid-range dosage makes True Blue the perfect strain for toeing the line between too high and not high enough. Aficionados of ambling around public venues while high as a kite off of weed should definitely consider taking an Independence Day meander with this strain for a true hybrid experience. If you're looking to feel generally happy and uplifted this 4th of July, consider trying out some True Blue for all the best parts of Blueberry wrapped into a single patriotic cannabis strain!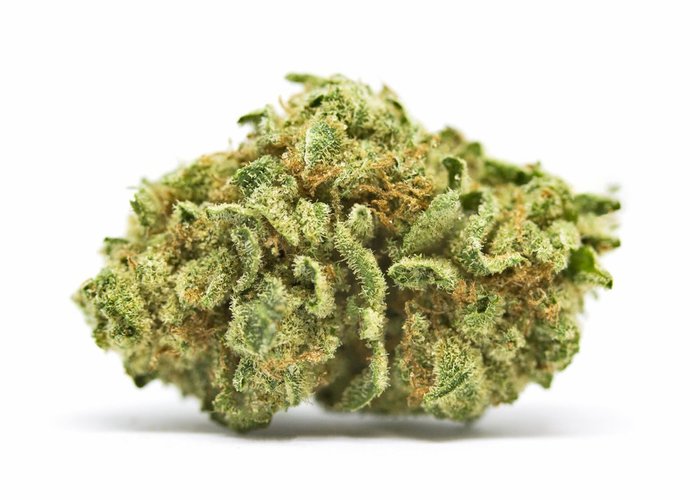 White '99 completes the red, white, and blue 4th of July weed strain theme with a potent sativa-dominant hybrid. Bred from Cinderella '99 and The White, White '99 is the perfect combination of sativa and indica strains. This results in a high that consumers report as being strong, creative, and uplifting. If your 4th of July celebrations include fireworks, food, or any combination thereof, White '99 will bring an essential stoner element to the holiday experience. Just don't overindulge in this potent strain since the THC percentage on White '99 can sometimes run all the way up to 24 percent. Being baked around 4th of July fireworks is fun but being too baked around 4th of July fireworks is an entirely different experience. Better to be safe than sorry!
Americans celebrate the 4th of July in so many different ways, but with cannabis legalization sweeping the nation, weed is bound to become a welcome addition in many U.S. Independence Day parties. Soon you'll be at some party, eating apple pie, drinking a beer, and watching a good ol' American sunset filled with fireworks while enjoying a joint, edible, bowl, or whatever crazy cannabis product tickles your fancy. Nothing can improve a stoner's holiday quite like a celebratory strain, which is why Leafbuyer gives you this 4th of July strain guide – now all you stoners can rest easy knowing exactly what you're smoking for the 4th! All that's left to do is smoke some weed, check out your local dispensary, and kick your heels until you can finally indulge in one of these special 4th of July strains!
So, check out all the best weed strains, products, and more for your holiday celebrations this July 4! With so many great deals, it's hard to come home empty-handed. And, after all, what stoner doesn't appreciate a little weed on Independence Day?
The content on this site is for reference purposes and is not intended to be a substitute for advice given by a health-care physician, pharmacist, or other licensed health-care professional. Click here to read the full disclaimer.