Spring is right around the corner, but it's still a good idea to discuss the best winter strains, especially here in Colorado, where it isn't uncommon to experience blizzards all the way through the month of May.
The winter solstice may have ended on December 21st, but don't start breaking out that patio furniture and your summer shorts just yet! Soon enough it'll be pretty cold and snowy, or at the very least, some icy rain will be coming over those mountains, which makes now a great time to consider the best medicinal (and of course, recreational) strains to help you get through the winter weather and everything that may come with it.
First, Let's Define The Criteria
Before we begin, we should probably ask ourselves what exactly makes for a good winter strain. We all know that the winter season and cold weather has an adverse effect on people for all sorts of reasons. The seasonal depression kicks in when you're stuck inside all the time and it gets kind of gloomy.
The winter blues quite frankly suck. The combination of forced hibernation can also bring on claustrophobia, depression, anxiety, and social anxiety. All of these cause a sort of stir-crazy state of being, and cabin fever is nothing to joke about.
The winter season, and even the time in between the brunt of winter and spring where it's nice enough outside to enjoy, but still a little too chilly can be pretty hard on the millions of Americans who suffer from SAD, also known as Seasonal Affective Disorder, which is a legitimate medically backed depressive disorder that hits people hardest at the same time of the year, typically (you guessed it!) in the winter time.
Aside from that, all of them in and out of warmth to cold causes your immune system to weaken, which makes you more susceptible and more likely to get sick, which also isn't fun.
A good winter strain should be able to combat the double doozy of cabin fever and SAD, as well as be a nice smooth smoke, in case you still need to medicate with a scratchy throat and a fever. Here's our list of the strains that can help pot patients all winter long, all across North America. Winter doesn't have to be so gloomy. These strains will help keep your head clear and also keep those winter blues from affecting you at all.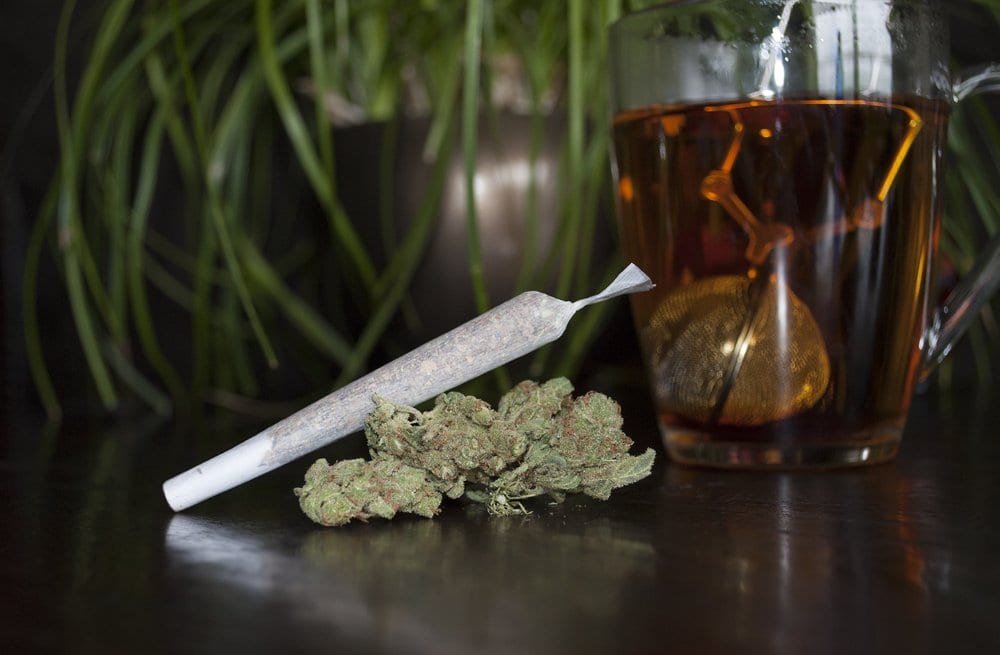 Gorilla Glue #4
Despite being the most consumed strain in all of 2016, Gorilla Glue #4 has an incredibly good medical reason behind all the hype. Gorilla Glue is known for producing large amounts of flower per plant, which also made it one of the top home-grown strains last year as well. Gorilla Glue makes it to number one on our list for three reasons.
The first being that it's widely available and carried in most dispensaries with no shortage in sight so that you don't have to go out of your way to track it down in the winter. The second reason is that Gorilla Glue is a Sativa-dominant hybrid that feels like an Indica with its relaxing effects. Gorilla Glue #4 and the spinoffs (Think numbers 1, 2, and 5) are well known for being versatile and offering many different dimensions of medical efficiency.
Number 4 is used to medicate and provides uplifting effects which is outstanding, especially if you're a SAD sufferer. Gorilla Glue is by far the best combatant to SAD, and is used daily for treating depression and anxiety, making it excellent for cabin fever as well. Gorilla Glue is also a nice smooth and sweet smoke, and overall will kick those winter blues to the curb easy peasy.
Granddaddy Purple
If you like purple stuff, you'll love Granddaddy Purple. Created in 2003 by Ken Estes' combo of Purple Urkle and Big Bud, these dense flowers will kick those winter blues. Well known for having some of the prettiest nugs from commercial grows and a nice relaxing effect, Granddaddy Purple is excellent if you need to find your chill. Sometimes, instead of getting lazy when we're depressed, some of us get restless.
I personally have been known to do my Spring cleaning in the dead of winter because I'm bored out of my mind with nothing better to do than polish baseboards and scrub tile grout with a toothbrush (because why not right?). Sometimes you just need to chill out and laugh at some cartoons for a while. Granddaddy Purple comes with a nice couch-locked feeling and an ultra-relaxing effect. It's honestly such a nice euphoric high that everything just feels good.
Who cares about the grout, it'll be fine for another day or two, right? It's also worth mentioning that Granddaddy Purple is an incredibly smooth, grape-flavored smoke that packs a powerful punch and can chill you out for hours. Granddaddy purple is the perfect winter strain.
Maui Wowie
Maui Wowie just smells like happiness, to me anyway. This strain has really tropical notes like sweet pineapple and citrus fruits. Normally I can't smoke full Sativa strains because they make me pretty zippy, but not this one. This strain really breeds optimism, and everything feels incredibly when you're smoking it.
If you suffer from depression or you're just incredibly stressed out because your kid is sick and there are 6 inches of snow on the ground and you don't know how you're going to get to work in the morning, Maui Wowie will take care of you. If you need to take a break in general, or if your winter is really slowing you down instead of speeding you up, this classic, original Sativa will transport you to the warm sandy beaches of Maui, Hawaii.
Green Crack
There's a reason this stuff is called Green Crack, and that reason is that this strain will make you feel like you've got a rocket up your ass, but also take you to a place of instant euphoria that no amount of cold winter winds can chill or dampen. I can only consume this strain in the winter on the off weeks that I'm feeling too slow instead of too fast.
Green Crack (100% cannabis, no crack involved) provides sharp energy and incredible focus with it's incredibly heady high. It's a great winter smoke as well, since it comes with a really tangy and fruity flavor that tastes sort of like a spicy mango, it's excellent for getting things done when you're battling SAD, cabin fever, stress, and fatigue.
Look for nice dense buds to get rid of that dragging depression. If you still have to move around and get things done, but can't find the heart or the energy to do it, Green Crack is the best winter strain for you if you aim to enjoy your day no matter what it throws your way.
Find the Strain for You with Leafbuyer.com
So there you have it. Four of the best strains to consume if you want to chase those winter blues away. We have 2 full Sativas, an Indica dominant hybrid, and a Sativa-dominant hybrid that feels like a relaxing Indica. All of these strains should find their way into your winter stash so that you're prepared for whatever comes your way this winter.
Smoke a bowl and wait it out. You'll be glad you did.