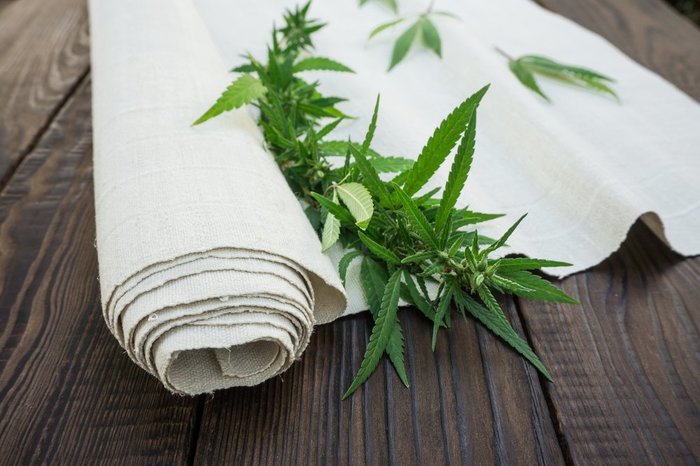 The holiday season is here again, and if you have an unabashed pothead, stoner, or cannabis culture enthusiast on your "nice list" this year, then you'll be thinking about what gifts to get them.
And while it may not be feasible (or wise) to gift wrap a blunt of your best bud's favorite strain and leave it under the tree, you sure can pick up some stoner clothing to stuff their stockings.
Now you can be the Kris Kringle of chronic festive fashion with these nine articles of stoner clothing that make great gifts for cannabis consumers in your life.
Hoodies for Heavy Hitters
This dope hoodie is the perfect stoner clothing gift for that weed-lover with a little swag.
Enjoy Cookies Hybrid Sweater
This sweater is inspired by Berner Cookies SF and borrows its classic styling from the cola with a Christmas image. But the recipient of this dope gift will let the world know that 'cookies' aren't just for Santa anymore.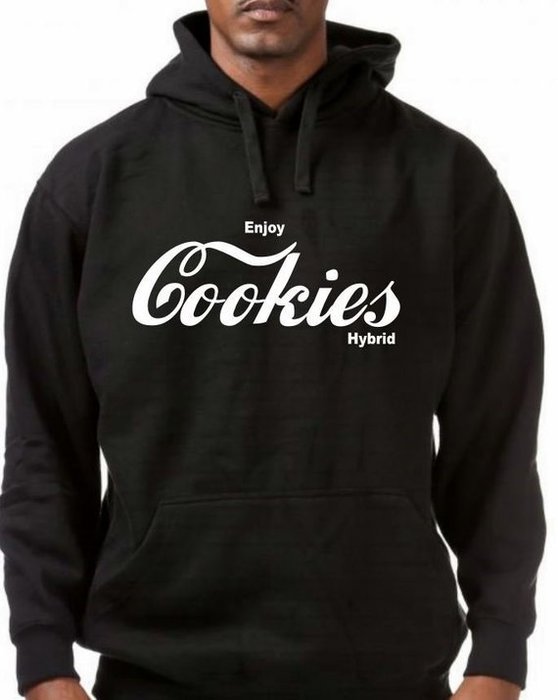 Price: $34.99
Sizes: Small through 3X (Men's sizes only)
Colors: Black only
Available at Etsy from artist RichThreadsClothing
T-Shirts for Tokers
Here are two terrific t-shirts that play with people's perception of pot. Whether your toying with feline puns or low-key commenting on cannabis prohibition, these shirts are ironic, ironable, and machine washable.
Smoke Meowt T-Shirt
This piece of stoner clothing lets the cat out of the bag: you are down to smoke! This shirt is the purrrfect gift for any feline loving smokers on your Christmas list.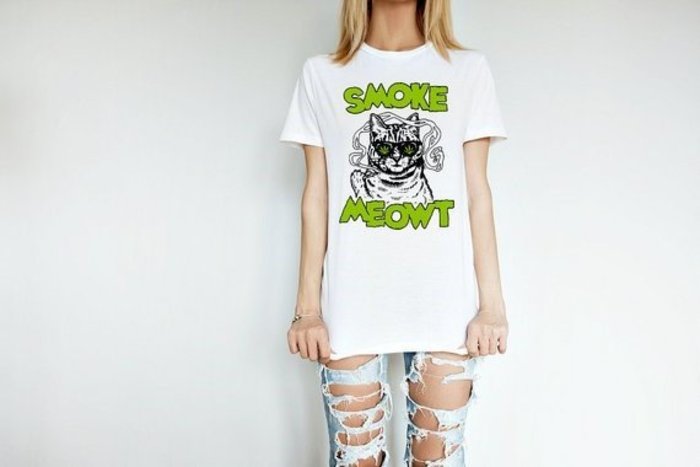 Price: $21.25-$28.47
Sizes: Small through 4X (Men's sizing only)
Colors: White, Deep Heather, Athletic Heather, Kelly Green, Soft Cream, Ash, Aqua, Heather Mint, Heather Orange, Heather Raspberry, Yellow, Gold, Berry, and Pink.
Available at Etsy from artist Cascade Collective
Gambling with Marijuana
Weed is 100 percent legal in Nevada nowadays, which shows you just how far the fight to legalize cannabis has come. This shirt makes a deliciously sarcastic commentary on pot prohibition and is the perfect gift for any weed warriors who still live in prohibitive states.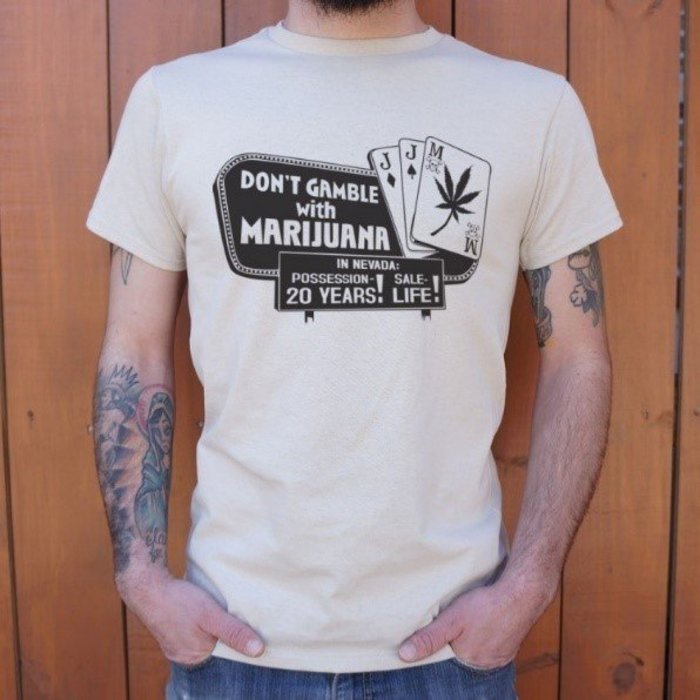 Price: $9.00
Sizes: Small through 3X (Men's and Women's Sizes)
Colors: Sand
Stoner Clothing for the Bottom Half
Here is some pot-themed stoner clothing that let you cover your nether region in nugs.
Marijuana Leaf Christmas Leggings
These subtle leggings look like normal Christmas leggings at first, but you can see the festive pot leaves in between the reindeer if you look closely. The red and green Christmas colors allow the pot leaves to blend in flawlessly.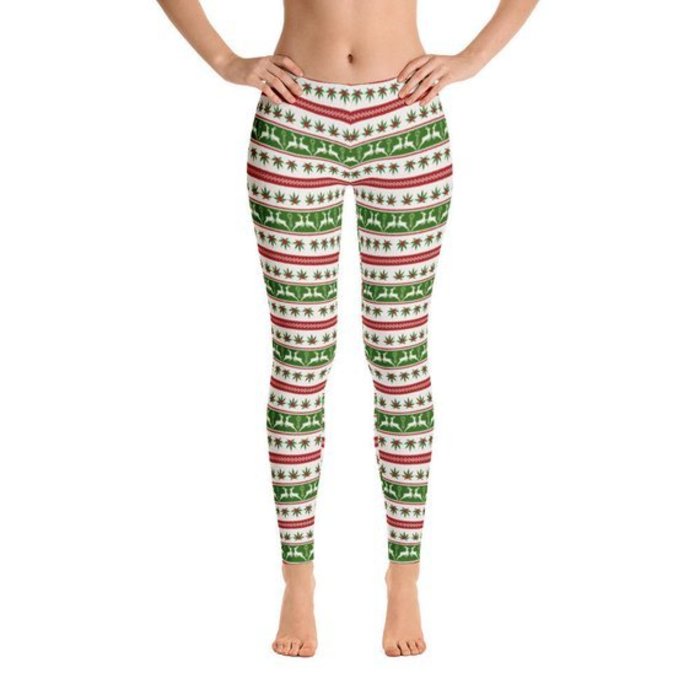 Price: $35.00
Sizes: XS-XL
Colors: One option
Available at Etsy from ILoveMaryJaneStore
Weed Trunks
Move over Bermuda shorts; cause these leafy weed trunks are making waves.  These weedy shorts let you hang loose while rocking a kaleidoscope of cannabis colors; Panama Red, Mean Green Martian, Acapulco Gold, and Grand Daddy Purple.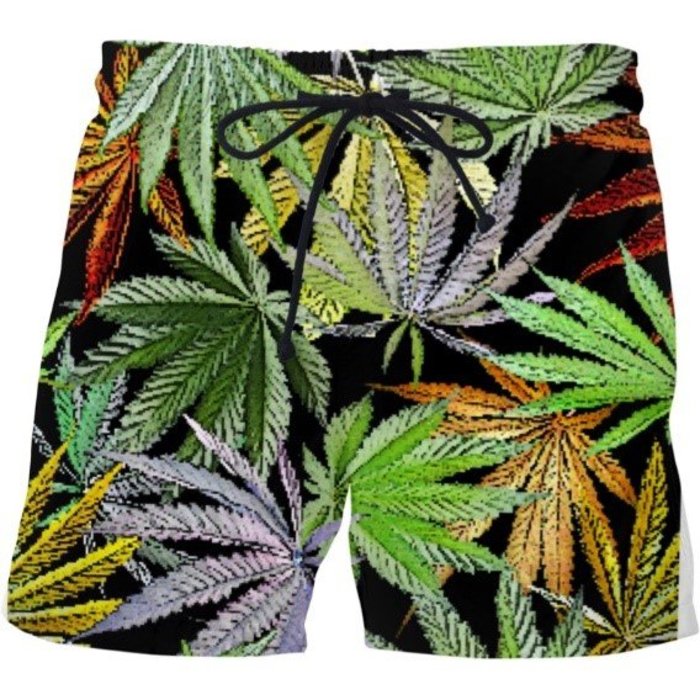 Price: $48.00
Sizes: Extra Small through 5X
Colors: No options for colors
Seasonal Socks
Here are two pair of festive footwear that let each foot be unique just like your stoner friends are.
Cheech & Chong Crew Socks
This pair of stoner clothing is a great gift for any lover of stoner comedy, because they proudly display the most iconic, chronic duo.  Finally, now even your dopiest buddy will be able to distinguish their Cheech foot from their Chong.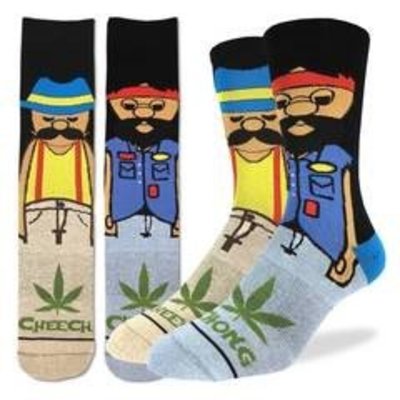 Price: $14.00
Colors: Like, the colors are already perfect, man.
Sizes: Fits shoe sizes 7-13 (Men's)
Available at Amazon or goodlucksock.com
BIG vs. YETI
Here is the perfect gift for any chronic stoner on your Christmas list who just so happens to dabble in Cryptozoology.  The winter months should favor the foot of the abominable snowman, yet, Bigfoot may stride away as a fan favorite.  Lord help anyone who loses one, or both, because you surely will never find them again.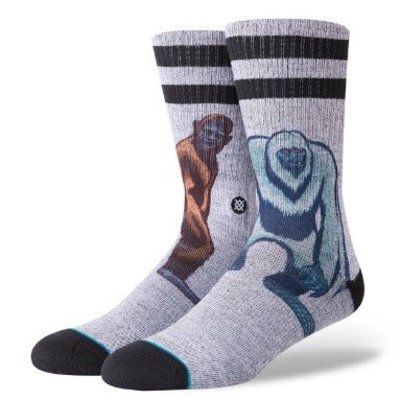 Price: $14
Sizes: Medium and Large (Unisex)
Colors: only comes in Grey
Hats for High Heads
Here is some stoner clothing winter head wear for your favorite pot-head.
POM-POM Weed Beanie
The ultimate in cold weather cover, this pom-pom beanie is warm, weed-themed, and comes in a ton of color options; making it a cool, customizable piece of stoner clothing.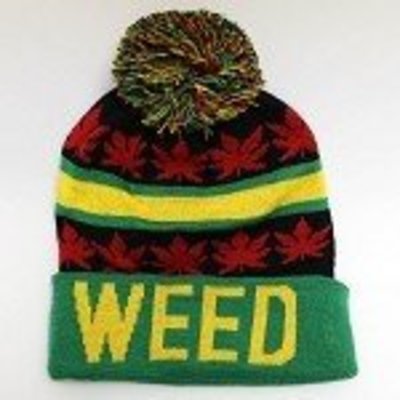 Price: $14.99
Sizes: One size fits All
Colors: White/Red, Black/Red, Light Grey/Black, Teal/Orange, Dark Grey/Teal, Lime/Dark Grey, Kelly Green/Purple, Dark Grey, Black/Kelly Green, Dark Grey/Neon Pink, Navy Blue/Neon Orange, Red/Royal Blue, and Jamaica (Red, Gold, and Kelly Green)
Available at City Hunter Caps USA
Hopefully, after seeing these pieces of stoner clothing, you have a better idea as what kind of weedy gifts to give your favorite ganja-lover. Check back with Leafbuyer to keep up with dope gift ideas, stupendous strain reviews, and news about wonderful weed deals.
For the best cannabis deals, head to the Leafbuyer deals page!