OG Kush is one of most classic and well-known cannabis strains on the market. Not only is OG Kush popular among consumers because of its stellar flavor and potent high, but the term OG has been one of the industry's most shrouded mysteries.
The actual definition of "OG" is a widely debated topic among cannabis connoisseurs. There are many theories, but the most popular definition is "Ocean Grown". This definition is based on the story of where the original OG Kush was founded, the California coast. However, there are a few cannabis experts who still believe the "OG" stands for "Original Gangster".
This 90's term, original gangster, was commonly used in old-school hip-hop. It describes someone who has climbed through the ranks as a cannabis dealer.
The Lineage of OG Kush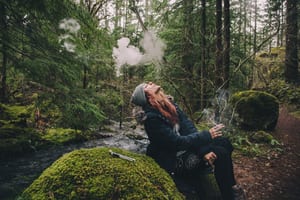 The lineage of OG Kush is just as mysterious as the term "OG." It's important to understand where the OG Kush genetics came from to see how it became the strain it is today.
The first theory about OG Kush's genetics is that its original cut was a seed of 91′ ChemDawg that came from the Lake Tahoe area. There is a more popular theory out there that OG Kush is a cross between ChemDawg x Lemon Thai X Old World Paki Kush.
The story also says that the original cut came from the ChemDawg family but was eventually crossed with the Lemon Thai and Old-World Paki Kush to create the OG Kush we know today. This theory goes on to explain how different cuts were sent to different areas of California, which is why there are strains like SFV OG and Larry OG.
Over time, OG Kush was cross-bred with a massive variety of different strains. The cannabis market today is full of different hybrids that came from cuts of OG Kush.
Top Eight Strains Parented By OG Kush
Bubba Kush: OG Kush x Northern Lights Phenotype (Bubba)
The strain Bubba Kush is a fan-favorite, indica-dominant hybrid, and OG Kush is one its dominant parents. Bubba Kush has become a consumer favorite over the years and is considered a classic. Bubba Kush is loved for its earthy, sweet, and bubblegum flavors.
Along with its stellar taste, Bubba Kush is a high-testing strain that ranges from 18-27 percent THC. The most common effects of smoking Bubba Kush are feelings of relaxation, euphoria, and sedation. Bubba Kush is a perfect smoke for kicking back and playing some video games or even easing your stomach after a big meal!
Larry OG: OG Kush x SFV OG
Larry OG is an award-winning indica-dominant hybrid with some serious OG Kush genetics. Larry OG comes from an original cut of OG Kush crossed with a cut of San Fernando Valley OG Kush. It is said that Larry OG originated in Orange County, Calif., which is another play into the term "OG." Larry OG may be indica dominant, but its sativa traits and effects tend to stick out every now and then.
This product provides a solid smoke for any cannabis connoisseur. Larry OG usually tests at about 22-24 percent THC and tends to have trace amounts of CBD and CBN. After winning the High Times Cannabis Cup in 2014, Larry OG became a favorite for many types of consumers. Its pungent, piney, earthy, lemon flavor make Larry OG stand out among other strains.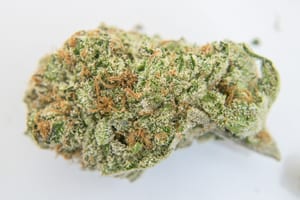 Skywalker OG: OG Kush x Skywalker
An indica-dominant hybrid that is well-known for its powerful high, is Skywalker OG. This cross is a blend of OG Kush and Skywalker. Its sweet, spicy and citrusy flavors are unlike anything else.
With an unusually high THC content coming in at 22-27 percent THC, Skywalker OG is extremely potent. Skywalker OG is commonly described as causing a euphoric, happy, and relaxing high. This is a great strain to smoke during a relaxing meditation session or even while you just kick back on the couch.
SFV OG: Cut of Original OG Kush
San Fernando Valley OG one of the more classic cuts. It was said that 2 cuts were shared with different growers in the California area. One of those cuts was sent down to the San Fernando Valley and became known as SFV OG. This close relative of OG Kush leans towards sativa-dominant, unlike many other cuts. SFV OG has a similar earthy, pungent, and skunky flavor to its parent OG Kush. Consumers love SFV OG for its uplifting and happy high, with a relaxing come-down. SFV OG is great for after working out, going hiking, or even for getting some chores done.
Tahoe OG: OG Kush x SFV OG (Indica-Dominant Cut)
Tahoe OG is another popular offspring of OG Kush. This indica-dominant hybrid is a unique cross of OG Kush x San Fernando Valley OG. It's a wonderful blend of west-coast flavors that many consumers describe as being citrusy, berry-flavored, and piney.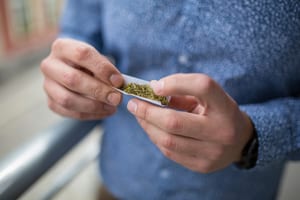 Tahoe OG is a high-testing strain typically coming in at 20-25 percent THC. Tahoe OG is loved by cannabis connoisseurs for being a euphoric, relaxing, and sleepy high. This is a stellar smoke for anyone looking to chill after a long day or ease your stomach after a massive meal.
The Headband strain is often forgotten about as a descendant. Headband is a premium hybrid that tends to lean more towards sativa but ends with a relaxing indica high.
Its THC content usually ranges from 20-27 percent THC and tends to have trace amounts of CBD. Headband's high commonly described as being uplifting, euphoric, and relaxing. Consumers love the high from Headband, but it's Headband's unique earthy, blackberry, and citrusy flavors that make it one of the best hybrid strains. This is a perfect smoke for getting some chores done, going for a walk, or even going to a concert!
Deadhead OG: Chemdawg 91 x SFV OG
Deadhead OG is a rare product. This unique hybrid is a cross between Chemdawg 91 x SFV OG. Deadhead OG is tough to find. It's believed to have originated in California and is adored by consumers for its lemon, diesel, and earthy flavors. This perfectly balanced strain produces a euphoric, relaxing, yet uplifting high.
Deadhead OG is not too potent of a strain and usually comes in around 20 percent THC. Be on the lookout for some Deadhead OG in your area.

Platinum OG: OG Kush x Master Kush x Unknown
Platinum OG is the famous three-Kush cross that has heavy indica-dominant effects. Commonly described as the most sedative and relaxing high available to consumers, Platinum OG is the ideal smoke for the end of the day.
The majority-kush lineage provides a classic sweet, earthy, and pungent flavor. Platinum OG is also tough to find but worth the search.
Platinum OG is one of OG Kush's top-notch offspring strains.
Look for more strains with OG Kush as a parent, here!