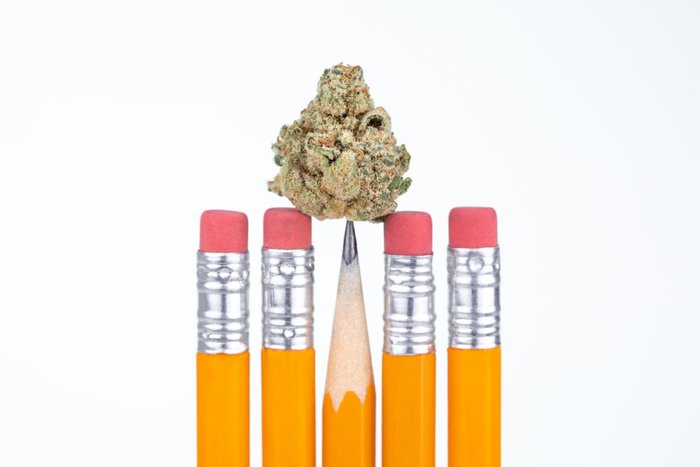 Conversations about cannabis are everywhere these days; U.S states (and Canada) are legalizing it, billionaires openly smoke it on the internet, and Wall Street analysts are giddy as stock in cannabis companies goes public.  With so much new information about cannabis coming out, it seems as if we all could use a marijuana education.
There are tons of folks looking to enter the cannabis industry, but many grew up in the era of "Just Say No," where they were fed a lot of misinformation. Whether you're a job applicant preparing to join the cannabis industry, or a parent worried about children in a legal recreation-use state, marijuana education is key.
Training for Cannabis Jobs<
More and more dispensaries are opening as laws are changing throughout the country, and as a result of this trend, there is a growing need for budtenders, cultivators, trimmers, and couriers. For those aiming a little higher in the cannabis industry, there are a number of training programs addressed at more skilled careers like master-grower, master-extractor, and edibles chef.
The good news is getting a marijuana education has never been easier and more accessible. There are a number of cannabis-specific training programs online, onsite, or at a four-year university to teach you the skills you'll need in the marijuana industry.
Online Cannabis Certificates 
One of the easiest ways to learn about the cannabis plant is online. With the world at your fingertips, you can learn at your own pace on your way towards a certificate. Here are just a few examples of online marijuana education providers.
Cannabis Training University (CTU)
As one of the leading authorities in cannabis industry training, this program allows you to earn nine separate cannabis-related certifications throughout your studies, including Grower, Cooking, Medical, Business, and Laws.
Classes are accessible on any computer or smartphone, and CTU program certificates can be printed out on a home computer.
THC University (THCU)
THCU is an online experience. They offer certificates in seven different programs and indicate that, "You also get access to 24-hour student support, monthly webinars, and grow support." The programs include certificates such as Trichome Budtender, Horticultural Specialist, Cannabis Products, and Cannabis Business.
They boast having the world's largest cannabis job board. Additionally, they help students prepare resumes and rehearse for job interviews. THCU is positioned to provide continuing education to dispensary employees.
Onsite Cannabis Universities 
Since 2007, cannabis universities have provided structured hands-on courses to students who are eager to learn about the ins and outs of the cannabis business. Here are a few well known cannabis universities to look at:
Oaksterdam University (OU)
Since 2007, OU has offered separate certificate programs in Cannabis Business and Horticulture. Courses are conducted on campus in Oakland, California and online.
Calling themselves "America's first cannabis college," they have 30,000 alumni who have studied with the recognized faculty of academics, attorneys, cultivators, and entrepreneurs. A nontraditional university, OU sponsors internships, supports job searches, and provides hands-on experience with its own growing facility. The on-campus horticulture facility and cannabis museum provide students with experience with clones, mothers, seeds and flowering plants.
Clover Leaf University (CLU)
Denver-based CLU is the only cannabis institution regulated, licensed, and approved by the Colorado Department of Education's Private Occupational School Board. They provide classes online and on campus. Students earn certificates in Cannabis Consulting, Cannabis Culinary Arts, Cultivation and Legal Educations.
State University Cannabis Courses
More and more state colleges and universities are beginning to adopt curriculum focusing on cannabis.  Chemistry, Biology, and Medicine are three majors that have considerable interest in the cannabis industry and can lead to an accredited marijuana education. Here are just some of the institutions of higher-learning that are leading the way.
University of California, Davis – Physiology of Cannabis
This class is designed for biology majors, with a focus on how cannabis affects the human body, including its therapeutic values. The course discusses the history of cannabis, the medicinal value, and applications of marijuana medicine.
The legal history of cannabinoids in the U.S. is a complicated one, and this course tackles its legal and social ramifications. In this seminar, the current legal landscape is thoroughly dissected.
University of Washington School of Medicine – Medicinal Cannabis and Chronic Pain
This training has been developed specifically for healthcare professionals with two separate modules. The first discusses basic medicinal cannabis education, and the second discusses best practices, including which consumers would benefit the most from a cannabis prescription.
Marijuana Education for Parents
Drug education programs for children and teens in states with legalized cannabis take a more mild tone in their language describing marijuana.  States like Colorado, Washington, and Oregon have programs that focus on keeping kids off weed, while largely staying away from the failed and false narrative of the D.A.R.E. program.
These new marijuana education programs still use scare tactics to dissuade cannabis use among teenagers, but they reference mild effects compared to the hysterical claims made in Reefer Madness.