Although recreational cannabis laws were not passed in Arizona on the 2016 ballot, medical marijuana has been legal in the state since 2010. Those seeking marijuana for the treatment of serious or chronic illnesses can still take advantage of the healing properties of cannabis through a medical marijuana card in Arizona – but it requires a lengthy application process.
Who Qualifies For A Medical Marijuana Card in Arizona?
Before you can ask the question, "How do I get a medical marijuana card in Arizona?" you first have to consider if you even qualify! There is no such thing as a chill, California-style Dr. Green Thumb in Arizona. In order to qualify for a medical marijuana card in AZ, you have to be officially diagnosed with a severe or life-threating medical condition. According to the Arizona Medical Marijuana law, only people with the following conditions qualify:
Cancer
Glaucoma
HIV
AIDS
Hepatitis C
ALS
Crohn's Disease
Alzheimer's Disease
MS
Epilepsy
Chronic Pain
Cachexia or wasting syndrome
As a side note, you also have to be a resident of Arizona to get a medical marijuana card. In order to obtain the card, you will need proof of residency. Proof of residency includes an Arizona state ID, or a passport or social security card, combined with a utility bill or bank statement. If you are from a different state but live in Arizona, your application for a medical marijuana card may not be accepted – the state addresses these applications on a case-by-case basis.
How Much Does A Medical Marijuana Card in Arizona Cost?
Unfortunately, getting a med card in Arizona isn't cheap. The online application is $150. And, that is on top of paying out of pocket for whatever medical marijuana treatment you might need. However, there are some programs in Arizona, like SNAP, that reduce the application cost to $75 for qualifying patients.
In Arizona, a caregiver can also sign up for a medical card on your behalf. The cost is a little more expensive, $200, but each designated caregiver can provide medical cannabis to a maximum of 5 patients.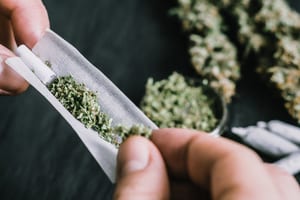 Even if you have your medical cannabis card in Arizona, there are still possession laws that apply. Each patient is only allowed to possess up to 2.5 ounces of usable product and up to 12 plants in an enclosed, locked facility.
Still think you qualify? Then let's finally get an answer to the question – "How Do I Get A Medical Cannabis Card In Arizona?"
Step 1: Find a Doctor
Before you can get your medical cannabis card, you have to meet with a doctor and have them fill out an official state form on your behalf. The good news is that you do not have to go to a traditional Allopathic (MD) or Osteopathic (DO) doctor. You can consult a Homeopathic [MD(H)/DO(H)] or Naturopathic (NMD or ND) doctor who is licensed to practice in Arizona. These types of doctors might be more open to alternative and holistic treatments for your disease. One stipulation is that you cannot go to a doctor outside of Arizona and have them fill out the form for you.
Also, the doctor you choose has to have a pre-existing physician-patient relationship with you and they cannot just give a written recommendation, they actually have to fill out the exact form required by the state.
Step 2: Have The Doctor Fill Out An ADHS Medical Marijuana Form
If you are wondering, "How do I get A Medical Marijuana Card In Arizona?" this is the key step! Your doctor has to fill out an ADHS medical marijuana certification form on your behalf. You can print the form by following the link provided and take it to the appointment with you. Thankfully, the form is just a single page and contains very basic information ? just make sure your doctor initials each of the 8 qualifications and signs the form.
After the form is completed, it is a good idea to make a couple copies of it for your records and just in case something happens to the original down the line. It might be a little nerve-wracking to ask your doctor to fill out a form for you, so you probably only want to do it once. And, considering you will be sending the original off to a government agency, you want to have a few backups available just in case it is ever needed again down the line.
Step 3: Complete The ADHS Medical Marijuana Form Online
After your doctor has completed the physical ADHS medical marijuana form, go online to finish the application. Once you are there, click on the link that fits the type of application you are applying for. For example, if you are applying for yourself for the first time, click on "Qualifying New Patient Application." There are separate links for minors and designated caregivers.
To fill out the online form, you will need access to several official documents and IDs. First things first, you will need a photo ID like your Arizona driver's license, Arizona identification card, or U.S. passport. If your driver's license is older than October 1, 1996, you will need some additional forms (like your birth certificate) to verify your citizenship.
Aside from a valid form of ID, you also need a separate current photograph of yourself. The photo has to be different than your driver's license or passport photo, and must be 2″ x 2″ with a white or natural color background. Obviously, the photo must clearly show your face and no ? you can't be wearing a cool Southwest style cowboy hat.
Finally ? keep in mind you will need to scan and upload these documents (including your original ADHS Medical Marijuana patient form filled out by your doctor) in .pdf form.
Step 4: Register With the Arizona Department of Health Services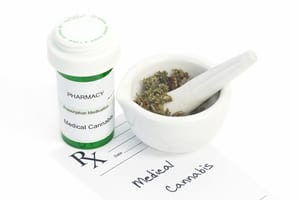 If you managed to make it this far, you are nearly there! The fourth and final step is to register with the Arizona Department of Health Services by submitting the application. Once you hit send, it typically takes one to two weeks to complete the application.
Apparently, the doctor who fills out your form can also complete this application process for you, which might be preferable if you are too ill to complete this process or if you do not have access to Internet and the devices needed to scan your documents.
For additional help and information regarding the question, "How Do I Get A Med Card In Arizona?" you can also consult the Arizona Department of Health Services directly:
Arizona Department of Health Services (ADHS)
Medical Marijuana Program
150 North 18th Avenue
Phoenix, Arizona 85007
Phone: 602-542-1025
Step 5: When The Time Comes, Renew Your Card
Once you have your medical marijuana card, the most complicated part of the process is over for the next year. In Arizona, you have to renew your medical card every year and you must start the renewal process at least 30 days before your card expires. To renew your card, you basically have to start from scratch and have your doctor fill out the ADHS Medical Marijuana patient form again. You will also need to provide a new photo and re-apply through the ADHS online.
How Do I Get A Medical Marijuana Card in Arizona if I Don't Live There?
If you are looking for marijuana tourism in Arizona, don't bother. You can't get a medical marijuana card from a dispensary; you have to go through the ADHS system in order to use medical marijuana in Arizona. However, if you are visiting Arizona and you have a medical marijuana card from the state you live in, you are legally allowed to possess and use medical marijuana. You just can't buy it from any of the dispensaries or legally take your medicine across state lines. Clearly, it is one of those strange cannabis gray areas. After all, if you are visiting from another state and can't buy your cannabis in Arizona, your only option is to take from your state into Arizona!
Thankfully the chances of getting caught taking a small amount of medicine across the state line of Arizona is pretty slim, but you are still taking a legal risk with real consequences if you were to get caught.