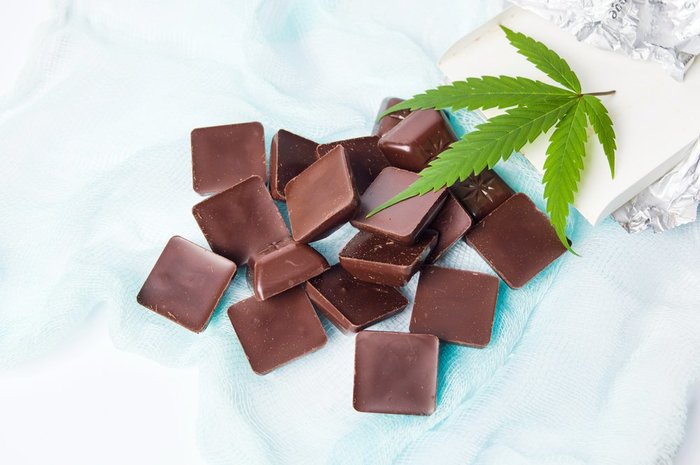 First reported in The Canadian Press, a Toronto police officer who stole and ate a THC-infused chocolate bar seized during the raid of a marijuana dispensary, was found guilty of attempting to obstruct justice, on Friday.
As the man pleaded guilty in the case, the presiding judge called him a "complete idiot" for his willingness to tamper with the lawful collection of evidence.
Profound Impact from Stupid Act
Vittorio Dominelli, the 36-year-old constable, resigned from the force this week, he plead guilty to attempting to obstruct justice in connection with the January incident.
Although Dominelli's actions were on the low end of the spectrum when it came to evidence tampering, Justice Mary Misener, who presided over the case, said the break in public trust was nonetheless significant.
"From the point of view of public interest, the impact is profound," she said. "The conduct here you cannot describe as anything other than stupid."
Misener added that the fact that Dominelli had taken a marijuana-infused item was not the issue.
"He might have taken cough syrup or a pair of woolly comfortable socks that he wanted to try on his feet," she said. "It's interfering with evidence."
Cop Pocketed Pot-Chocolate on Pizza Run
The son of a longtime Toronto officer and a father of three, Constable Vittorio Dominelli was part of a team that raided an illegal marijuana dispensary around 5 p.m. on Jan. 27, according to an agreed statement of facts read out in court by Crown attorney Philip Perlmutter.
Dominelli, armed and dressed in plainclothes, agreed to go get pizza for the squad as they were searching the illegal pot shop, court heard. While walking out of the store, Constable Dominelli saw several cannabis-oil-infused chocolate bars, which he pocketed.
Dominelli and his partner, Constable Jamie Young, went to a nearby pizza place where Dominelli began to have second thoughts about taking the chocolate bars, Crown attorney Perlmutter said.
Dominelli told Young about his reservations and his intentions to leave the illegal edibles at the pizza place but his partner disagreed with his idea, the court heard.
On Stake-Out, Officers Break Out the Purloined Edibles
After the initial raid was concluded around 11 p.m., Dominelli and Young were re-assigned to conduct surveillance on an after-hours bar, court heard.
Dominelli testified that the pair of officers then spoke about the looming legalization of recreational marijuana and the pair chatted about how neither had tried cannabis.
"He assumed it would be a minor mellow feeling," Perlmutter said, reading from the agreed statement of facts. "He did not think consuming a small amount would impair each officer."
The pair consumed all eight squares of one chocolate bar while on their surveillance mission and became "seriously intoxicated," the court heard.
Constable Young has also been charged with attempting to obstruct justice and breach of trust in connection with the incident, but the allegations against her have not been proven in court.
Ambulance Called in Panic for "Lightheaded" Lawman
Dominelli said he initially didn't feel anything but after about 20 minutes, the effects of the cannabis-infused chocolate hit him "like a ton of bricks," court heard.
"He was sweating heavily and believed he was going to pass out," Perlmutter told the court.
Dominelli thought he was going to die, the court heard. He asked his partner to radio for help, but she refused.  Eventually, Dominelli grabbed the radio from his partner, ran up the street and called for help.
"Send an ambulance," a breathless Dominelli tells the dispatcher on the call, which was played in court.  When questioned by the dispatcher, Dominelli is heard saying he's going to pass out.
"Are you injured? Did anything happen?" the dispatcher asks.  "I'm just lightheaded," Dominelli responds.
Side Effects Temporary, Long-Term Consequences
When another officer rushed to the scene, they slipped on ice and suffered a severe head injury, the court heard. That officer still has "significant difficulties with speech and vision," and remains off work 10 months later.
The court also heard that all seven people charged in the pot-shop raids had those charges dropped due to Dominelli's actions.
Sentencing Awaits a Remorseful Dominelli
According to Dominelli's lawyer, Peter Brauti, his client is remorseful and ashamed.
"He has done everything he can to show remorse and make reparation for what he's done," Brauti said.
Dominelli offered to resign within weeks of the incident, the lawyer said. He is also depressed, shakes when he speaks and cries when talking about the incident, Brauti said.
The Crown is proposing a conditional sentence for Dominelli to be served in the community while the defense is arguing for a conditional discharge. A charge of breach of trust was withdrawn.