California's Recent Recreational Marijuana Success & Upcoming Marijuana-Friendly Events
Out of all U.S. states, California is the most populous, and it has the world's sixth-largest economy. When California expanded beyond medical marijuana and implemented a recreational marijuana program, the world's largest legal recreational marijuana market was created. Although California's recreational marijuana program didn't go into effect until January 1st of this year, in less than two months, hundreds of California marijuana dispensaries have brought in much more revenue than previous years.
In this article, we'll review the success of the California marijuana industry thus far and some of the upcoming cannabis-friendly events in the state.
Update on California's Marijuana Market
It's estimated that California's marijuana industry could be worth $5.1 billion this year, according to a report by the GreenWave Advisors. Although recreational sales have only recently begun, it's important for California lawmakers to go about this transition smoothly and do what they can to ensure that the state's recreational marijuana model stays intact. 
Moreover, some would say that Proposition 64 is more of a relaxed piece of legislature. Unlike other recreational states, California lawmakers let local governments decide whether recreational cannabis sellers can operate in that city or not. This has resulted in many cities holding off on licensing cannabis businesses.
Recently, however, more cities in California, including Los Angeles, have started allowing businesses to sell marijuana for recreational usage, as mentioned by Vox.
As of January 2018, only four California marijuana shops legally sell recreational marijuana in Los Angeles. Each of these marijuana dispensaries are located in West Hollywood, though.
Dispensaries in other California cities like Santa Ana have received last-minute licenses to sell recreational marijuana. And slowly but surely, other Southern California cities are moving towards recreational marijuana sales.
It should be noted, however, all California marijuana businesses are banned from operating within 700 feet of schools, public parks, and drug treatment centers, as stated by LA Curbed.
Number of California Marijuana Dispensaries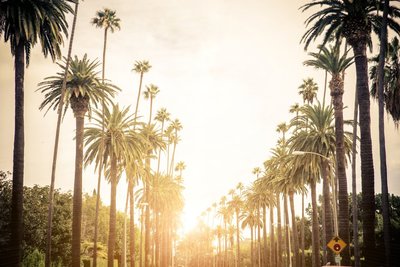 As of February 12th, 2018, there were 261 recreational marijuana dispensaries operating, according to the Bureau of Cannabis Control in California. This number has increased since then. So far, though, there aren't any businesses that have full licenses to sell recreational marijuana in California. Instead, only temporary licenses have been given to different dispensaries, allowing retail California marijuana to be distributed throughout the state.
As time goes on and as California lawmakers award permanent dispensary licenses, additional dispensaries will open in more counties and cities. 
Special Marijuana-Friendly Events
Currently, Assembly Bill 2020 is awaiting approval after being proposed by California assemblyman Bill Quirk. Under this proposed bill, festival organizers in California may be able to permit recreational marijuana sales at their events. Bill Quirk expressed that he introduced this bill on behalf of the city of Oakland. The overall intention is for California's annual Art and Soul Festival to allow legal marijuana sales. The Art and Soul Festival and other similar events support local economies and small businesses. 
If the proposed bill is passed, this would allow legal marijuana sales and usage at special events on public and privately-owned property, according to the Los Angeles Times. Local governments would need to approve of this beforehand, depending on where the event would be held.
Generally, California marijuana events are seen as relatively safe revenue-makers in various communities, and this will most likely continue to be the case since marijuana is now recreationally legal in the state.
Limited Number of On-site Marijuana Consumption Lounges>
Besides residential homes, California marijuana laws currently only allow for marijuana consumption in two areas: inside dispensaries and at special events. Some California marijuana dispensaries have lounge areas where consumption is allowed on-site, and these are often referred to as smoke lounges. Although they've been consistently popular with the community, there aren't that many of them operating legally yet.
Above all else, though, local governments must approve of on-site marijuana consumption.
If Assembly Bill 2020 is passed, California residents may have more of a selection of places to legally consume marijuana. In March, the bill will hit the state committee, where county groups and legislators will weigh in.
Upcoming California Marijuana-Friendly Events
Whether Bill 2020 is passed or not, lots of marijuana-friendly events occur in California each year. If the event is held at a county fairground, public marijuana consumption can take place. Some of the most popular marijuana-friendly events that take place in California, including The Chalice Festival, The Emerald Cup, The High Times Cannabis Cup, and others that occur on 420.
Here are some of the top upcoming cannabis events in 2018:
The Hemp & Cannabis Fair: March 3

rd

-4

th

KushStock Festival: March 31

st

The 420 Games: March 31

st

-April 1

st

Tree Harvest Festival: April 20

th

-22

nd

SoCal Cannabis Cup: April 20-22
CannaGrow Expo: May 19

th

-20

th

Mega Sesh Cannabis Community Carnival: June 16

th

-17

th

Chalice Festival: July 13

th

-15
The Emerald Cup: December (Specific date is unconfirmed)
If you live in California or if you plan on visiting, make sure to research cannabis dispensaries that sell recreational marijuana (unless you have a medical card) before heading to the weed shop. Although hundreds of California dispensaries sell recreational marijuana, there may not be one close to your home. It's helpful to do your research first. Then, all that is left is to purchase some quality California marijuana before embarking on an adventure in a state with beautiful scenery, weather, and interesting 420 special events.
If you plan on going to Coachella this year, check out this informative article about cannabis consumption rules at the festival.
If you currently have a California medical marijuana card, it may be beneficial to keep it. Read this article to find out why.