Dispensary Spotlight: LivWell Enlightened Health In Springfield, Oregon
Picking a quality dispensary can be a little difficult, especially for people who don't live next to major metro hubs. You want a cannabis dispensary that's clean, well-lit, and safe, but those are just the basics. Your overall experience can come down to any number of personal preferences, but most people are looking for three specific things: great service, great bud, and a good vibe. If you're located in Southern Oregon, you'll find all that and more at LivWell Enlightened Health!
Located just east of Eugene by the coast, LivWell Springfield is the prime recreational dispensary in the Oregon area. With a stylish, modern interior, you'll love the upscale shopping experience and comfortable ambiance.
LivWell Enlightened Health's Story

LivWell is a chain of medical and recreational dispensaries that first launched in 2009. Since then, they've taken Colorado by storm with 14 locations across the state. Their newest foray is LivWell Springfield, their first dispensary in Oregon. LivWell has remained family-owned, and they take great pride in treating their employees as well as the cannabis industry has treated the company.
Their employees get great wages, comprehensive benefits, and the opportunity to grow professionally. Their in-depth training program certainly shows why they are one of the best!
LivWell Enlightened Health's mission is to use the power of cannabis for good by defending their customers' right to access quality medical and recreational marijuana products. They believe the stigma around marijuana has endured too long, and they work hard to educate customers about the benefits of the plant for people from all walks of life.
In the spirit of being a good neighbor and community leader, the company introduced their "LivWell Cares" program. You'll find employees volunteering at local food drives, neighborhood clean-ups, and other community events, always with smiles on their faces!
LivWell Enlightened Health's Products
You'll find exactly what you're looking for at LivWell's Springfield, Oregon, location. If you aren't sure what cannabis product suits your needs, feel free to turn to one of the highly-trained budtenders to help narrow down your options. LivWell's Springfield location carries nearly everything imaginable, including:
Flower
LivWell carries 30+ strains at this location, with a fairly even mixture of sativas, indicas, and hybrids to suit all user preferences. Their pricing is impressively reasonable and divided into three tiers. Though they're proud to be among the few shops that weigh flower right in front of you, they also offer pre-weighed bud at a flat $14.99 per eighth for all you bargain hunters.
If you're after a mid-shelf strain, their fresh Gold Shelf flower sells for $25 per eighth. Gold Shelf flower has a higher terpene content and more trichomes than pre-weigh, and it's cured for 12 to 14 days. If you're looking to go hog-wild with the best bud available, you still won't have to pay out the nose.
Their Platinum Shelf flower goes for $30 an eighth and has the most terpenes and developed trichomes of their selection. With a longer curing time of 14 to 20 days, these strains are ideal for the absolute connoisseur.
THC Concentrates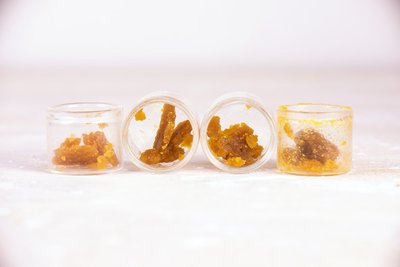 LivWell is up to date with the latest technology in concentrate extraction, and whenever a new form pops up, you'll find it here. Whether you're looking for a wax, shatter, RSO, distillate, live resin, or THCa crystalline, each product is sourced from a high-quality Oregon producer.
LivWell Springfield carries only the best cannabis extraction brands available. This includes Dirty Arm Farm, ClayWolf, and Chalice Farms. If vaping is your preferred method of consumption, you'll find plenty of quality cartridges in half and full grams.
Cannabis-Infused Edibles
The edible selection at LivWell Springfield ranges from classic brownies to cannabis-infused candies, beverages, and more. You can even buy capsules or tincture if you prefer to ingest your cannabis without the consequences of calories.
Medical patients will especially appreciate the variety of CBD products in this category.
Healing Topicals
A favorite among medical marijuana patients, the catalog of topicals you'll find is formidable. Bath soaks, transdermal patches, and lotions are all on the menu, from quality producers like Apothecanna and Mary's Medicinals, among others. If you're looking for a topical to ease your aches and pains, LivWell offers a better selection than most dispensaries in the area.
Smoking Accessories
At LivWell, they've gone all-in on providing you with the accessories you need for a successful smoke. Check out their site dedicated to affordable accessories to check out all their water pipes, hand pipes, vape accessories, and apparel.
The Springfield location has a good number of each for sale, to ensure you leave with everything you need to enjoy your new cannabis products.
LivWell's Membership Programs
It pays to be a member at LivWell!
Their LivWell Rewards program forgoes any complicated calculations. You receive one point for every dollar you spend. One hundred points is equal to $5 in store credit that you can spend on any non-medicated items in the store.
LivWell Springfield is truly outstanding among Oregon dispensaries. Be sure to check it out if you're in the area!
LivWell is a proud partner of Leafbuyer.