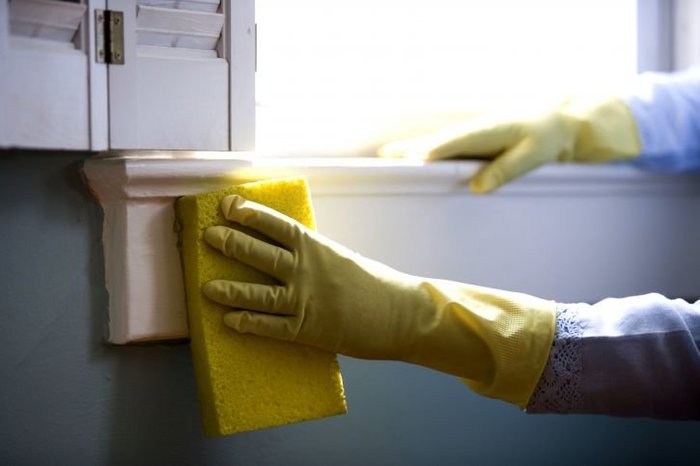 Running a household is no easy feat, and finding the motivation to keep up with your housework when it's inevitably going to be destroyed again in 5 minutes because of kids or pets can be discouraging. Luckily, sweet Mary Jane will always be there to get you out of a slump. That's why we developed a list of the top five strains for cleaning your house.
We've compiled a list for the avid Sativa smoker who struggles with finding that cool, collected and motivating high they're looking for to help them get through the day to day mundanities of everyday life. These 5 Sativa strains will give you the power to get through it and really step up your cleaning game. Smoke these top 5 most useful marijuana strains for housecleaning, and you'll have a house sparkling clean from baseboards to the ceiling.
Here's what we've got:
You know how it seems like crack heads have superpowers sometimes and they're just WIRED whenever you see them?
Well, that's where the name comes from. A bowl of green crack will give you a super hit of energy before you even finish hitting the bong sometimes, and this magical high will keep you motivated and invigorated all day long.
It's by far one of the most popular Sativa strains because it gives you a clear-headed euphoric high as well as sharp focus, which will help you with your housework. Do you feel like you need to scrub the grout in between the tiles of the shower? Having trouble finding the motivation to do it? Smoke some Green Crack.
Green Crack comes with an earthy and piney flavor with strong citrus undertones. It's a real crowd-pleaser due to its overpowering mango flavor. It'll really get your mouth watering.
If you're afraid of coughing, strawberry cough is probably not for you. Luckily, anyone who smokes knows that the coughing is what gets you really REALLY high. With this strain being such a hard hitter, it would be wise to take a smaller hit and see how you feel after you catch your breath. The ability to make the user cough is really where it gets its name, along with its incredibly potent strawberry taste and fragrance.
Strawberry cough comes with a sweet smell of fresh summer strawberries that really expands the sensation since you'll be able to taste it while you're coughing it out. It comes with a really skunky strawberry flavor, and an incredibly uplifting cerebral high. It'll leave you in your own little bubble of happiness, which makes it a great strain for wake and bake and housekeeping.
Amnesia haze is a Sativa dominant hybrid, but boy is it potent. Your true Amnesia Haze plant will be about 70% Sativa and 30% Indica, making it an excellent smoke for focus and clarity. Just like the name suggests, too much of this stuff will knock you off your rocker, and you'll find yourself with a case of amnesia.
Amnesia Haze can be found just about everywhere due to its ability to produce massive amounts of weed. It grows like (you guessed it) a weed, and it works perfectly for both indoor and outdoor growers alike. This strain has an immediate and powerful cerebral (head) high and sometimes if you smoke too much, it almost feels like a psychedelic. This strain also won several cannabis cup awards in Amsterdam, which is why you can find it in just about every coffee shop there.
Amnesia haze comes with an earthy, piney flavor as well as a citrusy and lemony flavor. Almost tastes like candy, if you ask me.
Cindy White comes from the fine folks at The Green Solution, who have brought home more than 50 awards from some of the most respected and competitive Cannabis competitions in the United States and around the world. Judged by peers, judges, and patrons, the Green Solution has plenty to brag about.
The Green Solution is a Colorado-based and family owned business that is proud to be among the most awarded companies in Colorado with over 50 awards for quality flower, concentrates, and edibles. The Green Solution also has a family of Retail Associates that are sharp-dressed and well-equipped with the concierge-level expertise needed to craft each individual's cannabis experience. They are the most awarded dispensary group in all of Colorado and have taken home several awards from the High Times' Cannabis Cup.
Cindy White is a People's Choice winner and a Sativa-dominant hybrid cross between Cinderella 88 and Princess with uplifting effects. It also comes with an earthy and flowery smell that almost takes on a menthol type bite and features a zesty flavor with a clear, creative, motivating high, which makes it absolutely awesome for doing your mundane laundry folding and dishwashing.
Cindy White is also a very resin filled plant which probably comes from both parent strains, which makes it an interesting smoke that's fantastic for fighting depression and stress. It's a great Sativa that isn't too overly powerful so that you can get all of your work done.
From the master growers over at Green Man Cannabis comes the fabulous Ghost Train Haze, which is an incredibly potent Sativa. If you had the chance to take a look at our list of 5 of Denver's Must See Dispensaries, you probably noticed our mention of Green Man Cannabis and their excellent strain. Ghost Train Haze comes from the cross between Ghost OG and Neville's Wreck.
Ghost Train Haze grows dense buds covered in white, crystal-capped trichomes, which is relatively unusual for a Sativa strain. It also comes with a mouth-watering sour citrus smell and flavor along with a high amount of THC.
Be careful, though, Ghost Train Haze is not good for people with stress, since it hits really hard really fast, like a train, if you will.
Green Man Cannabis won the High Times award for best Sativa flower 3 years in a row (2014, 2015 and 2016) with their very own Ghost Train Haze.
With this win came critic reviews, one of which by a Ry Prichard who made notes that stated, "The good vibes Ghost Train Haze provided continued for a total of over two and a half hours, which is definitely above average for a high-tolerance, primary concentrate smoker like myself."
They also took home the award for best Indica in 2015 for their own in-house developed Louie OG.