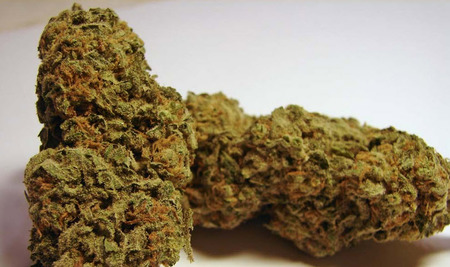 Indica Hybrid
Sour Diesel x Master Kush x OG Kush
707 Head Band Strain
707 Headband is a famous West Coast strain with fabled origins. Despite a lack of consensus in the cannabis community about the strain?s original breeders, 707 cultivates a following throughout California and Colorado. Like other Headband varieties, 707 Headband produces strong, cerebral effects and fosters a sense of clear-headed creativity. 707 Headband is also a prolific producer and is favored by growers for its large yields.
Medical
ANXIETY PAIN
Flavor
SKUNKY
Effects
CREATIVE EUPHORIC HAPPY
Though the strain may be less familiar than the Headband strain to incoming cannabis fans, 707 Headband is a classic California hybrid strain. Hailing from Humboldt county, the Northern California strain's popularity extends beyond the borders of the Golden State. It's said that the strain derives its numeric name from the 707 area code of San Francisco's Bay Area. Different cannabis sources attribute varying seed banks to 707 Headband's development. However, the consensus among the marijuana community identifies Sour Diesel, OG Kush, and Master Kush as 707 Headband's parent strains. No matter which breeders first cultivated the strain, 707 Headband has made a mark on cannabis culture on its own. Characterized by large production yields and potent THC content, 707 Headband is an excellent, indica-dominant cure for stress, anxiety, and depression.
Multiple rumors swirl around the cannabis community about 707 Headband's genetic origins. DNA Genetics bred their own prolific version of the strain by crossing OG Kush and an OG Kush + Sour Diesel hybrid. Since first creating the strain, DNA Genetics dropped the ?707? and just refer to the strain as Headband. Others claim that The Breeders Lab was the first seed bank to produce 707 Headband. However, The Breeders Lab created their cannabis strain by mixing NYC Diesel, OG Kush, and Master Kush. If you're in California, the chances are that you'll see a version of 707 Headband derived from one or two Kush varieties and a Diesel strain. THC percentages depend on the batch, but cannabis consumers can find 707 Headband listed from 19% to 24%.
Genetically, 707 Headband leans mostly to the indica side and is commonly measured as a 60% indica, 40% sativa strain. The strain's powerful Kush influence is demonstrated through its medicinal properties. 707 Headband effectively soothes sinus pressure, migraines, headaches, and chronic pain. The strain, however, fosters a cerebral-style high that can cultivate feelings of euphoria, relaxation, and creativity (and contributed to the strain's moniker). Despite the ?heady? effects, 707 Headband produces a fairly balanced high that is favored by recreational and medical patients. Patients also use the strain to treat anxiety, post-traumatic stress disorder, bipolar disorder, and serious stress injuries. A rather focused and clear-headed high can help invigorate a user's energy and creativity during a leisurely afternoon or evening.
707 Headband plants should emit a slightly skunky, diesel-like scent. The strain is potent in smell, as well as THC, that can break through bags. 707 Headband plants will flower within nine to eleven weeks and produce large yields. 707 Headband is a strain of choice throughout legalized West Coast states and Colorado.