What Happened to the Cannabis Cup and Where Is It Now?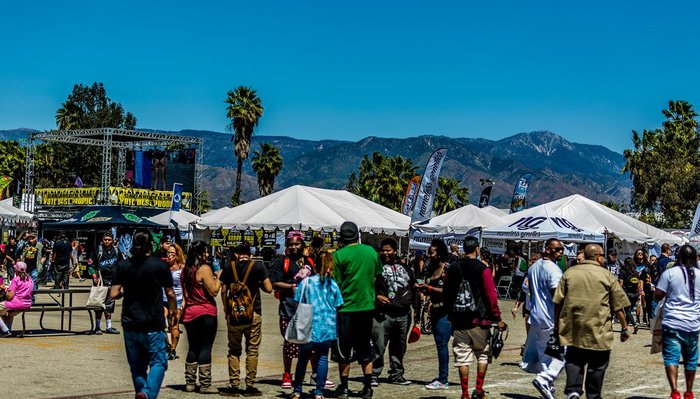 What is the Cannabis Cup?
The HIGH TIMES Cannabis Cup claims to be the world's leading medical and recreational marijuana trade show. The show debuted in Amsterdam in January 1998. Then, the competition only had three judges and four seed companies that entered. Super Sativa Seed Club, Sensi Seed Club, a "Cultivator's Choice" entry, and the Seed Bank competed to win the cup. The late Cultivator Choice submission. Skunk #1, took home the cup that year.
Spearheaded by founder Steve Hager, the cup continues to take over Amsterdam annually. Now, judges include international veterans from the marijuana industry that vote on the best overall favorite varieties, new product, glass, hash, concentrate, and more. The Cannabis Cup is a fun and festive celebration of the herb. Aside from the trade aspects of the Cup, the event includes live music, seminars, and expositions.
The competition has grown and now features celebrities, products, and concerts. The Cannabis Cup has become a domestic and international occasion to celebrate and network with the industry's leading cannabis connoisseurs. The festival since migrated to the American states that have approved medical and recreational marijuana. High Times, a magazine and one-stop source for marijuana information, brought the cup to America in 2010. Featured regions across the States include Southern California, Northern California, the Mid-West, Colorado, Nevada, Michigan, Oregon, Washington, and Rhode Island. Industry members can look forward to a cup hosted in Jamaica in December 2017.
Who participates in the Cannabis Cup?
No out-of-state submissions are currently allowed to compete in any High Times Cannabis Cups events. Competitions are only licensed for local, licensed in-state businesses. To register for the Cannabis Cup in Southern California, Northern California, Michigan, or Rhode Island, visit the High Times website.
This year, the top 10 competitors from each category will be qualified to compete for the World Cannabis Cup in Jamaica. More information about the December festival is said to be coming.
How can you enter the Cannabis Cup?
Growers and companies in the Southern Californian region can compete in next month's cups in California. The Medical Cannabis Cup competition takes place from April 12 to April 21, 2017, and the Cannabis Cup stops in San Bernardino from April 21 to 23, 2017. Only California-state licensed cultivation and dispensary business can participate in the Medical Cannabis Cup.
To exhibit your product, you need to reserve a booth and complete a 2017 Cannabis Cup Exhibitor Registration Form. For issues and questions, email [email protected].
Any recognizable past winning strains, companies or growers?
From 2016 alone, winning famous strains include varieties of OG Kush, Dizzy OG, and Grape Stomper. Other winners from the over the years include Tangier, LA Confidential, Godfather OG, Girl Scout Cookies, Tahoe OG, Cannatonic, and Bubba Kush.
Has the Cup faced any legal issues as it grew across different countries and continents?
Recently, the Cannabis Cup set to be hosted in Las Vegas spurned pushback from the federal government. Medical and recreational smokers planned to celebrate Nevada's new marijuana law on an Indian reservation outside of Las Vegas. The Reno Gazette-Journal recently disclosed a letter from US Attorney Daniel Bogden that stated that federal law still applies and smokers could be prosecuted. Since the reveal of the letter, organizers have promised a more mellow Cannabis Cup. Spokesperson Joe Brezny maintained that marijuana would be "removed" from the festival and no edibles, smoking area, or cannabis competitions would occur.
The festival also announced a last-minute switch from Colorado to California in March 2016. Adams County officials rejected High Times' permit for 2016's Cannabis Cup and the organization briefly considered a move to Pueblo before deciding to abandon Colorful Colorado.
As state and Federal laws develop, organizers aptly keep in mind the tentative political landscape. Be sure to stay up to date on your state's current recreational and medical marijuana laws and to smoke safely.