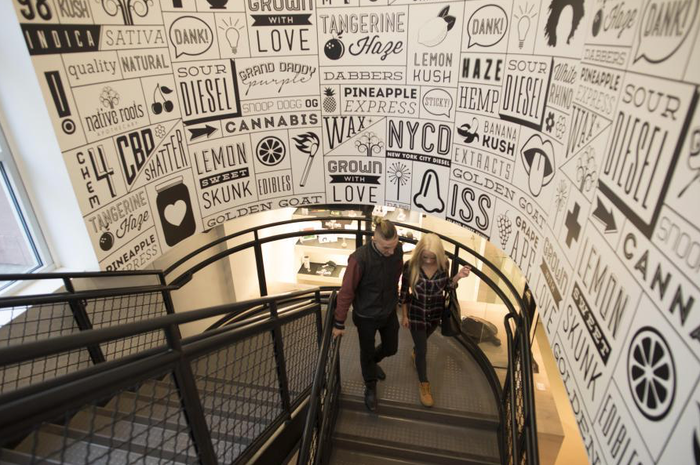 With 17 locations across Colorado, Native Roots sets the standard of excellence for the cannabis industry, while improving the lives of those in their community. Native Roots matches their clean, sleek state of the art dispensaries with friendly, knowledgeable and trustworthy service. Experts in their craft, each dispensary budtender is extensively trained and is well-prepared to provide the highest level of concierge service to meet your needs.
Community:
Native Roots is committed to community involvement and giving back through many Denver community outreach initiatives. Each Native Roots location partners with a local community organization, with notable efforts including park clean-ups, coat drives, and canned food drives.
Staff:
To earn the title of budtender at Native Roots, you must complete an extensive three-day educational course and detailed training before serving customers and consumers at a Native Roots dispensary. Each team member is considered an expert on cannabis product knowledge, well-qualified to help customers and medical consumers select the perfect product for their needs. Whether you are a first time recreational user or seeking cannabis for medicinal use, Native Roots the highest level of individual service to find that perfect strain, concentrate, edible or any one of their products to best suit your need.
Menu:
Each Native Roots location typically carries 12 – 15 unique strains of flower, all grown to exacting standards in their state-of-the-art garden. Native Roots also carries an extensive selection of house-made extracts such as wax, shatter, live resin and their Cannasap oil. Native Roots also carries an impressive selection of some of the finest edibles the state of Colorado has to offer, from chocolates to cookies, candies, tinctures and teas.
Native Roots has partnered with local musicians and artists to create specialty strains, available exclusively at Native Roots; Griz-Kush and Cookies n' Dream. For convenience, Native Roots also carries a curated selection of accessories such as pipes, bongs, dab rigs and vape pens as well as lighters, rolling papers and Native Roots apparel.
Veterans receive 20% off of their purchases, and Native Roots offers a variety of special offers for subscribers to their newsletter. To help their customers save time, Native Roots offers customers and medical consumers the option of online ordering through their website, nativerootsdispensary.com. Debit cards are accepted at all Native Roots locations.
Locations:
Native Roots currently has 17 retail locations across Colorado, with a majority of locations in the Denver Metro area. Native Roots also serves Colorado Springs with four medical locations and the mountain communities of Dillon, Frisco, Vail and Aspen. A new Medical location on Tower Road near DIA is scheduled to open in April.