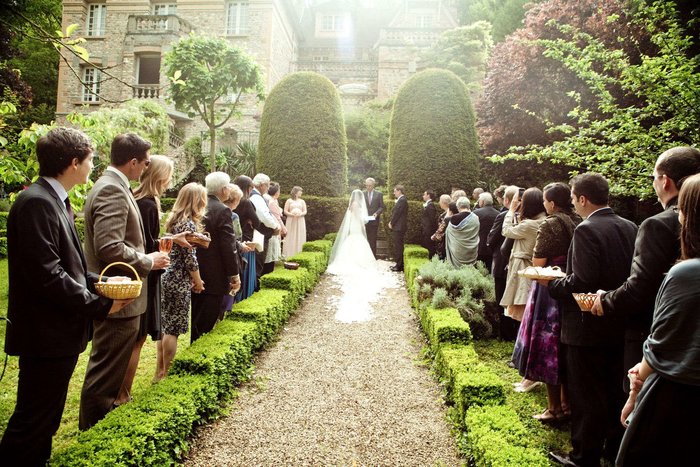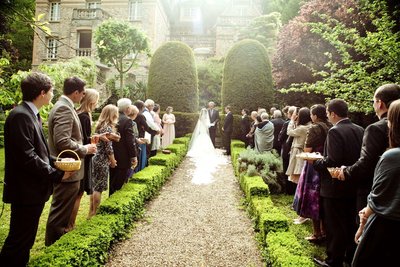 When it comes to weddings, we've all been there — sneaking out to find a discreet place to puff on a joint so that we can fully experience the festivities, get loose on the dance floor, or be more social with that bridesmaid or groomsman we've been eyeing. Keeping that vaporizer pen or one-hitter handy so we can take a toke without anyone catching a glimpse. It's a wedding, we should be able to have as much fun as we want. If everyone else is pouring back cocktails and beer, what's so wrong about celebrating the power of love; 420 style?
Imagine this. When you sit down for the wedding dinner, each place at the table has its own personal bag of a heady sativa hybrid and a customized glass pipe with the bride and groom's names inscribed on it, just waiting for you and your friends to smoke and pass around. Picture a budtender standing next to the alcohol bar, handing you an edible cannabis chocolate that will fire you up for the night's festivities. He's got all different kinds of weed to offer — including a specialized strain created specifically for the newlyweds. It's all yours to sample and maybe even take a little home as a parting gift. It's an open bar, cannabis style, and it's not your imagination. It's really happening — a weed wedding.
With more and more states fully legalizing recreational marijuana, weed weddings are becoming a thing. A big thing. Brides and grooms no longer have to choose between their fiancee and a lady named Mary Jane. Drinkers and tokers can unite for a night too hazy to remember, too fun to forget. As cannabis becomes big business, all sorts of unique opportunities are popping up for entrepreneurs around the United States. Some have chosen to join their passion for holy matrimony with their love for holy smoke.
Bringing people together like horse and carriage
One such company is Love and Marij, a website that connects cannabis-loving couples with marijuana-friendly wedding vendors. Love and Marij can inject some Mary Jane into any aspect of the wedding, from the bachelor or bachelorette party to the "Just Married" limo ride as the newlyweds head off to their honeymoon. Need a venue that will be cool with the sweet smell of smoke pervading through the reception room? Love and Marij will help you book a date at Arrowhead Manor in Morrison, Colorado or Mountain Views B&B in Monroe, Washington. The company has a growing list of weed-friendly wedding and reception halls to make stoner wedding dreams become a reality.
But it doesn't stop there. Love and Marij can hook you up with a DJ that will spin the tunes you want to hear (note: they have all the Bob Marley and Grateful Dead records on call). And how about food? Love and Marij work with catering companies that know all the food pairings to satisfy everyone's munchies and make their taste buds explode. Do you need a photographer that's cool with some Purple Haze being passed around during picture time? How about some cannabis-themed wedding invitations? It can happen, and it does happen with Love and Marij. The company is adding more and more partnerships with all wedding-related vendors, and we will see this continue with recreational pot now legal in California, Nevada, Maine and Massachusetts.
Green is the new white
There is also CannaBride, a blog dedicated to brides that love to toke. CannaBride claim themselves to be the Knot for Stoners, and they provide many of the same services that Love and Marij does. It offers links to Laura DeMerchant Photography and Passiflora Photography, two services that are more than happy to be the snapshooter-in-chief at cannabis weddings, bridal showers and bachelor parties. People of Colorado can connect to Buds & Blossoms, a florist that specializes in making the perfect floral arrangements for a 420 wedding. CannaBride also has a submission page where newlyweds can send in photos from their wedding, engagement party, 420-friendly honeymoon or memorable stoner wedding gifts to be featured on the CannaBride blog.
The possibilities are endless for a weed wedding. Some choose to hire The Herbal Chef of Las Vegas for some cannabis-infused fine dining. The Herbal Chef offers high-quality multi-course meals, each spiked with a little bit of Mary Jane to enhance the wedding experience.
Janay A Eco Bridal makes customized organic wedding dresses using hemp fabric, and even pot leaf necklaces to complement the garments.
When in Colorado
And then there's Top Shelf Budtending, based in Colorado. Similar to a pre-wedding wine tasting, Top Shelf will take the soon-to-be-wed couple to a dispensary to try out samples of different types of herb. The bride and groom will then select their favorite strains, and Top Shelf will be on hand at the wedding to pass out some cannabis and advise wedding attendees on what the expected effects will be and how much to consume. This is especially helpful for novice cannabis smokers or guests that are sampling edibles for their first time and may need some education on proper dosage amounts.
Three Colorado natives also started the Cannabis Wedding Expo, a trade show for couples seeking 420-friendly vendors to help them take the plunge. The Expo's founders include two wedding planners and a cannabis cultivator, though all three have experience in the legal marijuana industry. With the Cannabis Wedding Expo, they have merged their passions to help couples inject Mary Jane into their wedding.
The first Cannabis Wedding Expo took place in Denver in 2017 and it featured plenty of traditional wedding-related vendors along with budtenders, cannabis chefs, hotbox ready limo services and other 420 entrepreneurs. Its founders are dedicated to finding creative ways to pair weed and weddings, but they stress the importance of doing so professionally and elegantly. A second Cannabis Wedding Expo is planned for San Francisco on April 30, 2017, and should be a hit among California residents, particularly as recreational pot became legal with the passing of Proposition 64 last Election Day.
A second Cannabis Wedding Expo is planned for San Francisco on April 30, 2017, and should be a hit among California residents, particularly as recreational pot became legal with the passing of Proposition 64 last Election Day.
It's a commitment to staying power
The weed wedding industry is clearly most prominent in Colorado, which along with Washington was the first state to go fully legal. Over time and as stigmas surrounding recreational cannabis continue to dissipate we should expect to see 420 matrimonies occur more and more in states like California, Oregon, Washington, and Alaska.
Nevada is no stranger to the trend. The Cannabis Chapel in Las Vegas opened its doors on April 20, 2016, for couples in Sin City that want a groovy alternative for their "Weeding" day. Its Joint Matrimony package includes the use of the chapel, a wedding coordinator, reggae music, a silk cannabis bouquet and boutonniere, and a photo session in front of its "Welcome to Cannabis" sign.
How soon will we see east coast weed weddings? With Maine and Massachusetts legalizing recreational pot on Election Day 2016, the phenomenon could be right around the corner. Very soon, couples in the Northeast United States could be taking their first married toke together – with a double-hitter glass pipe called a unity bowl – in front of family, friends and a justice of the peace. They could be handing out heart-shaped joint holders and serving filet mignon with five milligrams of THC per portion. In due time, "open bar" could mean a totally different thing for wedding attendees all around the country. Just go easy on those brownies.