Top 5 Edibles in California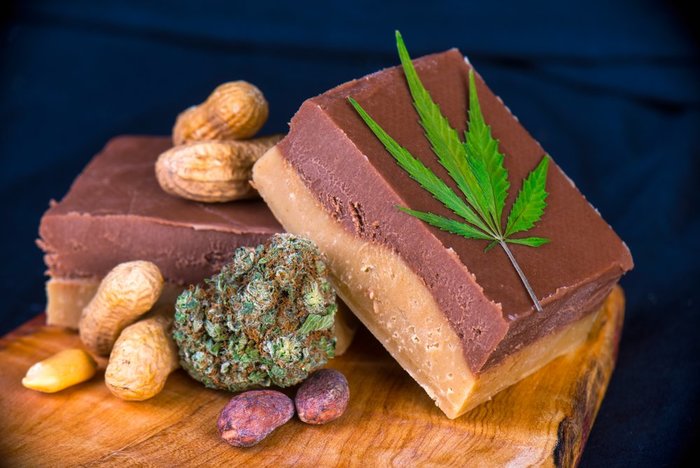 California is known for many things: beaches, sunshine, mountains, hippies, movie stars, Disneyland… the list goes on and on. It's the Golden State, though lately it's gone a little green.
Thanks to the legalization of recreational marijuana, California has seen a cannabis-infused boom. The law, which was voted for and passed in November 2016, officially went into effect on January 1, 2018. This year has seen a massive increase in adult weed use, and many are feeling the effects.
Especially in their tummies.
The popularity of edibles in California is on a rise. These treats can include anything from brownies and gummies to drinks to the classic brownie, offering a little something for everyone's palate. Not only are edibles a good introduction into the world of cannabis, but they are also a favorite for seasoned marijuana veterans who prefer not to smoke their ganja.
Cannabis-infused goodies are a delicious option for anyone looking to get high in the beautiful, massive, diverse, and now completely legalized, Republic of California.
Below are 5 popular edibles in California.
1. Artisanal Cannabis Macarons ? Madame Munchie
Somehow, the tasteful, elegant, light, and decadent dessert just got even more delicious.
Macarons, which originally hail from France, are usually a sweet meringue-based treat made with egg whites, sugar, almond, and food coloring. In California, bakers at Madame Munchie have added an additional high-quality ingredient: cannabis. These weed-infused cookies come in five different flavor combinations, each including 20 mg of THC. Among others, these include:
Hazelnut mocha
Green gold
Citrus a l'amande
Grilled PB&J
Tropical jungle
Both the company and the macarons come from San Francisco and bring an artful dose of style to every batch. Artisanal Cannabis Macarons, which are in high demand, came in first place in the 2014 High Times competition, so you know they're damn delicious.
Calling all Nutella lovers: this is better.
The Australian nut condiment has quickly become a worldwide sensation; innovators at Organicares realized this and added the single element that was missing (hint: it's weed). Grab your toast, French bread, muffins, crackers, cookies, fruit, and whatever else could use a thick, chocolatey spread. Hazelnug and Grub comes with crackers, but it's okay to expand beyond the box.
The small tub of hazelnut spread contains about 80 mg of THC, or about 20 mg per serving. When it comes to a taste-bud-dazzling treat, Hazelnug does the trick and will leave you licking your fingers after each spread.
For extra inspiration, search Pinterest for Nutella recipes, and go wild with all the endless opportunities Hazelnug and Grub has to offer.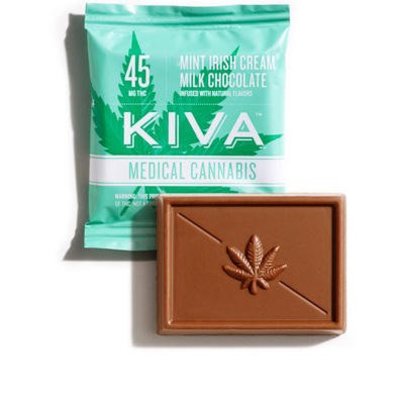 KIVA Confections is an edible company that specializes in artisan, cannabis-infused products for dispensaries in California. KIVA opened up shop in 2010 with a mission to give medical consumers quality treats that they could truly enjoy, and the business has boomed ever since; they are now unquestionably known as a leader within the edibles industry.
With Mint Irish Cream, KIVA has clearly excelled in their pursuits. This chocolate bar has very pleasant flavors, top-notch chocolate, and excellent packaging. The bar is split into sections of 45 mg doses, totaling 180 mg of THC. Reaching for a KIVA Confections bar, especially one as smooth and delectable as Mint Irish Cream, is a good choice for anyone with a weed-inspired sweet tooth.
Other flavor offerings include:
Vanilla Chai Milk Chocolate
Espresso Dark Chocolate
Ginger Dark Chocolate
and various others!
When it comes to Auntie Dolores, there are too many delicious products to only mention one. This California edibles company, which specializes in concocting savory infused treats, has been a staple in San Francisco since 2008 and has cultivated a reputation as everyone's favorite relative.
Chili Lime Peanuts offer a zesty thrill. Savory Pretzels, which come in a container that's just as chic and smooth as you'd expect your aunt to offer, are a balanced blend of crunchy, salty, and spiced. Auntie's pecans are glazed to perfection. The Salted Caramel Corn bites combine sweetness with saltiness for a satisfying bite every time.
Auntie Dolores even has a few off-brand options, such as brownie bites and sparkle cookies, making for a well-rounded pantry of about 120 mg of THC per bag.
While classic tropes usually associate edibles with high-sugar sweet treats, Badfish Extracts subverts expectations with their rendition of an American roadside classic. Reef Jerky, besides highlighting one of the best Santa–Cruz-area puns, is also a tasty and highly potent, meaty, and salty snack.
Like its straight-edge, cannabis-free beef jerky counterparts, Reef Jerky is full of robust flavors. Their version of jerky is infused with the classic cannabis oil that Badfish is known for, adding an extra mind-altering kick. The result is an ideal THC-filled California edible that will likely result in you reaching for another munchie.
Looking for edible deals near you? Using the LeafbuyerSIMPLE SEARCH function, you can navigate our comprehensive list of dispensaries in your area to find the perfect edible marijuana product. Start saving today!