Star Wars Cannabis Accessories
A long time ago in a galaxy far, far away…
DA DAAAAA, digga daaaa, digga daaaa (da da da da da da da da da)
Hello, my fellow Star Warriors! Are all of you still trembling from the sheer awesomeness of The Last Jedi? Or maybe you're still in shock that we've experienced three (count em, three!) movies from the Disney Star Wars franchise without being force-fed obnoxious characters (Jar Jar Binks, anyone?) and horrible writing ("Anakin, you're breaking my heart!"). Either way, it's a good time to be alive for Star Wars fans.
You also might have noticed that it's a good time to be alive for marijuana users. Recreational pot is legal in 8 states across the country (plus Washington, DC), and medical marijuana is legal in 23. And despite the best efforts of the federal government (I'm looking at you, Jeff Sessions), those numbers will only continue to rise.
The Star Wars galaxy is great. The world of marijuana is great. Why not combine them and experience two of your great loves together? I give you:
Strains
Death Star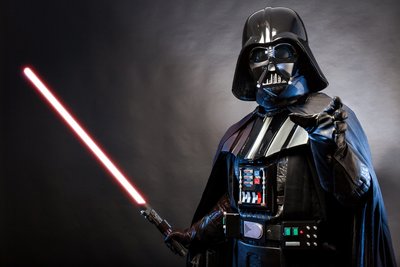 It's the ultimate power in the universe so why not grind it up and smoke it? Death Star is a popular indica hybrid that combines the relaxing weightlessness of outer space with the cerebral buzz of Han Solo trying to grasp the true meaning of the Force. Keep in mind, though, if you don't want to get end up as obliterated as Alderaan, you should try to take Death Star in smaller hits.
Skywalker OG
Ah, the farm boy turned galactic hero. Luke Skywalker may be a far cry from an OG in the colloquial sense, but he packs one hell of a smoke. Skywalker OG is an indica strain that comes with a heavy body high. If you're in pain from a hard day of moisture farming on Tatooine (if only they'd let you go to Tosche Station to pick up those power converters!), look no further than Skywalker OG.
Note: Of course, this strain could be referring to any member of the Skywalker clan. I chose to interpret its namesake as Episode IV Luke: the Force is strong with it, though there's not too much going on in the brain.
Darth Vader OG
While Hayden Christiensen's representation of Vader's makes the character seem like a whiny child with too much power, there's no denying that the Darth Vader of the original trilogy is a total OG. If you're looking to quiet your mind after a long day of plotting your galactic rule, take a load off with Darth Vader OG. This strain gives users a deep, relaxing high and, in stronger doses, will have you sleeping like a pre-Anakin Padawan. (Too soon?)
Master Jedi
Looking for an indica to calm your mind and connect you to the Force that exists within the world around you? Look no further than Master Jedi. This strain brings your body to a standstill with a grounding effect that allows your mind to contemplate the deeper meaning of Light, Dark, and the Force that binds us all.
Ewok
Harvested from the Forest Moon of Endor (not really, but wouldn't that be cool?), Ewok is an indica-dominant hybrid that brings out a childlike creativity and curiosity while also relaxing your body. Enjoy this cerebral high as you build your surprise attack against an unsuspecting Empire. (Adorable, fuzzy allies not included.)
Accessories
Stormtrooper Bowl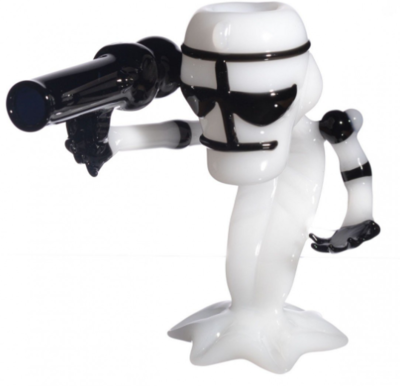 Enter Skywalker's Little Friend, a stormtrooper whose trippy design sets him apart from the rest of Vader's employees. With room for flower in the head and a carb on the blaster, this hand-painted bad boy is sure to protect you from the Dark Side every time you Light up. May the Force be with you!
Caution: Make sure to inhale directly through the gun. Although you have complete control over where the smoke goes, those blasters have always been a bit dodgy when it comes to hits.
Death Star Grinder
Obviously a grinder is just a grinder; you don't need anything fancy, it just needs to make your pot easier to pack. That's what I thought, too, until I saw a wide array of Death Star grinders available for purchase online. Now, I find my lack of one of these bad boys disturbing.
BB-8 Stash Jar
Finally, some representation from the newest generation of Star Wars! With an airtight seal, this jar is the perfect place to keep your weed fresh while repping your Star Wars fandom. Let BB-8 protect your stash from the First Order (or your parents; we don't judge).
So now that you're caught up on some Star Wars strains (and great ways to smoke them), why not treat yourself to a movie marathon? (We won't tell if you skip the prequels.)
Can't get enough of the Star Wars universe? Check out this awesome video of several cast members from The Force Awakens singing an a capella Star Wars medley, with a little help from some friends!
Article by: Daphne Eccleston