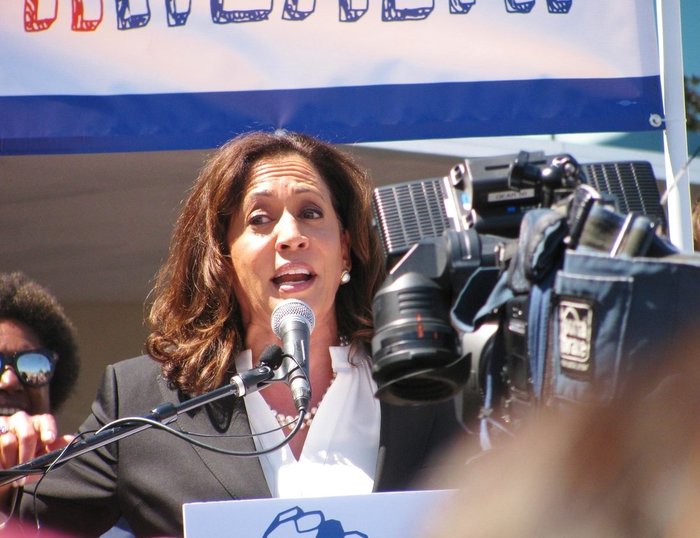 WASHINGTON — Sen. Kamala Harris (D-CA) announced that she will be co-sponsoring the Marijuana Justice Act. The announcement was made via a NowThis video posted on the senator's Twitter account on Thursday.
Citing the fact that marijuana laws are enforced unfairly and have been detrimental to the African-American community, Senator Harris said that she was proud to be signing onto the Marijuana Justice Act.
The Senator went on to call legalizing cannabis a social justice issue.
The ACLU reports that African-Americans consume marijuana at the same rate as Caucasians but are arrested at nearly 4 times the rate. Harris says that it isn't fair and that it is time to legalize marijuana.
The Marijuana Justice Act was introduced by Sen. Cory Booker (D-NJ) last year and would amend the Controlled Substances Act by removing marijuana from the federal list of controlled substances. It is currently listed as a Schedule I narcotic along with heroin.
The bill would also force the federal courts to expunge all marijuana use and possession conviction records of every American. Those currently serving time would be able to petition the court for resentencing according to the new law.
Federal funding would also be restricted for states with a disproportionate number of arrests for pot possession. Sen. Booker speaks in the video as well and aptly points out that two of the last three Presidents have admitted to using marijuana while others go to jail for doing the same.
Senator Harris schooled Attorney General Jeff Sessions last year over marijuana laws when she said that California needed for him to deal with the global human trafficking ring instead of "going after grandma's medicinal marijuana."
She added that the focus should not be on the street dealer but instead on violent drug cartels. She also said that addiction is at the core and people should be treated for addiction instead of incarcerated.
Parade of Politicians are Endorsing Mary Jane
Harris joins the parade of senators that have either signed onto the bill in recent months or endorsed legalizing marijuana. Sen. Bernie Sanders (I-VT) is a longtime marijuana supporter and co-sponsored the bill in April. Sen. Kirsten Gillibrand (D-NY) also signed onto the bill back in February.
Longtime opposer to marijuana legalization Sen. Dianne Feinstein (D-CA) announced recently that she would consider legalization after speaking with her constituents who needed medical marijuana. Senate Minority Leader Chuck Schumer (D-NY) also recently announced that he will introduce legislation to end the federal pot ban.
Harris believes that the failed war on drugs has been a war on communities instead. She says that law enforcement needs to focus their energy on serious criminals and serious drugs, not someone "smoking a joint." She added that the laws are simply unjust and unfair. She also said it's the smart thing to do.
Washington D.C and 9 states have legalized recreational marijuana, and the recent purge for politicians to endorse marijuana could be a reflection the times. Polls show that at least 61 percent of the country is in favor of legalizing marijuana, according to Pew Research Center.
At least 70 percent of Millennials and 66 percent of Generation X approve of legalizing marijuana, with 56 percent of Baby Boomers supporting pot legalization. Democrats support marijuana legalization at a rate of 69 percent, Independents at a rate of 65 percent, and Republicans at a 43 percent rate. Medical marijuana is legal in 29 states plus Washington D.C.
Senators Booker, Gillibrand, Harris, and Sanders are all rumored to be running for the 2020 Democratic Presidential nomination.