Top Paint and Puff Classes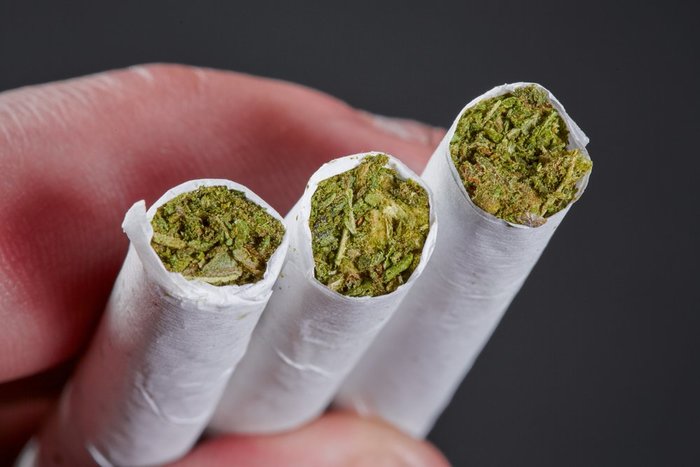 Everyone can use a little extra spruce of creativity in their lives.
Entrepreneurs, especially in the entertainment industries, have capitalized on this simple truth by introducing classes that are fun, interesting, and a little edgy. Sip n' Paint classes have become all the rage. By spicing up painting classes with libations—usually wine or distilled beverages—people have rediscovered their desire to create.
After the widespread success of Canvas and Cocktails, in conjunction with the legalization of marijuana, a new expression of classes was born. Cannabis connoisseurs have further pushed the envelope of innovation by mixing two forms of self-expression that go together naturally: weed and art.
This new combination of recreation has sparked interest in cannabis-fueled art, which is, unsurprisingly, an excellent fit. Artists over the age of 21, whether novice out-of-state tourists or locals enrolled in a weekly routine, can unleash their passion, tap into their creativity, and dive deep into their senses. They puff, they paint.
Here are the top weed painting classes.
1.) Puff, Pass, and Paint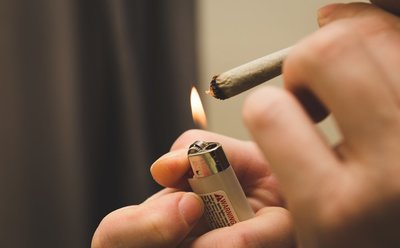 Sure, we all know about puff, puff, pass. It's the common cannabis sentiment; in the words of Kid Cudi: "Crush a bit, little bit, roll it up, take a hit," then spread the love by sharing the joint. This cannabis class is designed with the paint and puff attitude in mind.
To honor that same ideology, Puff, Pass, Paint is a fun and punny activity available in most legalized states. This company has created a very specific brand and is credited as the very first in the industry to pair painting with cannabis.
Since 2014, Puff, Pass, Paint has been offering an all-inclusive art class: They supply the paint, the brushes, the canvases, sometimes the transportation, and always the good vibes. Unless otherwise stated, the format is BYOW (bring your own weed), and marijuana consumption is not required.
"Puff, Pass, Paint isn't about making the perfect piece of art. It's about being part of an atmosphere that is relaxed, comfortable, open-minded, and allowing yourself to freely create your own original masterpiece."  – puffpassandpaint.com
The company hosts its signature painting classes—including private party group classes—in Denver, Portland, D.C., and Seattle. Be on the lookout for expansion throughout the legalized states.
Not really a fine artist? Puff, Pass, Paint also has other classes in the works. In Colorado, sign up for Puff, Pass, Pottery or Puff, Pass, Pincushion for those looking for a more hands-on experience. There are also cooking classes available, which (you guessed it) is called Puff, Pass, Bake.
2.) Kush & Canvases
With a more local feel, Kush & Canvases is a paint and puff organization. The Colorado-based cannabis painting class is perfect for low-key art and high-key enjoyment. With purchase of a ticket (required 24 hours in advance), artists will be supplied with a fresh canvas, paint brushes, paint, and an apron. An instructor facilitates class growth, creativity, and discovery in a bring-your-own-weed environment.
Each Kush & Canvases class is centered on a different theme, which is a little more flexible than your typical "paint this exact flower" or "paint one kind of tree" experience and encourages personal inspiration and expression.
On Friday nights, Pot Portraits focuses on the representation of a person. Saturdays jump into Indo Illustrations, exploring a range of fine art forms, like abstract art, impressionism, and use of color. In honor of easy breezy Sunday mornings, Marijuana and Mimosas is meant for free-form expression, allowing the artist to take a hit and go wherever their high takes them.
The atmosphere, like any good marijuana get-together, is laid back, social, and chill. Kush & Canvases is hosted at a residential location, with the address given at the time of ticket purchase, which is an intimate, personable touch, ranking this cannabis art class near the top.
3.) The Loaded Brush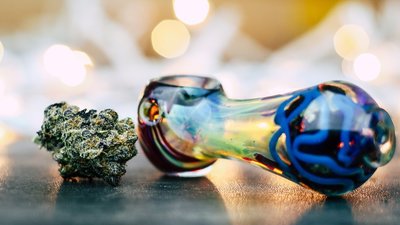 With classes in Portland, The Loaded Brush is a paint and puff business with an open mind. They mainly host booze and painting classes with the tagline "Drink, Paint, and be Merry," but they've expanded to reach the cannabis crowd.
The Loaded Brush hosts their own classes, partners with local dispensaries, and can go to you—offering the ultimate package of convenience. They are entirely BYOW, with instructors who know how to guide and facilitate inspired works of art.
A local favorite is Paint Your Pet classes. Who doesn't love mixing a little pot with a painting of their best furry friend? Inhale marijuana, exhale brush strokes; this class is known to create a lasting memory with tangible art to take home to your loved one after all the smoke has cleared.
Check the calendar at The Loaded Brush for available classes or book a private party here. Before heading to class, make sure and pack plenty of your own weed (for yourself and maybe to share).
To find dispensary deals near you, check out our dispensary locator!