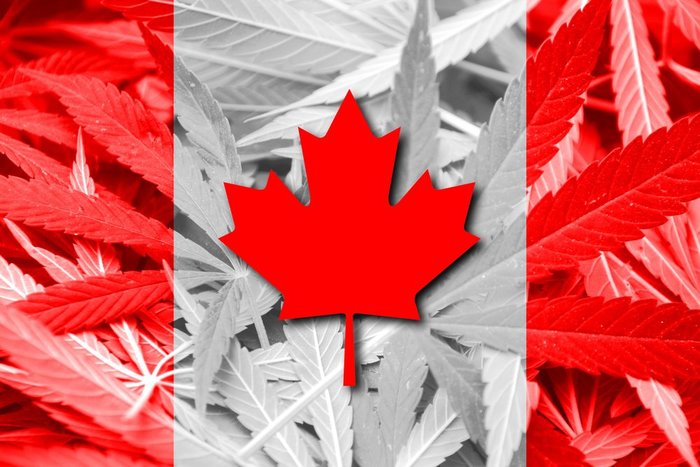 Cannabis lovers across Canada rejoice! It is just a few weeks until cannabis is fully legal in Canada. In late June, Canadian Prime Minister Justin Trudeau announced that cannabis would be legalized starting October 17, 2018. For many people, that means getting their cannabis without the hassle of obtaining a medical cannabis prescription. And, as was seen in states like Oregon, Colorado, California, and Washington, it provided an opportunity for many others to try cannabis for the first time.
However, it can also be challenging to navigate the recreational cannabis market when it is first getting started. For example, medical marijuana has been legal in Canada since 2001, but will all of those dispensaries open up to recreational buyers in October? As of now, it is still unclear, but since the Cannabis Act passed in June, the Canadian government has been issuing recreational licenses allowing retail locations to produce, grow, sell, and distribute marijuana.
What Are The New Rules For Recreational Dispensaries in Canada?
Canada is only the second country to make cannabis legal nationwide, the other being Uruguay. The Cannabis Act states that an adult age 21 (18 or 19 in some provinces) and older will be allowed to possess up to one ounce of cannabis for recreational use. Eligible Canadian citizens will also be allowed to grow four cannabis plants for recreational use. Keep in mind the Cannabis Act only applies to dry marijuana flower, for now. Edible cannabis products will not be fully legal until the law has been in effect for one year. No one is quite sure why this distinction was made, but speculate that the Canadian government is still trying to figure out how to regulate edible marijuana products.
What Kinds of Taxes Come With Recreational Weed in Canada?
If there is one thing that most people don't like about legal cannabis it's the taxes. Historically, the taxes on recreational substances in Canada are very high – just look at their alcohol taxes as an example. In Canada, hard liquor is taxed at 80 percent and beer tax is around 50 percent. Comparatively, the cannabis taxes are very reasonable, but still a little complex. For strains that cost less than $10 per gram, the tax will be $1 per gram. For strains that cost $10 per gram and higher, it will be a flat rate of 10 percent.
The one good thing about cannabis tax is that it can flood the government and provinces with new tax money. For every province except Manitoba, the government and province will share the tax revenue 75 percent-25 percent (with the latter going to the federal government) for the first two years of legalization. That ratio applies to profits up to $100 million dollars, and after that point, all of the tax money will go to the provinces.
Are Cannabis Concentrates And Vape Pens Legal in Canada?
If you are reading this through a vape cloud, the Cannabis Act might not sound all that great to you! Unfortunately, legalization of cannabis in Canada only applies to dried flower and plants. Vape pens and cannabis concentrates are still illegal in Canada. According to CBC News, the reasoning is that health officials in Canada believe there may be harmful side effects to vape pens and cannabis concentrates. According to the article, "the government is concerned about high potency, and the chemicals and solvents that are used to extract the concentrated form of cannabis."
Michael John Milloy, assistant professor and research scientist at British Columbia Centre on Substance Abuse, stated, "I think there are concerns in terms of psychosis [and] in terms of anxiety...but there are some potential benefits." Yes – that sounds pretty wishy-washy, but the government mandate stands.
According to the same article, the government may be concerned about health but they are also concerned with finding a way to regulate the substances if they were to become legal. It is easy to assume that the Canadian government is holding out on legalizing concentrates and vape pens until they have a system in place to profit from it. After all, in 2016 a quarter of California's legal cannabis sales were dedicated to vape products!
Will All Medical Marijuana Shops Become Recreational?
In short, no. Some provinces will have their own special laws for recreational dispensaries. Two great examples are Ontario and Saskatchewan. While it's still unclear what the recreational market will look like in Canada, these two provinces have decided to privatize cannabis sales. In Ontario, cannabis will be sold through government-run stores. Saskatchewa is doing the same thing, but retailers will also be required to have a license. In Alberta, sales will be through the private sector only, but retailers will need to obtain a license from the Alberta Gaming and Liquor Commission. In British Columbia, there will be tons of cannabis retail shops run by both the government and private business owners. And in Quebec, the laws will be strictest – only the government will be allowed to sell cannabis and the legal age to buy will be 21 instead of 18.
Here's What The Cannabis Act Means for International Travel
Even though cannabis is legal in Canada, their border laws remain the same. It is still illegal to transport cannabis – and any substance containing cannabis – across Canada's international borders. And, it does not matter whether you are bringing it in or taking it out. That means, you can not even take legal cannabis from a state like Washington across the border into British Columbia, or vise-a-versa.
In fact, Canadians coming to America might face stricter border agents and some in-depth questioning when in comes to drug use. According to another article by CBC, U.S. immigration lawyers advise Canadians crossing into the United States to deny past marijuana use. Washington immigration attorney Len Saunders told the news source, "If you admit to smoking marijuana, you will lose your NEXUS card for life. [And] if they smell marijuana on you, you will lose your NEXUS card for life."
For those who like to buy cannabis seeds online from countries like Canada, you can still do that but take the same risks of border seizure. The Canadian government will still examine travelers, mail, courier, and commercial shipments for cannabis-related products.
If the above information was more than you were looking for, here's the TLDR version!
Purchase Limit: Varies based on provincial or territorial restrictions
Sales and Use Tax: $1 per gram on cannabis costing up to $10 per gram. Expensive strains will have a flat tax of 10 percent
Gifting Marijuana: A person can gift up to 30 grams of dried cannabis flower to another adult ages 18-19+ depending on the provincial or territorial restrictions.
Possession Limit: 30 grams of dried cannabis flower
Personal Marijuana Plant Count Limit: 4 Plants per household, not per person using licensed seeds or seedlings from licensed suppliers. No plants are allowed in
Social Use Law: Marijuana can be consumed in establishments that have been licensed for such activity.
Making Cannabis Products: Canadians can make legal cannabis-containing products at home, such as food and drinks, provided that dangerous organic solvents are not used in making them. (And remember, concentrates and edibles are still illegal!)
Driving with Marijuana: A person can drive with marijuana in the car as long as it is properly sealed and stowed away in a place where the driver cannot access it. You are not allowed to drive while under the influence of any drugs, including marijuana. Cannabis must not be found within the blood within two hours of driving.
To stay up to date with what cannabis dispensaries will be able to sell recreational marijuana, check out our list below!
Recreational Dispensaries in Canada
Recreational Dispensaries in British Columbia
Hemp & Wellness Vernon
5601 Anderson Way, #102
Vernon, BC V1T 9V1
250-545-5584 
The Healing Tree – Hastings
529 E Hastings St.,
Vancouver, BC V6A 1P9
604-559-9600 
Cannabis Culture – Davie St
920 Davie St.,
Vancouver, BC V6Z 1B8
604-428-5310
Red Med
231 Abbott St.,
Vancouver, BC V6B 2K7
604-559-9444
FARM Dispensary
369 Columbia St.,
Vancouver, BC V6A 4J1
604-428-3276
Gastown Medicinal Dispensary
306 Carrall St.,
Vancouver, BC V6B 2J3
604-428-0679
Green Panda Dispensary – Robson St.
1707 Robson St.,
Vancouver, BC V6E 3P2
778-737-6565 
The Herb Co. – Mount Pleasant
1193 Main St.,
Vancouver, BC V6A 4B6
604-696-0012
Canna City
725 Nelson St.,
Vancouver, BC V6Z 1A8
778-379-2944 
MMJ Total Health Care
3004B 31st St.,
Vernon, BC V1T 5H7
877-540-0186 
The Herbal Health Centre – Kamloops
2-726A Sydney Ave,
Kamloops, BC V2B 3J2
236-421-2227 
Okanagan Cannabinoid Therapy – Penticton
351 Westminster Ave. West, #101
Penticton, BC V2A 3K1
236-422-0322
Okanagan Cannabinoid Therapy – Kelowna
189 Highway 33,
Kelowna, BC V1X 2A1
778-753-6440 
WEEDS – Richards
1108 Richards St.,
Vancouver, BC V6B 3E6
604-891-1420
Vancity Weed – Granville
1181 Granville St.,
Vancouver, BC V6Z 1M1
604-681-4460 
Yaletown Medical Dispensary
1281 Howe St.,
Vancouver, BC V6Z 1C1 
5 Star Organic
1062 Granville St.,
Vancouver, BC V6Z 1L2 
The Green Room Society – Dunsmuir
555 Dunsmuir,
Vancouver, BC V6B 1Y4
Ocean Grown Medicinal Society
1725 Cook St.,
Victoria, BC V8T3P4 
The Dub
138 E. Pender St.,
Vancouver, BC V6A 1T3
Recreational Dispensaries in Alberta
Mary Janes
5010 3rd Ave,
Edson, AB T7E 1T4
587-466-9440
Ten Peaks Cannabis (Rocky Mountain Cannabis Club)
8330 MacLeod Trail SE, Unit F1
Calgary, AB T2H 2V2
587-352-7622
Recreational Dispensaries in Saskatchewan
The Grass Station
160 Broadway St. W,
Fort Qu'Appelle, SK 1
306-332-2111
Best Buds Societ
1355 Cornwall St,
Regina, SK S4R 2H6
306-559-2617
Kelz Medical Services
2410 Dewdney Ave,
Regina, SK S4N 6C5
Jane & Co
2151 Albert St.,
Regina, SK S4P 2V1
Recreational Dispensaries in Manitoba
WEEDS – Winnipeg
52 Adelaide St.,
Winnipeg, MB R3A 0V7
204-219-1723
Green Light
1808 Main St,
Winnipeg, MB R2V 2A3
204-414-5244
HG Cannabis Wellness
675 Sargent Avenue,
Winnipeg, MB R3E 0A7
204-918-5607
Recreational Dispensaries in Ontario
WEEDS – Bank St
224 Bank St.,
Ottawa, ON K2P 1X1
613-680-0420 
MMJ Canada – Yorkville
20 Cumberland St.,
Toronto, ON M4W 1J5
416-925-9559 
The Dank Of Canada
2 Payson Ave,
Vaughan, ON L4J 8K1 
Lifeline Medicinals
505 Rideau St.,
Ottawa, ON K1N 5Z5 
Ottawa Compassion Clinic
487 Rideau St,
Ottawa, ON K1N 5Z5
613-562-3854 
Community Cannabis Clinic
1257 St. Clair Avenue West,
Toronto, ON M6E 1B8
416-653-0374 
CAFE – Cannabis And Fine Edibles
66 Fort York Blvd,
Toronto, ON M5V 4A6
OO6-6 
High Society – Carlton St.
180 Carlton St.,
Toronto, ON M4X 1L8
416-546-8333
THE BARN Medical Dispensary
928 Montreal Road,
Ottawa, ON K1K 0S8
343-996-4823 
The Toronto Liberty Dispensary
842 King St. W,
Toronto, ON M5V 1P1
Vital Medicinals
1581 Bank St,
Ottawa, ON K1H 7Z3
The Relief Center – King
1224 King St W,
Toronto, ON M6K 1G4
416-516-8006 
ZenZoo
480 Queen St W,
Toronto, ON M5V 2B2
647-351-5874 
The Bud Station
1506 Eglinton Avenue West,
Toronto, ON M6E 2G5
437-770-2787 
The OMD
39 Antares Dr.,
Ottawa, ON K2E
613-224-4495 
The Toronto Dispensary
1334 Queen St W,
Toronto, ON M6K 1L4
647-340-4142 
Dr. GreenThumb
973 Montreal Road,
Ottawa, ON K1K 0S6
613-745-5096 
WEEDS – Montreal Rd
77 Montreal Rd,
Ottawa, ON K1L 6E8
613-695-9420 
Premium Piff
Unit 8 – 9275 Markham Road,
Markham, ON L3P 3J3
437-995-6706 
Greenworks Medicinal
5350 Canotek Road,
Ottawa, ON K1J 9C9
613-422-7095 
Recreational Dispensaries in Quebec
Clinique La Croix Verte
2531 Rue Ontario E,
Montreal, QC H2K 1W2
514-510-5003 
KannaKing
7070 Avenue Henri-Julien,
Montreal, QC H2S 3S3
438-833-3282 
Marie Jeanne Boutique
5241 Boulevard Decarie,
Montreal, QC H3W 3C3
844-420-6274 
Cloud9ine
83 Rue Notre-Dame Ouest,
Montreal, QC H2Y
438-833-3788 
Weedeliver514
970 Saint Laurent Boulevard Montreal,,
Montreal, QC H2Z 1J4
438-922-1090 
CMCA
3565 Boul St-Laurent,
Montreal, QC H2X 2T4
514-442-2865 
Le Cannoisseur
879 Rue Saint-Jean,
Quebec City, QC G1R 1R2
418-914-6639 
Weedoo
2181 Saint Dominique St.,
MONTREAL, QC H2X 3W1
514-619-8708 
Recreational Dispensaries in New Brunswick
Tribal ReLeaf
Tobique First Nation,
NB Canada E7H 4V8 
Recreational Dispensaries in Nova Scotia
Cannabis for Life
4115 Nova Scotia Trunk 3,
Chester, NS B0J 1J0, Canada
902-273-5433
Herbal Bud
19 Alma Crescent,
Halifax, NS B3N 2C4, Canada
+1 902-407-0970 
Recreational Dispensaries in Newfoundland and Labrador
Water St. Cannabis Care
152 b Water St,
St. John's, NL A1C 1A9, Canada
709-221-2811

Looking for a legal cannabis job in Canada? Check out our Leafbuyer Cannabis Jobs Board!