Medicated Magic: The Best Edibles in Los Angeles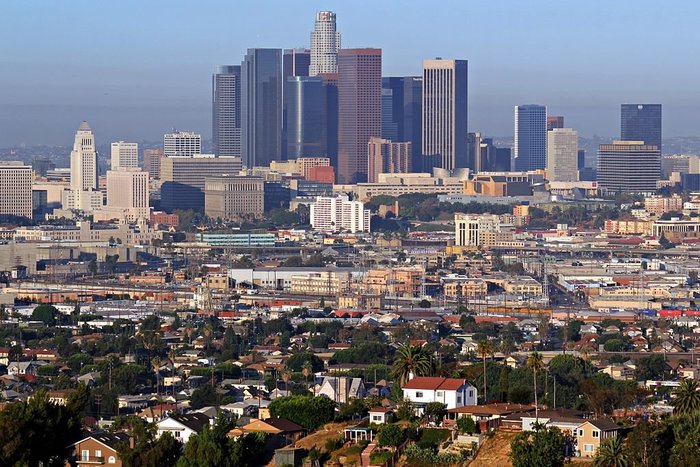 Los Angeles is one of the best cities in the United States to find cannabis because it was the first state to legalize medicinal cannabis. Then, almost 20 years later, recreational weed became officially legal. Dispensaries in the Los Angeles area sell premium bud from growers based all around the Golden State.
But don't forget to load up on edibles while you're visiting Los Angeles! With cannabis-infused chocolates, tinctures, soft drinks and more, there is plenty of heady goodness to go around for the people of SoCal. And there's an added bonus. For the time being, California dispensaries are still all medical, which means that you can get heavily potent medicinal-strength doses in all of your beloved cannabis treats. We traveled to a few of the hottest dispensaries in the Los Angeles area to find the best edibles in LA Here's what we found:
Green Dragon Caregivers in North Hollywood, where we came across some of our favorite childhood foods — in weed form. Weetos brand snacks are extremely popular among California stoners, and it's no mystery why. These cheesy and crunchy snacks taste just like Cheetos, and they come in both regular and Flaming Hot varieties. At 150 mg of THC per bag, this snack will have Chester Cheetah feeling like he's on top of the world.
Weetos also produces a variety of breakfast cereals that look and taste just like the classics. There's Froot Poofs, which is like spiked Fruit Loops. Cannamon Crunch contains all the greatness of Cinnamon Toast Crunch, with a little something extra. And you'll go cuckoo for Cronic Puffs, a chocolatey cereal reminiscent of the famous Cocoa Puffs. Each of these cereals contains 150 mg of THC, so get ready to start your day off with an intense rush of relief and euphoria. Toucan Sam only wishes he could get his hands on some Froot Poofs.
If you're in the mood for a refreshing soft drink on a blistering hot California day, look no further than the products of Keef Cola. There are 10 varieties of Keef Cola, and you can find them on the shelves at Green Dragon Caregivers. Blue Dream is a raspberry flavored adventure infused with a blueberry indica and a hazy sativa. Cherry Bomb is a fruity red beverage also spiked with a hybrid of sativa and indica. There's a Lemon Lime sativa drink, a Purple Passion indica and even Bubba Kush root beer. Keef Cola offers a 10 mg recreational dose and a 100 mg medicinal beverage. Any of these fine choices will chill you out in the SoCal sun.
Korova Chocolates
The next destination on our journey was none other than Exclusive Caregivers, a dispensary on South Wilton Place in Los Angeles. It appears that Korova Edibles' line of delicious chocolates are all the rage here. For those in need of a hefty dose of THC, Korova's Black Bar may be the perfect fit. Each bar is loaded with 1,000 mg of THC. The Black Bar comes in original and mint flavors and it is meant only for consumers with exceptionally high tolerance.
The Fifty One Fifty Bar is a chocolate chip cookie baked on top of Korova's Triple Chocolate Brownie, and it contains 500 mg THC. The salted caramel blondie is an equally potent mouth-watering treat. Korova also offers a series of 250 mg cookies such as the mint dip, which is a chocolate cookie with green mint frosting covering one half of the cookie. Additionally, the company produces a series of cookies starting at 150 mg THC, which is a slightly more reasonable option for less experienced cannabis users.
Dr. Raw Tinctures
For those that prefer to slip a few drops of THC into their coffee or tea, Dr. Raw has a popular line of tinctures available at Exclusive Caregivers and other dispensaries throughout California. Its THC tincture contains 420 mg of THC in just one fluid ounce. When ingested on its own, the THC tincture has a strong taste. However, mixing a drop or two of the tincture into a flavored beverage should take the edge off.
Dr. Raw also produces a CBD tincture that is infused with a homegrown ACDC strain. The Dr. Raw tinctures are hot alcohol extractions, a method which maximizes their potency.
Cheeba Chews
Cheeba Chews was named America's Favorite Edible by High Times. We found them in Coast to Coast Collective, a dispensary in Canoga Park. Cheeba Chews make 11 products that are stocked in 800 dispensaries across the United States, making them one of the most well-known edible brands out there. If you like taffy, Cheeba Chews has you covered with both sativa and indica chocolate taffy, as well as a pure CBD variety. There's also a hybrid-infused caramel and the company's Green Hornet mixed fruit gummy treats.
The Deca Dose is one of Cheeba Chews' most potent offerings, a small bite-sized candy that won High Times awards in 2011 and 2012. Cheeba Chews also makes two CBD-heavy candies, if you're looking to ditch the psychoactive THC ingredient. The company offers its edibles in both medicinal and recreational doses, making them perfect for any situation.
Rainbow Belts by EdiPure
Just a short distance from Coast to Coast Collective is Divine Wellness Center, where the EdiPure Rainbow Belts are becoming increasingly popular. If you're a sucker for sour straws, you might be in heaven when you try the Rainbow Belts. They're colorful with tropical berry flavors, and they contain 250 mg THC in a $20 package. Rainbow Belts bring the user a mellow high that comes on quick and lasts about three or four hours. Each belt contains a dose of 10 mg THC, allowing the consumer to assume total control over their cannabis intake.
Fruit Chews from Remedy Plus
While we're on the subject of fruity goodness, the folks at Remedy Plus are gaining some heavy notoriety with their impressive variety of fruit chews. Their California Grapefruit gummies and OG Peach Rings are currently on sale at Divine Wellness Center for $10 and $20 per package, respectively. Remedy Plus also produces brightly colored sour worms, cannabis-infused Sour Patch Kids and several different flavors of fruit laces similar to EdiPure's Rainbow Belts. These guys are on their game, serving the people of California some of their preferred snacks cannabis-style.
So there you have it: seven mind-blowing edibles that are all the hype in Southern California. Remember, many of these are medicinal strength treats that should be consumed in smaller doses for recreational purposes! California dispensaries are set to open for recreational tokers very soon, so we will most likely see an influx of new edibles on sale throughout the Los Angeles area. But for now, there are plenty of delicious options for relief. Just get your medical card and head over to the nearest dispensary for some cannabis-infused awesomeness! The City of Angels awaits.