Weetos: Marijuana and Munchies in the Same Bag
Our favorite childhood snacks may never be the same again. Cannabis-infused snacks are flying off dispensary shelves, much to the delight of retailers. Today, according to some reports, edibles are making up a healthy 20-40 percent of sales revenue. There may be several reasons for this trend. Edibles provide the cannabis user with a discreet way to consume the product, and it's as easy as opening a package and digging in. Because smoking in public is not allowed, the edible is a perfect option when you need to fly high below the radar.
Weetos (a whimsical play on the popular snack Cheetos), is a tasty way to get a buzz. They are packaged in the same way as the traditional snack, but with a marijuana leaf on the front. They are crunchy and cheesy and reportedly taste exactly like Cheetos. They come in a number of flavors, from regular to flaming hot to extra flaming hot. With 150 mg of THC infused in the product per bag, you will definitely get a first-rate high.
The legalization of pot in the U.S. is still in its infancy. With it has come a variety of products and services aimed at the cannabis consumer. The list is far too extensive to get into here, but we are now able to enjoy medicated gummies, caramels, cookies, brownies, and even breakfast cereals in order to get our recommended daily dose of THC.
What's in Weetos?
Weetos are made with cannabis oil, soy or sunflower lecithin, enriched corn flour, vegetable oil, cheddar cheese, artificial color, artificial flavor, monosodium glutamate, disodium, partially hydrogenated soybean oil, lactic acid, and citric acid. The recommended dosage is a 3-ounce bag, which contains 7.5 doses of 20 mg of THC, or 150 mg total.
Customers report that they taste like both the original Cheetos and weed. For Cheetos lovers, the taste will be very familiar. It produces a high that is a bit different from smoking pot. So, for research purposes and as a service to the public, I decided to purchase my first edible this past weekend and can attest that the high seemed a little more intense and lasted for hours. I almost felt guilty sitting in a meeting flying so high. I had no sense of the paranoia that comes with smoking a joint. However, it's important to remember that edibles affect different people in different ways.
Eat with Caution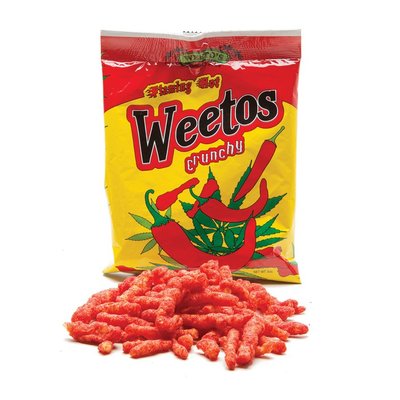 There are a few caveats to keep in mind when consuming edibles. If you are new to edibles, take it slowly to see how your body and mind will respond. Remember that weight, body mass, age and your metabolic rate and body chemistry can make a difference. Just like taking any medicine, try not to consume on an empty stomach, because you are using edibles for the effect, and not as a meal. Make sure that you are aware of the dosage; 10 mg is the recommended serving portion. The high might feel different, because an edible is not absorbed through the lungs but rather through the stomach. Finally, if you feel like you have gotten too high, don't panic; you should wait it out by lying down and the effect will eventually wear off. Whatever you do, don't get behind the wheel. For more information on how to handle your edible high, check out Leafbuyer's Quick Edible Consumption Guide.
As a lover of Cheetos, I can't wait to get my hands on a bag of Weetos. For me, it represents pure nirvana to pull your weed and your munchies simultaneously out of the same bag.