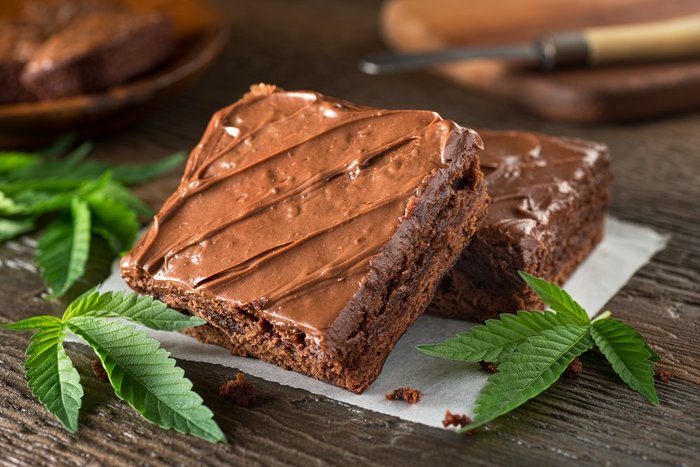 Alright, everyone, summer officially started June 20th. In Colorado, where leering mountains posted at elevations of 10,000 feet or more cover the western half of the state, the seasonal transition is accompanied by a broad range of outdoor activities. The roaring ski slopes become hiking trails and mountain biking courses. Strange and fun festivals fill the summer such as Oktoberfest in Breckenridge or the Bacon and Bourbon Festival in Keystone.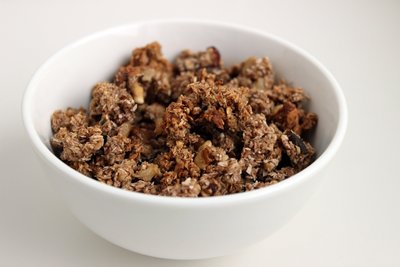 In the time since the recreational marijuana industry was implemented in the state, cannabis users who had only smoked a joint or from a pipe were now exposed to an expanding number of possibilities. Weed edibles are still commonly associated with cookies or brownies and other various baked – usually sweet – treats.
Yet, there are those who are thinking big picture. If a consumer wants to ease the pain while keeping energy up, eating brownies will give you a sort of sugar rush but not the sustained energy you deserve from your foods. Colorado residents and visitors alike stroll the quaint streets of Colorado's many small mountain communities. Camping, backpacking, swimming, fishing, hiking, rock climbing, whitewater rafting, bouldering, picnics, are just some of the things that tourists and residents enjoy to do.
Combine these two aspects and you've got a need for versatile, healthful edible products which can be delicious be consumed on the mountain.
(Legal Reminder: Use of marijuana or marijuana-infused products or being intoxicated in public by marijuana or its products can get you a ticket).
Enter Julie's Natural Edibles.
Julie's Natural Edibles for All-Natural Energy
Julies Natural Edibles make their strain-specific weed edibles with the spirit of Colorado's endearing mountains and the energy needed to play on them. Crafted using only the best of their cannabis, Julie's has a line of healthy, natural edible weed products for all sorts of summer activities.
Available in the Denver and Boulder areas, as well as in the city of Silverthorne, each of Julie's products is versatile while being wholesome, delicious and high-bringing. You can use them as a snack, salad garnish, or cereal. Check it out:
Julie's Fresh Granola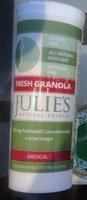 Julie makes all her products with clarified cannabutter or canna-coconut oil extractions. All Julie's Natural Edibles weed products are free of both gluten and refined sugar. Even better, the cannabis is never grown using pesticides. Julie's fresh granola is a mix of the following:
Gluten-free rolled oats
Sliced Almonds
Coconut
Raisins
Sweetened fruit juice
Cranberries
Cannabutter, clarified and made with organic cannabis
Kosher Salt
Sunflower seeds
The mix is great as a topping for yogurt but is great as a treat or addition to a snack mix. Naturally sweet plant protein bundled with good fats, some carbs, fiber, and a little natural sugar is a great way to energize your body and stimulate the mind. It is available in 10mg packages for recreational users and 200mg packages for medical patients.
Julie's Granola Bars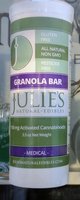 A true Colorado take on the Granola bar. Inspired, healthful ingredients crafted into each delicious bite are matched with potency. Each bar is built with the following:
Gluten-free oats
Almonds
Honey
Coconut
Vanilla
Maple syrup
Coconut oil infused with organically grown cannabis
Kosher Salt
Xanthum Gum (also gluten-free)
Clarified Butter
The bars are packed into containers and sold in 100mg (rec) and 150mg (medical) packages. These great tasting snacks provide sustained energy for all the high-altitude adventures that Colorado brings to the summer months.
Julie's Nutty Bites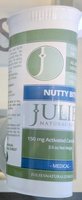 A caramelly, nut infusion in equal parts creates an amazing flavor and effect. This weed edible has a variety of healthy, energy-sustaining and nutritious ingredients. Here's what each Nutty Bite delivers:
Almonds
Sunflower Seeds
Honey
Maple Syrup
Cannabutter made with organically grown cannabis
Sea Salt
Vanilla
Cinnamon
Gluten Free Xanthan Gum
Baking Soda
Available in 100mg packages for recreational customers and 150mg packages for medical patients, this backpack-safe edible weed product exists where flavor and effect meet the famed Colorado sunset. This snack is perfect for relaxing after a hike or a day of downhill biking. Also, the bites are excellent for going to the movies, watching a comedy show, or getting groovy on the dance floor.
Julie's Roasted Seed Mix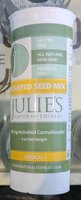 By far my favorite edible weed product made by Julie's Natural Edibles, the Roasted Seed mix is exactly as it sounds – a mix of nutritious seeds roasted with cannabutter. They are perfect for mixing into trail mix, adding to a salad, or just snacking on the go. Julie's Roasted Nut Mix is made of only four ingredients:
Sunflower Seeds
Pumpkin Seeds
Sea Salt
Organic cannabis infused into butter
This mix is packed with nutrients to keep your long summer days as active as the sunlight inspires. The Roasted Seed Mix offers a slowly roasted seed snack loaded with good fats, protein, fiber, a bit of sodium, and a touch of potent cannabutter. It is a day saver; a discreet edible with no sugars, low carbs, and a deliciously potent crunch. Available in 10mg packages for recreational customers and 200mg packages for medical patients.
Article By: Joey Wells