Things to Do While High in Los Angeles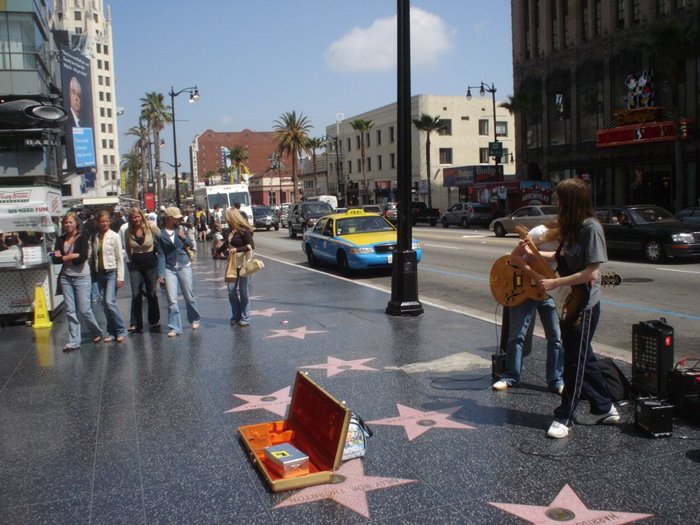 With long days of endless sunshine, Southern California is surely one of the best places to enjoy legal cannabis on earth. There is never any shortage of fun stuff to do when you're high in Los Angeles! California was the first state to go legal with medical marijuana, and the state approved a bill to legalize recreational pot sales in the 2016 Election. You are now free to puff on a joint and head to one of the City of Angels' many attractions. Here are just a few of the ways to enjoy your blaze in Los Angeles:
Hollywood Boulevard
If you're visiting Los Angeles, you can't miss the epicenter of the entertainment industry. Hollywood Boulevard is a freak show not to be overlooked! You can get lost in a haze walking down this street. Stop by the Hollywood Wax Museum for some frighteningly lifelike celebrity statues. Gaze at Grauman's Chinese Theater, an amazing Hollywood monument that was opened way back in 1927. You can take a tour of the theater or check out a show on its gigantic IMAX screen!
Walking down Hollywood Boulevard is a heady trip in itself. You'll see countless celebrity impersonators, from Michael Jackson look-alikes to Darth Vader or Chewbacca, Lara Croft from Tomb Raider or Marilyn Monroe. Take a snapshot with one of these characters and post it to your Instagram so all your friends can see the insanity of Hollywood. Stop in a gift shop and buy yourself a t-shirt with a giant pot leaf on it. Take in a show from one of the many street performers. If you're looking for a stony experience after inhaling some ganja, Hollywood Boulevard never disappoints!
Sunset Strip
For nightlife, the Sunset Strip is where it's at. Located in close proximity to Hollywood Boulevard, the Sunset Strip features performance venues, bars and food options that will light up your evening. Stop by The Comedy Store on any given night and you could witness a set of stand-up from one of the legends like Bill Burr, Marc Maron or Pauly Shore. Head over to the Whisky A Go-Go for a cold beer and some live music. Platinum rockers like Guns N' Roses, The Doors and Motley Crue all started their careers at the Whisky A Go-Go, and this shrine of rock n' roll is still one of the premier concert venues in all of Los Angeles.
If you have the munchies, Carney's has the perfect stoner treats to satisfy your cravings. Carney's operates out of a vintage yellow Union Pacific railcar, and its selection of hot dogs and burgers will change your life. How do some chili cheese fries sound after a night of toking and joking? How about a chili cheeseburger or a hot dog with chili? If you're not salivating yet, you should be. Carney's has been serving delicious greasy food to the people of Los Angeles since the 1970s, and there's no sign of slowing down. The restaurant is open until 3 a.m. on Friday and Saturday nights for late-night stoner specials.
In-N-Out Burger
While we're on the topic of delicious treats for 420 lovers, it would be a crime not to mention In-N-Out Burger. This California chain makes burgers that are so tasty, you'll consider flying to the West Coast just to get another In-N-Out fix. Their menu is simple — burgers, fries, sodas and shakes — but it's enough for connoisseur Anthony Bourdain to call In-N-Out his favorite restaurant in Los Angeles. Luckily, you can never travel too far in Southern California without seeing an In-N-Out Burger. Be prepared for a long line, because In-N-Out is always packed! Just make sure to order your fries Animal Style. It's not listed on the menu, but just go ahead and tell your server to make the upgrade. You'll thank us later.
Griffith Observatory
The famous Griffith Observatory sits atop Mount Hollywood and offers majestic views of the Hollywood sign, downtown Los Angeles and the Los Angeles basin. It was opened way back in 1935 and has been seen in blockbuster films like James Dean's Rebel Without a Cause, The People Vs. Larry Flynt and La La Land. The Griffith Observatory contains a planetarium that hosts live shows where the viewer can journey into the wonders of space, witness the Northern Lights or travel to Mars. The observatory also has a Tesla coil built in 1910 and a sundial built in 1957 on display. Not a bad way for cannabis enthusiasts to enjoy their day, huh? Just make sure to take a picture of you and your friends at the astronomers monument right in front of the observatory and show the world that you hang out with the likes of Copernicus, Galileo, Kepler and Isaac Newton.
Los Angeles Dodgers
Sunny California is a great place to catch a Major League Baseball game, so why not check out the Los Angeles Dodgers while you're in town? See Clayton Kershaw pitch a gem, or witness Yasiel Puig knock one out of the park. The Dodgers are one of the best teams in baseball, and the historical Dodger Stadium has been their home since 1962. This vintage baseball stadium is located in the Elysian Park neighborhood, accessible from any part of Los Angeles. In addition to the stars on the field, there are always some stars in the seats as well! On any given day you could see Tom Cruise, Alyssa Milano, Will Farrell, Ice Cube or one of the Kardashians taking in a ballgame. One word of caution: If you're rooting for the "away" team, be prepared for some ornery Dodgers fans to talk some smack.
Six Flags Magic Mountain
Just north of Los Angeles, you will find the ultimate stoner treat. Six Flags Magic Mountain is one of the most exciting amusement parks in the United States. The park is home to Batman the Ride, the Dive Devil skydiving experience and some great rollercoasters like Gold Rusher and Goliath. Did we mention Green Lantern: First Track, Lex Luthor: Drop of Doom and Twisted Colossus? The thrills are endless, and if you go on the right day, the lines are manageable. Magic Mountain is located in Valencia, just north of Los Angeles. It's an easy ride from the big city and totally worth the trip.
Venice Beach
Venice Beach is the place to be for California tokers. Its boardwalk is perfect for a nice walk or jog, and there are head shops, tattoo parlors, gift stores and food stands for all. On Venice Beach, it feels like it's always 4:20. The scenery is picturesque and the people are beautiful. Play some basketball or just lay in the sand and gaze at the palm trees. There's no better way to enjoy your high than a day on Venice Beach.

With so many things to do in the Los Angeles area, a trip to Southern California can be exhausting. That's why it's great to take a few puffs and really take in every moment in this stoner paradise. Soon enough, recreational pot shops will be opening everywhere in the City of Angels. For now, head into one of the city's many medical dispensaries like Green Dragon Caregivers, Coast to Coast Collective or SoCal Co-Op and get the greens you need to experience Los Angeles to the fullest.