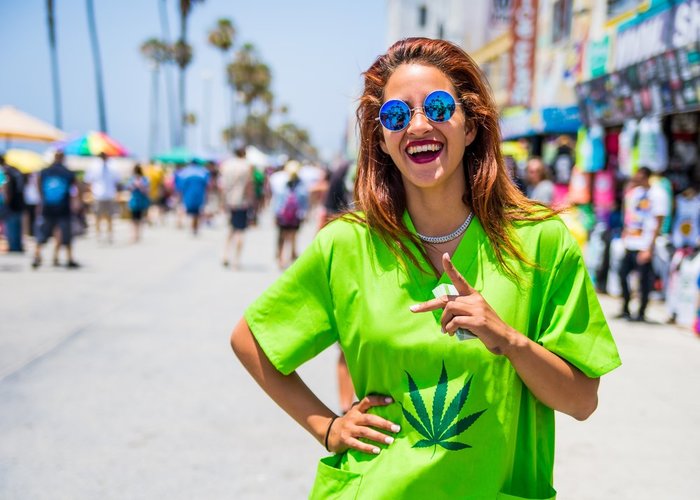 The cannabis dispensary map for Los Angeles is a sea of green. It's amazing how many medical pot shops are packed into the city's different neighborhoods. You'll never travel too far to find the heady treats you need to enjoy the southern California sun!
The following Los Angeles neighborhoods have the highest concentration of dispensaries:
Fairfax Village
Where else in the world can you find a collection of antique shops, Orthodox Jewish culture, silent movies and plenty of cannabis? The Fairfax Village is located just south of West Hollywood. Take a stroll down Melrose Avenue between North Fairfax Avenue and North La Brea Avenue, and you'll see a cluster of pot shops along the way.
If you're in the mood for an indica hybrid, stop by Cancare Collective and pick up a gram of Sunset Sherbert. If you prefer a nice sativa, head over to Melrose Herbal Collective and grab some Orange Dream. Or perhaps Got Kush? Collective has the strain you need. Whatever your preference may be, the pot shops on Melrose Avenue have all things cannabis, available for pickup or delivery in many cases.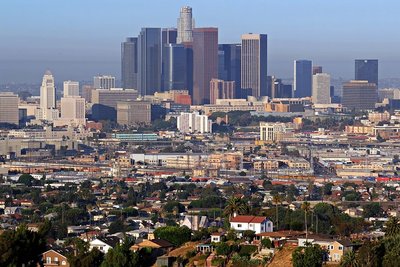 There are plenty of fun things to do in the Fairfax area. The village hosts a weekly flea market and is home to several thrift shops. Burger lovers should try out the Golden State, known as one of the best spots in Los Angeles for locally sourced greasy goodness.
The area has also become a mecca for skateboarders since 2004, when New York streetwear shop Supreme opened up a location on North Fairfax Avenue. There's also a skate shop called Brooklyn Projects, right in the midst of the cluster of dispensaries. And of course, the Melrose Avenue pot shops are just a short distance from West Hollywood.
Grab some herb on Melrose, check out Fairfax and then head north several blocks to witness the insanity of Sunset and Hollywood Boulevards. You won't be disappointed.
Venice Beach
Venice Beach is the perfect place for a stony day. It's quintessential California! You can walk along the boardwalk and stop in all the cool t-shirt and gift shops. Perhaps there will be a street performer or magician that's worth stopping for. Check out the Venice Oceanarium to get an up-close and personal look at some of California's sea life.
Grab a shiny new bong at one of the neighborhood's head shops, do some fishing at the pier or just enjoy the scenery. There are plenty of unique characters and beautiful people roaming around Venice Beach, free spirits who can't get enough of the SoCal sun.
Fortunately, the area is another Los Angeles dispensary hotspot. The Green Care dispensary has some nice edibles like the Kiva Mint Irish Cream Milk Chocolate or Baked Jolly Ranchers, and it's located just a block away from the beach. Herbalogy Collective is on Ocean Front Walk, right by the Muscle Beach outdoor gym.
There's also Natural Remedies Services, just off the beach on Market Street. You can't go too far without seeing green at Venice Beach!
Downtown

It's no secret that downtown Los Angeles is a happening place. It's also a great spot to load up on Mary Jane! Try New Era Caregivers, appropriately located on South Flower Street. It's just a 10-minute walk from Staples Center, so you can pick up some cannabis before catching the Lakers, Clippers or Kings do their thing.
There's also Peace of Green, ShowGrow and Wonderland Caregivers. Play a game of Pin the Tail on the Dispensary in downtown Los Angeles and you'll quickly find a weed store to fill your prescription.
If you're in need of some munchies, try out the Grand Central Market. It's a giant European style cafeteria located in the Homer Laughlin Building. From barbecue joints to coffee shops to Mexican food, the Grand Central Market is a righteous destination after stopping by Downtown Natural Caregivers, just a quick walk from the food hall.
Or perhaps you should grab a pre-rolled joint at UVC and then visit Grand Park, where you can sit by the fountains and take in some sun rays.
West Pico Boulevard
West Pico Boulevard is west of downtown Los Angeles and northeast of Beverly Hills. It's a nice Launchpad for excursions to popular attractions like Universal Studios, the Griffith Observatory and the Getty Center. There are a ton of dispensaries surrounding the Pico-Robertson neighborhood, more than any stoner could ever ask for.
Pick up some Deathstar OG at Kelly's Collective, or walk east to see what The Natural Way of LA has on sale for 420 lovers. Enjoy some grub at Paper or Plastik Cafe or Olson's Scandinavian Delicatessen before stopping by The Relief Collective for some Jack Herer extracts.
There's a stretch of about a mile and a half starting at the intersection of Pico and Robertson and heading east on West Pico Boulevard. If you can't find the herb you're looking for here, it probably doesn't exist.
Or maybe you just need to get on your smartphone and have some cannabis treats delivered straight to your door. It beats sitting in Los Angeles traffic!