Four Things to Do High in Las Vegas
Now that recreational marijuana sales have begun in Nevada, the opportunity to rebrand the Vegas experience with a bit of cannabis culture is at the door. A city known for being particularly accepting of certain human pleasures (drinking, gambling, prostitution, etc.) is now able to cash in on another recreational intoxicant: cannabis. Many people, however, wonder what there is to do high in Las Vegas once they get their Las Vegas cannabis. That's where we come in to help!
Fun Things To Do While High In Vegas
Aside from the huge potential in Las Vegas and over 40 million visitors per year, the legal weed industry in Nevada is likely to churn out some truly unique cannabis tours, events, and expos. Unfortunately, not all consumers are up to go on an organized tour, and not all of us like to plan things.
Las Vegas has had to dedicate a portion of its resources to make sure there are things for people of all ages to do while there, underlying a dedication to being a tourist destination rather than just a gambling city. While recreational marijuana is only be available to adults 21 and older, the focus on making Las Vegas at least somewhat family friendly has over the years endowed the city with arcades, roller coasters, water parks, and a variety of excellent shows and dining experiences.
While views regarding marijuana continue to shift across the U.S., Nevada's foray into legal marijuana presents a unique stage for consumers to experience cannabis culture, possibly to the extent that the concept of "getting high" will be forever diversified and normalized in the public's mind. Marijuana is no longer only for the lazy, food-crazed stoner. Marijuana use, like alcohol, is made better as a social experience.
The strange glimmer of Las Vegas illuminating the night sky, it turns out, is best viewed while high. The absurdity of a paradise in the desert with giant water fountains, exotic resorts lined with palm trees, and large buildings gains a humbling, almost comedic value when experienced high. The city of Las Vegas is so diverse in its entertainment options, it may prevent some people from making a choice altogether. That is why we compiled a list of four of the best things to do high in Las Vegas. It seemed like the friendly thing to do.
Circus Circus Adventuredome!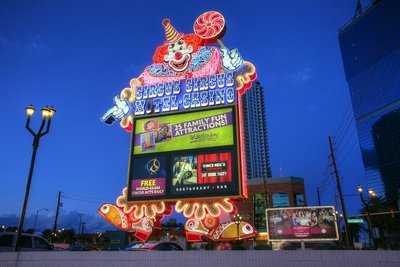 The Circus Circus Hotel and Casino is home to an indoor theme park with games, rides, and more. Perfectly fitting into the common view of cannabis culture, The Adventuredome offers laser challenges, where you dodge lasers while completing a course. The Adventuredome has rock climbing, bungee jumping, bowling, clown shows, roller coasters, bumper cars, and 4D movie experiences. Ticket prices vary:
Individual rides:
Roller coaster – $12 per ride
Premium rides – $9 per ride
Large rides – $6 per ride
Junior rides – $6 per ride
Family rides – $6 per ride
All-day passes:
48 inches or taller -$32.95
Under 48 inches tall – $18.95
The Circus Circus Adventuredome is perfect for an edible-filled afternoon!
New York, New York Big Apple Coaster!
The Big Apple Coaster is a first-of-its-kind roller coaster; featuring 180-degree twist and dive maneuvering, providing a jolt of excitement at 67 miles per hour. While the coaster only lasts a few minutes, the New York New York Hotel and Casino has an arcade with a variety of games to get your high on and keep yourself entertained.
Individual coaster ride – $15.00 per ticket
The Scream Pass: An all-day ride pass plus $2.00 off a 5×7 photo – $26.00 per ticket
Family Fun Flight for Four: Includes four individual ride tickets & two 5×7 close-up photos from your ride – $70.00
Are you a Las Vegas local? You can receive individual coaster rides for $12 with valid NV ID.
This is a ride perfect for an evening full of concentrates!
Jabbawockeez at the MGM Grand
Dancing choreographed with such precision that some of the movements seem to freeze time while others leave you wondering how all that just happened. Either way, the Jabbawockeez show at the MGM Grand is a perfect complement to being high in Las Vegas. You get the loud rhythmic pulse of a nightclub while sitting in a comfortable seat watching dance moves which defy logic by performers in white, somewhat creepy masks.
Tickets start at $49.99 and may vary based on seating location. Performances happen twice a day six days of the week: once at 7 pm and once at 9:30 pm.
Perfect for slapping on a THC patch, sitting back and enjoying the show.
Wander (Maybe Zip Line?) on Fremont Street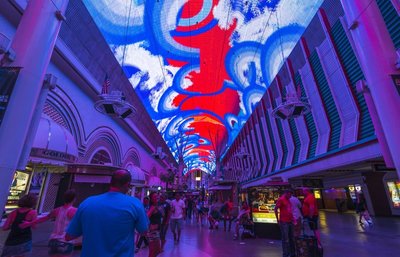 Fremont Street is where Las Vegas began its history as a gambling town. Decades went by, and the Las Vegas Strip slowly consolidated luxury resorts with architecturally fantastic gambling labyrinths, effectively making Fremont Street a sort of old Vegas. This is where Fremont gets its charm, the antique and out-of-time feel to the area, the thousands of flashing light bulbs illuminating the arched ceiling covering the five-block pedestrian mall. On Fremont Street, you can get lost in lights and street performers. If you're up for it, add a bit of exhilaration to your high in Las Vegas by zip lining along Fremont Street. Recommended at night!
While Fremont Street is a free mall, the zip line experience is not. Tickets are $25 for the lower zip line, starting at 77 feet above the street, and $45 for the upper zip line. The upper zip line starts out at ten stories, before hustling you over Fremont St for a 1,750-foot ride.
A perfect place to hit the hash pen! Be careful, however, as public use of marijuana remains illegal in Las Vegas.
Now that cannabis has joined the culture of Las Vegas, a.k.a. Sin City, the vibrant tourist destination has been made into the playground of a city it is today. Many of the shows and events, even buffets, are made better when high and can be appreciated in a different light under the fog of a marijuana high. Happy toking!
Check out Dank Wonder Emporium's awesome video for this post!