Maybe one of the most unexpected and exciting "side effects" of the growing medical cannabis industry is the ever-expanding segment of consumers who are learning how to grasp the herb for an overall improved sense of health and wellness. Many people are discovering alternate methods to achieve their health goals, like herbal therapy, massage, and self-care in a cannabis spa. While historical stereotypes presented cannabis consumers as societal degenerates, this new segment of the industry wants to prove otherwise.
DOMM, Delivery of Medical Marijuana in Phoenix, and the couple who started it, hope to help change false stigmas and negative stereotypes by providing an upscale, comfortable place where medical marijuana cardholders are pampered. DOMMLife Spa creates a safe, secure place where medical marijuana consumers can relax and unwind in a Zen-like atmosphere.
As Anthony Lowy, a DOMMLife Team Member says, "With an inviting atmosphere, safe space, and welcoming environment, there's simply no match to DOMMLife's unique approach to ultimate wellness."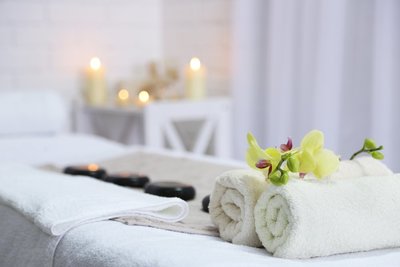 DOMMLife's goal is to break down the barriers around the stereotypical cannabis user and provide a high-end, modern space members and consumers can enjoy with other like-minded people.
Where Paradise and Cannabis Meet
As a delivery provider, DOMM not only delivers a full line of cannabis products, including edibles, lotions and creams, flower, tinctures, vape cartridges, and even cannabis accessories, the company also provides the opportunity for house calls by their physician for a free cannabis consultation. While DOMM has been delivering medical cannabis for more than a year now, the addition of cannabis spa services is just an extension of how the company wants to change the way people view cannabis.
Inside the building, customers find a cool, modern industrial look speckled with Zen. Natural tones and wood-grain accent give the space a warm, yet light and vibrant appeal. Eastern culture and a love for nature resonate with green plants and statues of Buddha.
DOMMLife Spa brings a wide array of other services and events. Abby Danis, the company's Assistant Marketing Director stated, "We're the first spa in modern America to bring cannabis into the picture. You can not only treat yourself to a typical spa day but can bring health into the picture by adding CBD or THC onto your service. Our goal is to bring complete health and wellness to others."
Cannabis Spa Health Services Galore
The full-service hair and nail salon is staffed by a professional team of aestheticians, stylists, and massage therapists. Whether you're looking for a haircut and blow out, a mani-pedi, and or a deep-tissue massage with CBD and THC-infused lotions and creams, DOMMLife has whatever your body, mind, and spirit need.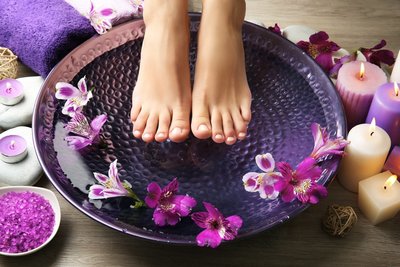 Medical marijuana cardholders can add a CBD service to any manicure or pedicure, as well as get a CBD- or THC-infused massage. Essentially, DOMMLife staff want what is best for each medical marijuana consumer and member. They believe everyone should always feel their best.
In fact, medical marijuana consumers can purchase their own CBD products while visiting DOMMLife, and the staff can use that product with their service. DOMMLife truly creates a consumer-first environment.
Not only can you come to visit the cannabis spa for a typical spa day whether it's for a massage, hair appointment, or mani-pedi, but you can get so much more.
Kombucha Health-Ade on Tap
Additionally, the onsite café offers a wide variety of options. Here, medical marijuana consumers can sip on a premium line-up of beverages like Espresso coffee, tea, kombucha or even a freshly squeezed fruit juice infused with CBD. Plus, they have organic snacks and meals along with a broad range of CBD-infused treats.
Other Services Available
Besides cannabis spa services, the location also acts as a meeting space for members. Having a place to connect with other like-minded individuals and hold key events relevant to the demographic is also part of the DOMMLife vision. Along with various health and beauty services, DOMMLife has the available space to host yoga classes, live music, and even offer meeting spaces for small, intimate events.
A barista at the location, Kyna Gorman said about the café and spa at DOMMLife, "[It's] a nice space to come and meet new people who share the same interests and enjoy healthy, good-hearted people."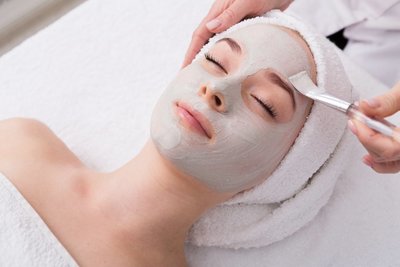 Visit DOMMLife Today
Everyone needs the opportunity to step away from the hectic daily grind and allow themselves to relax and unwind. Self-care and a little pampering are essential tools for helping the mind, body, and spirit let go of the stresses of the modern world. DOMMLife Spa and DOMM cannabis delivery service are not only providing a valuable service to cannabis consumers, they are providing a safe place for acceptance, understanding and community.
"DOMMLife breaks down the barriers to entry into the cannabis world for a happier and healthier you," stated Todd Romboli, Owner and CEO.
Although the space operates on a membership basis for medical marijuana consumers, the public is welcome to visit DOMMLife for more information.