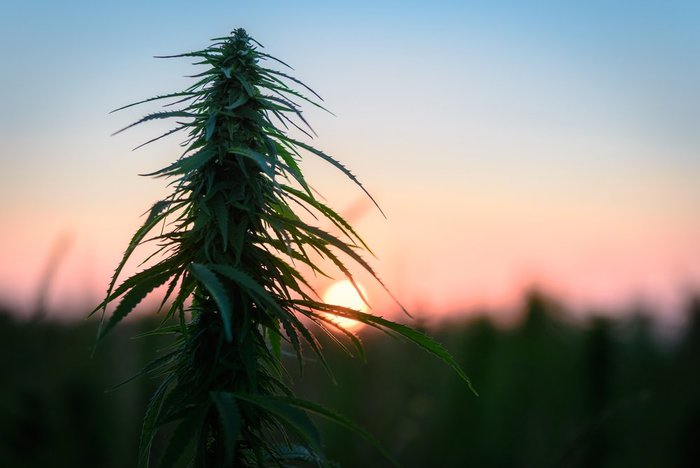 The industrial hemp industry has the potential to be a broader market than the actual cannabis industry. Federal legalization of industrial hemp is right around the corner. What makes hemp such a different industry compared to cannabis is its broad range of commercial applications. Many consumers only associate industrial hemp with the cannabinoid CBD. While extracting CBD from industrial hemp is one of its famous uses, CBD products are not the only byproduct of hemp. In fact, industrial hemp has the potential to alter a multitude of ancillary markets. The massive amount of potential within the hemp industry has many states scrambling to stay ahead of the game. The state of Arizona is the most recent state to make some drastic hemp farming reforms. Arizona hemp farming may be the state's next primary agricultural crop.
What is Industrial Hemp?
It is essential to understand the difference between cannabis and industrial hemp. Understanding the distinction between the two was vital in pushing the legalization of Arizona hemp farming. In a nutshell, industrial hemp is a subtype of the marijuana plant with extremely low-THC content and a high-CBD content. Over the years, recreational and medical cannabis was bred to maximize THC levels. Industrial hemp must contain less than 0.3 percent THC to be legally considered hemp. Unlike recreational and medical marijuana, industrial hemp does not provide consumers with any "high" effect commonly associated with the THC found in cannabis.
Industrial hemp and CBD products together have many states understand the economic potential of legalization and regulation. Any CBD product sold online and in retail stores throughout the nation, comes from industrial hemp. While CBD has been a driving force in moving the legalization of hemp forward, it is not the only booming market that will come from industrial hemp. Many forget our nation used to produce hemp on an agricultural level for quite some time. Due to the Reefer Madness era, our country took a break from producing hemp. Nowadays, there are a variety of states with established industrial hemp programs. Arizona is on a mission to create a complaint, regulated, and quality-driven hemp pilot program.
Arizona Getting into the Hemp Business
Like other states beginning to recognize the economic potential of industrial hemp, Arizona is ready to get its piece of the hemp rush. Back in May of 2018, with the help of Governor Doug Ducey, the state of Arizona passed legislation allowing for universities and farmers to cultivate hemp on an agricultural level. Even though the federal government has not entirely passed the legalization of industrial hemp, the state hopes to be ahead of the game. The new law allows for Arizona hemp farming which not only revitalizes the agricultural sector, but it creates economic growth in a variety of areas.
Senate Bill 1098:
Legalizes the legal cultivation, processing, transportation, and manufacturing of industrial hemp with an approved state license for the duration of the pilot program.
Harvested industrial hemp may only sell within the state. Only manufactured products may cross the border into other legalized states.
All industrial hemp produced must contain no more than 0.3 percent THC on a dry-weight basis.
There will be four different hemp licenses; cultivation license, harvesting license, transportation license, and processing license. One applicant may apply for multiple permits.
With the bill set to become active in August of 2019, the state and local farmers have some time to prep for the up and coming market. Arizona hemp farming is on track to be one of the more regulated and compliant hemp programs we have seen. While the state is not quite taking the same compliance structure used in legal marijuana markets, Arizona is taking the cultivation of legal industrial hemp to another level. Throughout the next year, Arizona is planning to refine its industrial hemp program to include:
Distinct Rules and Guidelines
Structured Licensing Programs
Efficient Application Processes
Direct Advisory Councils
Proper Licensing Fees
Before throwing too many resources into becoming a hemp farmer in Arizona, be aware this program is a test program. It will only last for a set duration of time. Once the final date of the program is reached, the state will make changes and alter the program as required. There is a chance the state could shut-down the program if it is deemed necessary. With federal legalization on the brink, it is not something to be worried about but it is good to be aware of the risks.
Be A Part of Arizona Hemp Farming
Now is the time for farmers, manufacturers, and entrepreneurs to get their foot in Arizona's hemp farming program. By splitting up the available hemp licenses, the state is allowing room for a competitive and robust market. For those who are wondering what it takes to qualify for an Arizona hemp farming licenses, here are the brief requirements set by the state so far.
Must have a fingerprint clearance card obtained through the Arizona Department of Public Safety.
Complete an Arizona Department of Agriculture licensing application.
Submit all payments per the fees set by the Arizona Department of Agriculture.
Arizona may add more requirements over the next year, but these are the only qualifications listed as of now. The state has even released a step-by-step guide for applicants to utilize during the process. While the state is not accepting any applications until August of 2019, those interested in the upcoming hemp program can start preparing. Industrial hemp is a pioneering sector which is going to take some time for new farmers to master. Do not be late to the game because of a mistake during the application process. Just follow these steps laid out by the Arizona Department of Agriculture.
Tentative Approval Process:
First complete and submit an accurate licensing application.
Submit a fingerprint clearance card.
Finalize all required payments distinct to the hemp license(s) obtained.
For Cultivation Licenses; submit pre-planting, pre-harvest, and post-harvest reports.
For Processing Licenses; submit intake and output reports.
Uphold various facility standards and proximity requirements.
Properly notify the Department of Agriculture of product loss, theft, or any other adverse outcomes regarding industrial hemp.
Pass random product inspections. All industrial hemp must have 0.3 percent THC or less on a dry-weight basis. Failure to comply will lead to consequences.
What to Expect from the Rise of Arizona Hemp Farming
The potential of the industrial hemp industry is unlike most other markets. It has practically no limits. The demand for CBD products continues to increase, yet the supply of hemp is drastically behind. With Arizona beginning to ramp up the production of hemp, it will continue to feed the already existing demand. Arizona has enough open farmland to make a powerful impact on the hemp industry. New Mexico, Arizona's neighbor, already has plans to open one of the largest industrial hemp and cannabis cultivation facilities in the nation. As the supply of industrial hemp matches its demand, the industry will begin to seep into other ancillary sectors.
Ancillary Industries Affected by Industrial Hemp:
Paper
Clothing
Plastics
Pharmaceuticals
Fuel
Industrial hemp will affect a multitude of well-established sectors. If industrial hemp is produced at a large enough scale, plastic manufacturers can switch over to producing hemp-derived plastics. As a result, affecting hundreds if not thousands of everyday tools and appliances. Not to mention hemp is biodegradable and has far less of an impact on our Earth's environment. The trickle-down effects of industrial hemp on other booming industries is a remarkable thing to watch!
The legalization of Arizona hemp farming is another significant step towards the wide-spread growth of hemp production in the United States. 2018 has been a productive year for industrial hemp, even at the federal level. In fact, the trend of more states pushing for industrial hemp programs may be due to the changes occurring on the hill. The Hemp Farming Bill of 2018 is merely awaiting the signature of President Trump. If these reforms go into action, industrial hemp will no longer be classified as a schedule 1 drug and will be legal for nation-wide production. Until then, the hemp market relies on states like Arizona to step up and become a part of this pioneering industry of our time!
Stay tuned on Arizona's industrial hemp market, here!