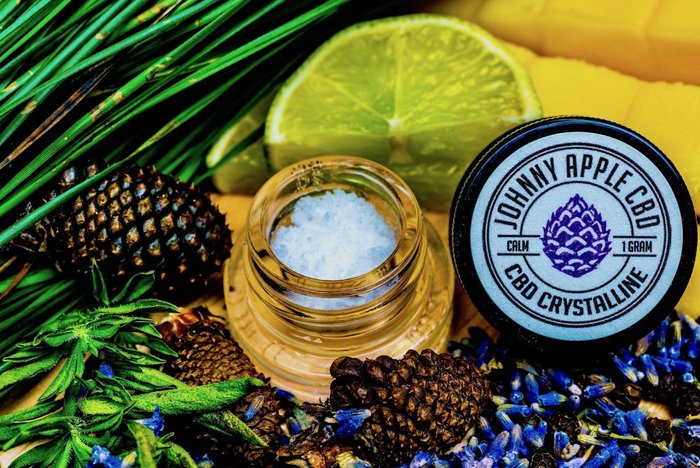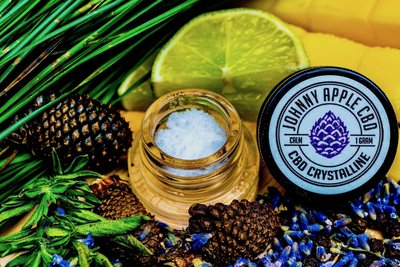 Have you ever heard of CBD crystals? CBD crystals can be added to food or liquids and they won't get you high.
The Two Main Components of Marijuana
The cannabis plant has two main ingredients, tetrahydrocannabinol (THC) and cannabidiol (CBD). Tetrahydrocannabinol, or THC, is the compound in cannabis that causes many of the psychological effects of marijuana. Cannabidiol, or CBD, has no psychoactive effects, but it's been proposed that it has medicinal qualities. CBD can be extracted from the whole cannabis plant and converted into an ultra-pure crystalline form.
Where Can I Find CBD Crystals?
Greenly is an online medical marijuana order delivery service that promises local delivery within one hour. They have Guild Extracts-CBD Crystals in half-grams for $44. Delivery is free in West LA when you spend at least $70, $120 in surrounding areas. They will also pay you five dollars for every person you refer who places an order for $40 or more. Their menu includes fresh flowers, vaporizers and cartridges, marijuana concentrates, edibles, and topicals.
Hours: 7 days a week from 11 am to 11 pm.
---
Technically, Johnny Apple is based in San Francisco. They specialize in high CBD organic hemp, and they will ship it to you first-class for free. They offer pure crystalline and raw CBD crystals in grams for $65. Their products are lab tested, and active military and veterans get 20% off.
---
855-571-0420
[email protected]
If you don't feel like going out, Kushfly Medical Marijuana Delivery can bring you CBD crystals if you're in Hollywood or Los Angeles. They carry Dabface 99.9% CBD Crystalline for $34.90. First-time visitors get 10% off, and veterans and students with id get a 10% discount. They also do testing on all medicinal products.
Open Monday through Sunday. 11 am to 1 am.
---
5650 W Washington Blvd.
Los Angeles, CA 90016
(323) 937-0299
[email protected]
You can get CBD Crystals in grams here for $100 or THC-A crystalline half grams for $100. They are open Sunday through Monday. 9 am to 2 am.
---
410 Lincoln Blvd.
Venice, CA 90291
(310) 399-4307
[email protected]
Medmen carries Guild Extracts CBD Crystals for $100 half-grams. They also have locations in West Hollywood, Santa Ana, and Sun Valley.
Open Sunday through Saturday. 10 am to 7:45 pm
---
(317) 294-5975
[email protected]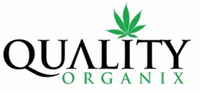 Quality Organix is a delivery-only organic medical marijuana dispensary. They have a half gram of 17:1 ratio CBD Crystals for $55.
---
3625 Cahuenga Blvd.
West Los Angeles, CA 90068
323.850.1847
[email protected]
Universal Collective has assorted strains of CBD Crystalline. Grams are $100, and THC-A Crystalline grams are $200. If you refer five people, they'll give you a free eighth of cannabis.
---
8464 Santa Monica Blvd.
West Hollywood, CA 90069
(323) 656-6666
[email protected]
Zen in West Hollywood has CBD Crystalline by Guild Extracts for $45 per gram. They have daily ounce and eighth specials. They also have 10% off discounts for individuals in hospice with proper documentation. Military personnel and veterans with military ID also receive a 10% discount. If you bring along a friend, you'll get a free gram, plus you get a free joint on Sundays for medical consumer appreciation day. Who can't appreciate that?
Open Monday through Saturday. 11 am to 8 pm. Sunday's from 12 pm to 7 pm.
---
You can find more dispensaries in Los Angeles by clicking here.
Article By: Niko Mann