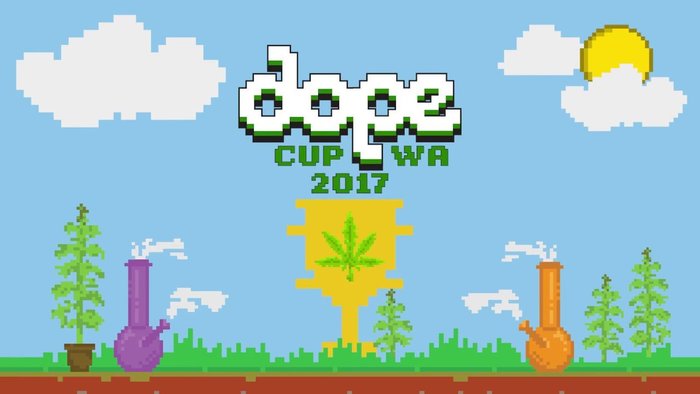 An April 20th celebration brought a new twist to the phrase, "my cup runneth over." The Dope Cup, hosted in Seattle, returned to Washington for its sixth consecutive year. The Ionic Vape-hosted–in conjunction with Dope Magazine–event was a conglomeration of cannabis lovers in the Northwest, ranking businesses within the industry from across 18 product categories.
Over 3,000 people were in attendance at the 21-and up free affair. Between scoping out local talent and vendors, 420-enthusiasts were also able to catch DJ Cide, Kung Foo Grip, and headliner Talib Kweli for easy listening entertainment. Surprise guest K'Valentine also tore up the stage, rapping in honor of 420.
Guests were able to walk around with a smoky haze while sampling munchies from some of the city's tastiest food trucks. Some of the rolling grub included Big Boy's Filipino Food Truck, Where Ya At Matt, and Island Blends Acai, among others. VIP guests were able to take advantage of the full spread, with arcade games, comfortable seating, and Terra Helm Catering.
The real draw to Dope Cup was the competition. The best-of-the-best were decided in several categories, including flower, edibles, concentrates, and topicals/tinctures/sublinguals. Each category had anywhere from four to 20 winners. Contestants went through a rigorous process accroding to Max Montrose of Tri-Chrome Institute: "This was an incredibly hard judging proces" the winning entries were tested backward and forwards against the most scientifically backed judging process in the country," Montrose told the crowd.
Topicals/Tinctures/Sublingual
For the pain relief section of the competition, judges went through products that are applied to the skin, rather than ingested. These products were tested according to effect and sensation, and the judges were left relaxed and pain-free.
In the topicals/tinctures/sublingual category, Fairwinds Manufacturing took the crown for best topical, while Ethos 2-1 won the title for tincture. Ethos products can be purchased at Greenworks dispensary, which also features a ton of deals pertinent to both retail and medical marijuana buyers in the Seattle area.
Edibles
In terms of edibles, the Dope Cup had several winners. Since there are so many different ways to enjoy cannabis-infused foods, the subcategories had to reflect that inclusiveness. For example, a brownie probably shouldn't be judged on the same level as a spicy bag of chips. The judgments reflect that accordingly, with three separate distinctions.
Mr Moxey's Mints Ginger, made by Botanica Seattle, was ranked first under the CBD edibles category. Olala Orange Cream Soda "sweet, with the taste of Hawaiin" came out on top for the best drink; it can be purchased on-site at 365 Recreation Cannabis if it sounds just too good to pass up. Journeyman's Couch Potatoes were voted the best savory edible, whereas Verdelux's Honey Caramel Bon-Bombs was first in sweetness. To get your hands on the chocolaty goodies, look no further than Local Roots, which also has an expansive edibles menu with lots of high-inducing goodies.
Concentrates
Concentrates were next on the Dope list and covered a lot of ground. Since cannabis concentrates come in so many different forms "from wax to shatter" this Dope Cup topic was filled with both more candidates and winners.
The Best CBD Shatter was awarded to Lucid Oils, Best CBD Distillate to Interra Oils, and the Best CBD Oil went to Optimum Extracts a favorite at Rainier Cannabis. Best Wax was awarded to Doctor and Crook's Lemon OG Kush Cartridge Oil, while the award for Best Live Resin went to Oleum Extracts' Magnetic Honey Crystal; both were judged as effective as their names are lengthy. Gold Leaf Gardens walked away with two wins, including the Best Hashish (Gorilla Glue Full Melt Hash) and Best Rosin (Sour D Hash Rosin). Both of these, and other products from Gold Leaf, can be found at select locations throughout Washington.
Flower
Last was the flower portion of the cup. Bud is one of the largest pull in the Dope Cup, especially on 420 when celebrators want to get lit. People attending the event were invested in the weed varieties, hoping to light up in celebration of their favorite strains and brands winning.
For Best Nose, Most Potent Flower, and Best CBD Flower, the winners were North Coast Growlers (with a sugary named Fruity Pebbles), Hannah/Dawgstar (coming in clutch with Gorilla Glue #4), and Solstice Grown (Shurman #7 taking the title). For the typical top strains, including hybrid, indica-dominant, and sativa-dominant, Leaf/Cherry Pie, and Doc and Yeti came out victorious – with the unlikely doctor/monster duo pulling out two wins.
Though only a handful of contenders walked away with a Dope Cup title, everyone in attendance was a winner. The crowds were able to enjoy free entertainment suited to 420 celebrations, VIP guests were treated to swag bags and delicious munchies, and everyone got to see innovators within the cannabis industry come together, normalizing the plant they've centered their lives around. Seattle never looked quite so dope.