If you are looking for a strong strain of weed, Sour OG might be just what the doctor ordered. Sour OG is 50 percent indica and 50 percent sativa and contains about 20 percent THC on average. Sour OG is a popular strain that is made from two other popular strains of marijuana: Sour Diesel and OG Kush.
Heritage and Growth
Sour Diesel is a sativa strain known worldwide for its unique diesel odor. People love Sour Diesel because of its energetic effects, pain relief, depression cure, and stress-relief qualities. OG Kush is another favorite among pot connoisseurs. Unfortunately, nobody is quite sure of its origin. Some say that it could be a cross between Hindu Kush and Chemdawg with a mix of Blueberry, but alas, it's all speculation.
Sour OG is the perfect cross between Sour Diesel and OG Kush. It is also incredibly strong and not recommended for cannabis beginners. It can contain 21 percent THC and plants typically grow to 5 feet high when they are grown inside. When Sour OG is grown outdoors, it can grow to 9 feet. Outdoor growing is recommended to avoid mildew from indoor cultivation.
Taste, Appearance, and Effects
This strain grows large buds that are covered with crystal trichomes and orange pistils. They are big and gluey, with diesel, citrus, and pine aromas. Some varieties may be sweet and fruity also. After smoking Sour OG, you may be euphoric with creative mental energy. You may also be hostage to your sofa with a pint of Ben & Jerry's. Either way, you will be a bit happier, with fits of impromptu giggling. People like to socialize after smoking this strain, and the effects last a few hours. It can be great as a daytime medication or for evening use. Other effects of Sour OG include relaxation and creativity with earthy and lemony aromas.
Medicinal Uses and Side Effects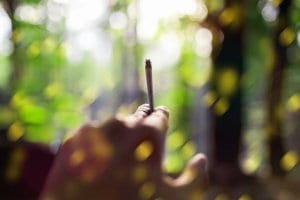 Medical patients use Sour OG for conditions like appetite loss, ADHD and ADD, bipolar disorder, chronic pain, depression, headaches, migraines, nausea, fatigue, PTSD, and stress.
Some people experience paranoia, which is why it isn't the best choice for first-time smokers. It can also give one a terrible case of cotton mouth, so make sure you have a drink handy. Other people have reported having itchy eyes after smoking Sour OG. It is also known to do the trick quickly and it's often after just a few hits. You may also feel the need to feed, as this strain can induce the munchies.
Sour OG is the perfect treat for creative projects or just for relaxing at the end of a hard day. Outdoor growing is best for this strain that could have you buzzing around the house like a busy bee or buzzed and glued to the couch with a bag of Cheetos and lots of giggles.