Mother's Day Cannabis Gifts for 2018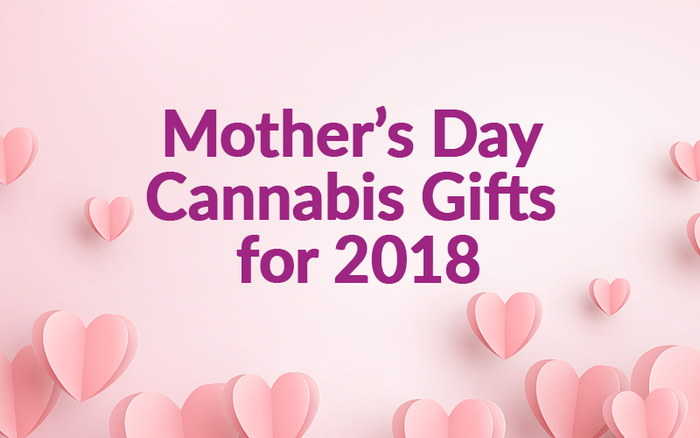 As marijuana has become legalized in several states throughout the country, Mother's Day has turned over a new leaf. Moms everywhere are breaking down old stereotypes of what it means to be a parent, and their kids have an opportunity to make their Mother's Day with gifts they want.
One of the many benefits of cannabis is that it's ageless; while it has often been associated with the youthful spirit, marijuana is a welcome gift to all users (over the age of 21, of course). It's known for its relaxing properties, abilities to combat medical ailments, and as a way to let loose and have some fun. Weed is for everyone; especially kick-ass moms who deserve the world, and more.
Let moms in on the fun, by gifting them flowers they actually want to receive. Celebrate motherhood with mother nature's best: a little bit of green.
Gift Box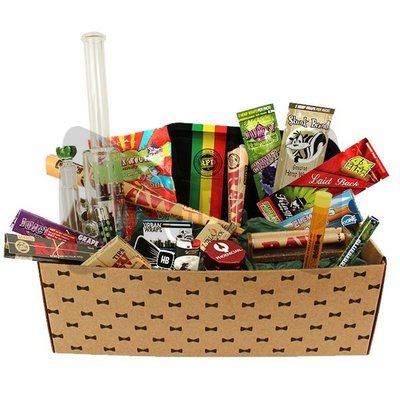 Subscription boxes are all the rage. Just take a look at the success of online marketplaces like Stitch Fix or Fab Fit Fun, which boast insanely high membership rates and user satisfaction. Gift your mom with a monthly surprise that will have her eagerly awaiting the day her package arrives.
The Hippie Butler box allows for users to customize the items based on price and preference, including popular cannabis brands and several price options. Cannabox is a quirky and pop-culture-centric collection of limited edition smoking essentials, fun gadgets, and pot-related swag, ultimately celebrating the stoner culture.
420 Goodybox has three price points, ranging from four to 13 items, varying from gear and tools to top-shelf products. The Lifted Ladies Box, a mom-favorite, is a lighthearted collection of fun for any smoker new to the scene.
Bath Bomb
Bomb's away! The CBDelish Bath Bomb collection from The CBD Boutique is a fizzy, refreshing way to tell your mom that you love her. With these bath bombs, relaxation takes on a new form. Infused with 30 mg of isolate hemp extract, in addition to coconut oil and essential oils, CBDelish delivers a fully packed ball of benefit. After a long day, moms can easily unwind with CBD to one of many fresh scents, including peppermint, lavender, amber/sandalwood, and Delish signature fragrances.
Rolling Papers
Refined elegance is important, even when it comes to smoking pot. If your mom is going to roll her weed, allow her to do it with some serious style. Look toward one can't-beat products practically made for trendy, cool weed-smoking moms: rolling papers with elegant designs.
Get flowers blossoming, peach geometric designs, gold-lined, or any other design that shouts, "I am fabulous!" This set of six, for example, is both pretty and environmentally conscious, made from all-natural paper. Not only will your mom look cool as ever with her blunt, but she'll also look classy as she smokes it.
Buy Her Flower(s)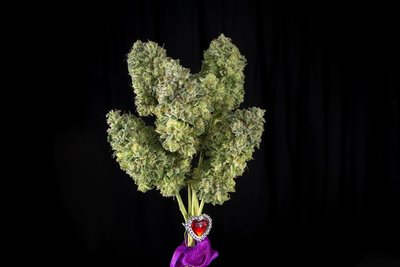 Sometimes even clichés have a little bit of truth. The old tired trope of buying your mom flowers on her special day in May might just be in need of a simple upgrade: get her the kind of blooms she really wants. Dispensaries, like The Green Door in San Francisco, are essentially flower shops, so head in with the mission to find your mom a gift that suits her needs.
Whether you surprise her with a favorite edible, have her pick out her favorite top-shelf strain, or ask the budtender for a recommendation based on her lifestyle, you can't go wrong with gifting your mom with some sacred herbs. Look toward Leafbuyer to find a dispensary that's either open on Sundays or that offers some kind of Mother's Day cannabis deal.
Body Scrub
Want to mix intersectionality into your mother's tea this Mother's Day? Start by presenting her with Kush and Cute's Wake & Bake Coffee Body Scrub. Besides mixing cannabis and body care with a delightful product, Kush and Cute is a woke business to support: founder Iyana Edouard noticed the lack of women, especially women of color, throughout the cannabis industry, and made it her mission to correct that mistake.
More on the product: Wake & Bake is an exfoliating and hydrating scrub that wakes up the mind, body, and soul in the shower while helping with issues like scars, stretch marks, cellulite, and dry skin. It's affordable, restorative, and thoughtfully made – a perfect match for any mom.
Rose Quartz Pipe
For the mindful mothers, a classy quartz pipe can go a long way. Quartz pipes are handmade and known for promoting happiness and positivity – a perfect pairing for angelic moms always trying to better themselves.
After one hit from a rose quartz pipe, moms will be soaring with a radiance they deserve. This pipe is discreet, dignified, and beautiful, ideal for holding your mom's favorite strain of weed as she tokes up. Order yours on Etsy, allowing enough time for shipping.
Chocolate-Covered Canna Strawberries
If Do-It-Yourself is more your style (or better fitting to your budget), there's no going wrong with a homemade dessert – especially when it is infused with cannabis. Try a twist on a classic spring-time recipe, that combines the best of both the culinary and marijuana worlds.
Chocolate-covered canna strawberries are a decadent treat that can show your mom your sweet appreciation for her love. Mix in some canna-coconut oil into dipping chocolate before covering the berries, and you've created a joyous upgrade to the sweet tooth favorite. Serve with champagne and cheers to mom!