Colorado and Washington may have beat Oregon and California to recreational marijuana laws, yet the thriving, cannabis-grower community in Oregon has existed for decades. Over these practiced years of cultivation, Oregon has brought numerous award-winning, industry-favorite cannabis strains to market. None, however, are as noble as Markle Sparkle.
Markle Sparkle draws its fame (and name) from the newly married Meghan Markle, whom media outlets have remarked endlessly on the high-class, well-dressed, and smile-filled 'sparkle' which follows her.
You may be wondering how the Duchess of Sussex and a cannabis strain ended up with the same complementary title, i.e. – "Markle Sparkle".
The Answer?
A familial relation back in Oregon to the Duchess of Sussex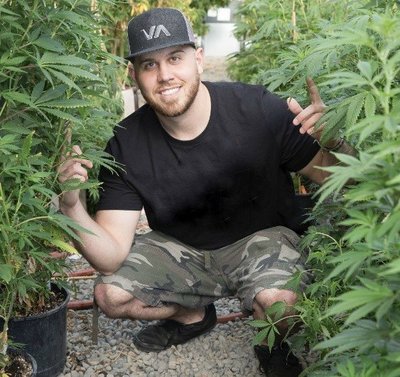 Tyler Dooley is an American cannabis grower based in Grants Pass, Oregon. He's one of Meghan's nephews and has been a long-time cannabis grower in the state.
Dooley, the son of Meghan Markle's half-brother Thomas Markle Jr., is an experienced marijuana grower, having worked with the plant for more than seven years alongside some of the Oregon-area's best cannabis dispensaries.
During his journey as a grower, Dooley showed success in growing many of the industry's most popular strains, such as Girl Scout Cookies and Blue Dream.
Alongside his tenure as a producer of quality cannabis strains, Dooley worked to develop new, innovative cannabis varieties. His crown jewel, Markle Sparkle, is named in honor of his aunt – though direct support from Markle for the strain has not been given.
What is Markle Sparkle?
Dooley is producing and distributing Markle Sparkle with his business partners, Mama D. and Daley Organics, a premier grower resource in the northwest. The strain phenotype echoes both sativa, known to be uplifting, as well as indica, known for the body high.
The strain touts a 23% THC potency. THC is one of many chemical compounds found in cannabis to produce effects on the mind and body. Two of the three parent strains which make up Markle Sparkle are Blue City Diesel and Blueberry Northern Lights.
Blue City Diesel is a genetic cross between Blueberry and NYC Diesel, while Blueberry Northern Lights is a cross of Northern Lights, heavy with indica, and Blueberry, an intense, body high-producing strain made from traditional landrace strains of Afghani and Thai.
Two Fan-Favorite Strains with a Yet-To-Be-Revealed Third
Dooley intends to exclusively unveil the third cannabis strain on Leafbuyer.com before heading to the NorCal Cannabis Cup in Santa Rosa, California. The High Times Cannabis Cup offers several competitions and cannabis-focused activities and events in U.S. states throughout the year.
In combination with the release of Markle Sparkle in Santa Rosa June 2-3, Dooley intends to highlight numerous products from his co-owned, forthcoming Royally Grown brand.