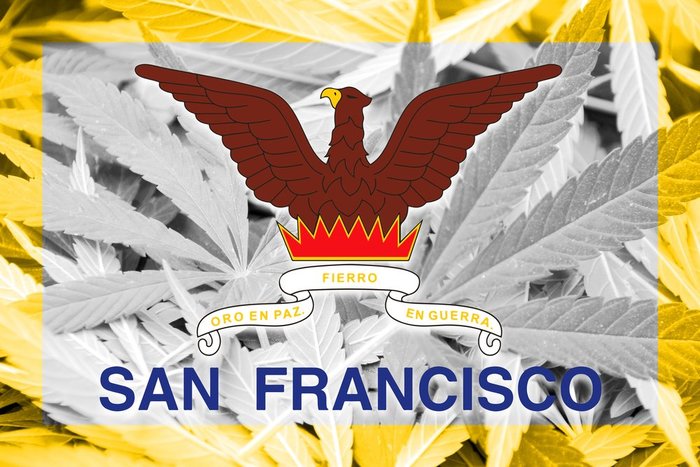 San Francisco's weed scene is unmatched. Medical marijuana collectives are plentiful throughout the city, in close proximity to some of the greatest attractions in the Bay Area. Many of the shops offer delivery service, so medical cannabis consumers can get the herbs they need in the comfort of their pajamas. And thanks to San Francisco's Medical Cannabis Act, many of the city's dispensaries now include lounges complete with dab kits and vaporizers. Social cannabis users can enjoy some conversation and company while they get high, before they even leave the dispensary. There's no telling what will happen when recreational dispensaries start popping up through San Francisco, but for now, we can revel in the city's impressive medical cannabis scene.
The following San Francisco neighborhoods have a particularly high concentration of dispensaries:
Financial District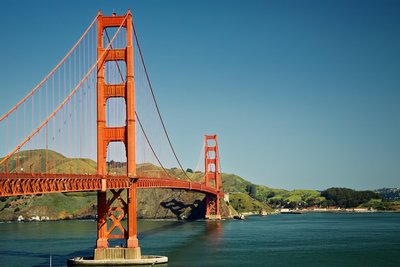 The main business district for San Francisco began as a haven for gold miners traveling out west to strike it rich. It's now an epicenter for the hustle n' bustle of the modern world, full of skyscrapers, fancy hotels and fine dining. Fortunately for the busy city dwellers of the Bay Area, there is a trio of cannabis dispensaries within close proximity to each other, right in the heart of the Financial District.
UNI Collective SF is a virtual dispensary that is perfect for tired travelers in town on a business trip. The Omni, Hilton and Hyatt Regency hotels are close to UNI Collective, offering a chance for upscale travelers to get room service the 420 way. UNI Collective offers dank buds from California growers like StickyFarms, The Leonard Moore Cooperative and Lithouse. The shop is also stocked with edibles from Valhalla Confections, Kiva and OMEdibles. Delivery is available seven days per week, making UNI Collective an easy solution for medical marijuana consumers in the Financial District.
Just down the street is JAHnetics, another cannabis delivery service. JAHnetics has been open since August 2016 and serves everyone from CEOs grinding it out in the Financial District to the hippies of Haight-Ashbury. Using the Onfleet app, consumers are able to track their order in real time as their cannabis moves from the dispensary to the delivery vehicle, driving through the streets of San Francisco and ultimately winding up at the drop-off location. This allows the consumer to be at the door smiling when their herb is delivered!
Those in search of a complete dispensary experience can try 2ONE2, located next to JAHnetics. Consumers can walk into the white showroom and browse through 2ONE2's glass cases to find the buds, edibles, and topicals they need. They can tell the budtender to make their business "trip" live up to its name with some psychedelic herb, or ask for strain suggestions. San Francisco natives in the middle of a 60-hour work week can stop by 2ONE2 on the way home from the office and find out which flower will reduce the stress of a tight deadline. And of course, tourists with a medical card can pick up a gram or two while they roam the streets of San Francisco. Have you ever seen the Transamerica Pyramid while high, bro?
Mission District
The Mission District is a gentrified area of San Francisco with a strong element of modern hipster culture. Vintage clothing shops, music stores and taquerias are enough to attract any stoner to the Mission District by themselves. Dolores Park is a hotspot with beautiful views of downtown San Francisco and plenty of area for picnics and fun. Heck, if you're in need of a Mexican pro wrestling mask, the Mission District might be the place for you.
The Shambhala Medical Cannabis Collective is centrally located on Mission Street. It's a fully licensed non-profit that features a showroom and delivery service. Seven days a week, cannabis lovers in San Francisco stop by Shambhala MCC to see the freshest bud in town. The shop prides itself on its CBD selection.There's also a seating area inside the dispensary where customers can roll up a doobie for their travels.
Medithrive is also located on Mission Street, several blocks south of Shambhala. The dispensary opened in 2009 as a delivery-only service, and it later expanded to include a walk-in storefront. While browsing through Medithrive's inventory, medical marijuana consumers can actually view their buds under a microscope before making a purchase. In addition to its fine selection of cannabis products, Medithrive offers cutting-edge accessories from producers like Goldrop and Americanna. And here's the best part: all eighths purchased at Medithrive are weighed to 4 grams.
Who's down for some free weed?
The Apothecarium is another dispensary in close proximity to the Mission District, located north of Dolores Park on Market Street. The dispensary was featured in Architectural Digest's "Seven of the Best-Designed Marijuana Shops Across America" in April 2017, and it's easy to understand why. Architect Vincent Gonzaga mixed modern and traditional design themes together, including comfortable seats and elegant decorations. There's enough space for each consumer to privately discuss his or her needs with their budtender. Apothecarium is notably active in the San Francisco community, donating a portion of their income into various groups that promote humanitarian causes. The shop is also involved with mediation and yoga groups, extending their capacity to give care well beyond the hemp plant.
South of Market
South of Market is one of the larger neighborhoods in San Francisco, located in the heart of the city. It's an easy launch pad for trips to the Mission District, Union Square and South Beach. South of Market was destroyed in the great earthquake of 1906, and it became a desolate industrial area until the tech boom of the 1990s revitalized the neighborhood. While SoMa still maintains elements of the industrial feel, it is now home to posh apartments, a busy nightlife and plenty of attractions. Cannabis enthusiasts might enjoy the Cartoon Art Museum or the San Francisco Museum of Modern Art, or they can walk out toward the water to enjoy a San Francisco Giants baseball game at AT&T Park.
The SoMa district is packed with dispensaries and dab lounges. Urban Pharms, located on 10th Street, hosts a weekly Thursday comedy night for those who want to enjoy some laughs as they browse through Urban Pharm's glass cases for some dank herb or relax in the store's smoking lounge. The Green Door, located on Howard Street, has been serving medical cannabis consumers in San Francisco since 2005. The Bloom Room includes a vapor lounge, where members of the collective are free to use the Volcano Vaporizers placed in the room. Visitors to the Bloom Room will enjoy the modern art that decorates the walls.
The Barbary Coast Dispensary is also nearby, and it includes a dab lounge for those who enjoy a nice hit of concentrate. It has only been open since 2013, but the addition of the dab bar in March 2017 has made it a can't miss pot shop. The San Francisco Chronicle actually called it "the most decadent pot smoking lounge in the West," thanks to the elegant speakeasy feel with a bar that contains dab rigs in front of the barstools. "If it wasn't for the Michiko Thompson-designed cannabis leaves shining green in the stained glass over the counters and the ultra-modern VapeXhale vaporizers on the tabletops, you might not guess that this lounge is meant for inhaling rather than imbibing," the San Francisco Chronicle stated.