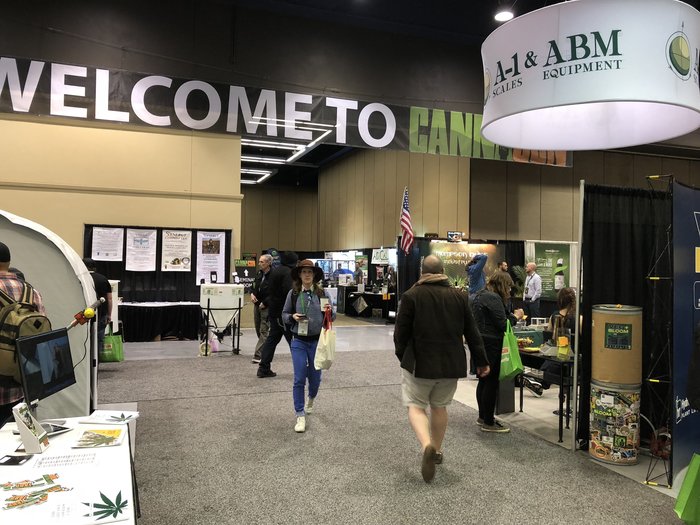 Thousands of cannabis entrepreneurs flocked to the Washington State Convention Center in downtown Seattle on February 15-17 for CannaCon, an annual trade show that burst with signs of a thriving industry on all fronts. If you're picturing a bunch of classic "stoner" types walking around dazed and confused while blasting Bob Marley, then you've got the wrong idea. What stands out the most about CannaCon is the professionalism of the event. The trade show floor is lined with technology producers, agricultural experts, lawyers, marketing companies, and packaging manufacturers. 
Companies like Druk Engineering and ExtraktLAB showcased their large carbon dioxide extraction machines, which are designed to freeze a sample of cannabis down to -30 degrees Celsius or more in order to separate pure THC and other cannabinoids from the plant. These high-tech industrial machines are on display throughout the CannaCon floor, with company representatives at each booth that typically use words like "solvent" or "short path distillation" as they talk about transforming cannabis into concentrate at large scales. These may be the actual scientists that design the technology or just a representative from the company's marketing department that flew into Seattle for the event. It is unclear whether any of them actually smoke weed, or if they've just found a growing industry to which they can lend their scientific expertise.
Representatives at the Cultivera booth demoed a seed-to-sale software that cannabis producers, distributors, and dispensaries use to document all plant activity. Growers keep track of the plant's growth from the moment a seed is planted until it is harvested and packaged. Dispensaries use the same software to browse the inventories of their distributors and order fresh flower, edibles, and other products digitally. This type of software is probably not that different from what another industrial-scale farm or even a company like UPS uses, but it has been adapted so that all commercial cannabis production maintains traceability in order to comply with state regulations.
Switching Gears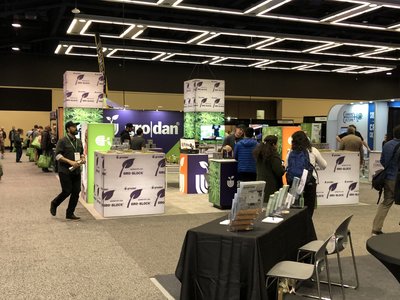 As the green revolution continues, more and more professionals in other industries are making the jump to cannabis. Representatives from Advanced Nutrients (one of the OGs of the Southern California marijuana industry) were there handing out free samples of different products to make buds grow bigger and better. Most companies at CannaCon are newer to the game, often starting out as an ancillary division of a larger company. Cannabis Creative Group is the offshoot of an established branding and public relations entity, now leveraging their experience with top-tier clients in other industries to serve cannabis entrepreneurs.
Of course, some booths remind you that it is cannabis we're dealing with here. Hibro was like a mini head shop, with rows of beautiful glass pipes, vape pens, and dab rigs at bargain prices. There was a booth called The Weed Game, where you could pay $5 to scoop a numbered ping pong ball and win trippy cannabis-related artwork featuring characters from the Simpsons and Family Guy. Upstart beverage producer Morbius was handing out free samples of some cannabis-infused drinks (minus the cannabis) that they hope will be on the market soon. The Futurola booth was handing out free packs of rolling papers.
A highlight of the Thursday show was the keynote address from Washington governor Jay Inslee. In an enthusiastic 15-minute speech, Inslee praised the cannabis community for building a $3 billion industry over the span of just a few years. The governor also pointed out that cannabis use among minors has not increased since recreational weed became legal, and he insisted that he will continue to follow the will of the voters despite pushback from the federal government and particularly Attorney General Jeff Sessions. "The Attorney General wants to blind himself from the successful information we have," Inslee commented.
From Far and Wide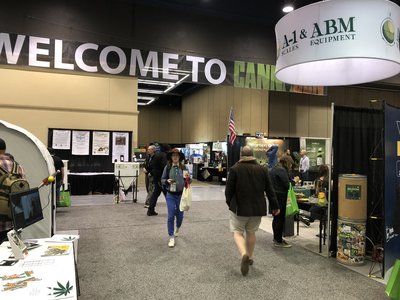 CannaCon exhibitors were a mix of Seattle area natives and travelers from various destinations around the country. Washington-based CBD cologne producer Pure Blis Naturals was handing out free samples of their fragrances at the event. A representative from ExtraktLAB flew in from Minnesota to demo the company's Extrakt-1 extraction machine for CannaCon attendees. A member of the Cannabis Creative Group traveled all the way from Boston. Many exhibitors flew in from Southern California, such as the representative for MarijuanaPackaging.com, who was running on fumes from a late-night flight and a long day of discussing branded packaging options with cannabis entrepreneurs that happened to walk by the MarijuanaPacking.com booth.
Serious Business
As evidenced by CannaCon, the introduction of legal marijuana is about more than a bunch of pot smokers who can now watch their favorite cartoons high without fear of harassment from the cops. This is a full-blown industry with thousands of professionals relying on cannabis to feed their families. Some of the brightest minds in science, tech, agriculture, and other fields have pivoted toward the lucrative opportunity of the cannabis industry and are now shaping it with their innovations.
CannaCon will hit Detroit and Boston later this year. It's a worthwhile excursion for anyone interested in seeing the nuts and bolts behind the United States' fastest-growing industry.