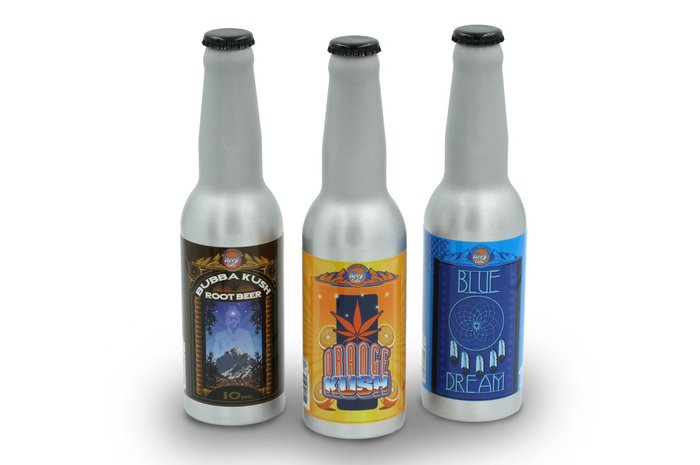 As Memorial Day rolls around, you may be wondering what finishing touches you've missed on your perfect plans. You've got your cookout menus lined up, your schedules coordinated, and, if you're lucky, you might even have spent some time cleaning off the grill! However, even the best plans leave room for a little bit of stress. If you haven't yet incorporated cannabis into your Memorial Day celebrations, we suggest these four products to enhance your relaxation while keeping things low key on this thoughtful holiday.
Keef Cola 
If you're celebrating Memorial Day with a cannabis-friendly group, consider wowing them with a Legal Soda from Keef Cola. These cannabis-infused drinks pack a THC punch that can satisfy even the most hardcore of stoners, subtly mixed in with sodas that are truly delicious in their own right. Choose from:
These sodas are available in multiple concentrations of THC, from 10 mg per bottle all the way up to 100 mg. Keef Cola brands provide a wide selection to choose from so you will be able to find a soda that fits your taste preference! If you are in the California, Arizona, or Colorado regions, ask your budtender about Keel Cola!
Wana Gummies
THC-infused edibles are definitely the way to go if you need a long buzz to carry you through the day's events. Wana brand edibles are designed to deliver consistent doses of THC in a delightful treat. Their product line consists mostly of sour gummies, although you can also get salted caramels and even chocolates in some markets. The gummies come in an assortment of high-fidelity fruit flavors that can really get your mouth watering, and are vegetarian as well as gluten-free. Their available flavors include:
Mango
Watermelon
Strawberry
Blueberry
Strawberry Lemonade
Apple
Orange
Lemon
Peach
Pineapple
Grape
Raspberry
The flavors available depend on what market you're in, and they come in sativa, indica, hybrid, and CBD-rich varieties.
The reason these gummies are so great for Memorial Day is portability and discretion. Each serving is 5 or 10 mg of THC, so the chances of consuming too much are quite low. And since each gummy is individually wrapped, you can just slip a couple in your pocket or bag until you're ready to go! They're the perfect way to consume in a setting that requires discretion.
Vape Carts by Harmony Farms
As cannabis concentrates keep clawing their way up the popularity charts, brands are getting the chance to differentiate themselves from their competitors. Harmony Farms has taken cannabis oil cartridges to a whole new level, producing arguably the finest vape carts in the country. How? By adhering to three crucial standards.
Plant Quality: They grow all their flower in-house, with a truly exceptional level of quality control. If you ever tour their facilities, be prepared to accept the fashion faux pas of sterile jumpsuits and footies to go over your shoes. They're serious about maintaining a perfect growing environment, and it shows in the product.
CO2 Extraction: Harmony Farms uses CO2 to extract their oils, making for an efficient and green extraction solution. CO2 extraction produces crisp and clean tasting oils that truly mirror the strain from which they were extracted.
C-Cell Carts: There's nothing more annoying than buying a cartridge and pulling nothing but air when you fire it up. That's why Harmony Farms uses C-Cell cartridges, which have the lowest failure rate in the industry.
If you find yourself in need of serious, quick-acting cannabis this Memorial Day, there's no more discreet way to get a ton of THC. These cartridges are potent, so be careful!
We hope you give these cannabis products a try! Happy Memorial Day from Leafbuyer!