Best Marijuana Dispensaries in South Sound, Washington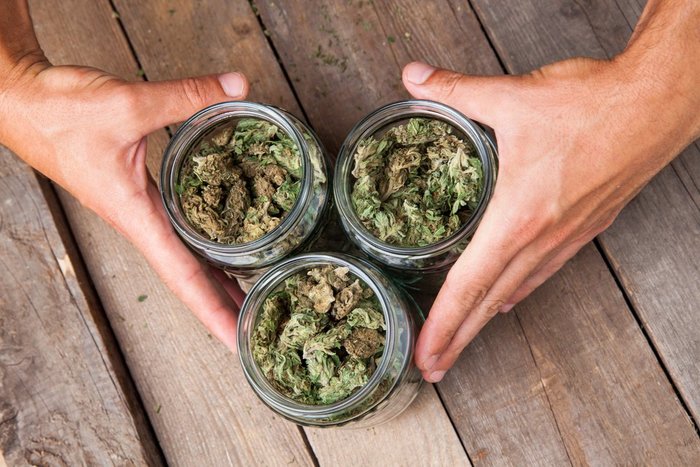 As a resident of the South Sound (Des Moines to be more exact), I can say that it has a completely different feel from the city of Seattle. It's a largely industrial area with incredibly diverse neighborhoods.
The vibe itself is a bit more friendly, with neighbors who are more likely to wave and say hello. Being that there are fewer people in the area, trekking through towns like Burien, Normandy Park, and Des Moines feels a bit more outdoorsy; trees are abundant, animal life is apparent, and Mt. Ranier looms like a ginormous portrait in the background, visible from higher elevations.
As we move into fall, the sun is still glaring, and both residents and tourists are enjoying the beautiful Puget Sound, which is within walking distance for hundreds of thousands of people.
People are always on the lookout for a place to drink a beer or score some good old ganja. Thankfully, there are a bunch of South Sound marijuana shops for residents living south of the city. What's most appealing about these local pot shops is their charming mom-and-pop feel.
Most employees are eager to discuss the wide array of marijuana products and accessories. Managers are present and try to ensure customer satisfaction. The most important aspect of managing a mom-and-pop place is making sure customers return. Without this, staying in business for a decent duration often becomes unattainable.
Now, let's get to business by answering the following question: What are the best South Sound marijuana dispensaries? We here at Leafbuyer will reveal some of the best pot shops in the South Sound.
Bud Nation, located in Southcenter, is the pot shops of all pot shops. The company proudly labels itself as one of the South Sound shops with the largest selections regarding marijuana products and accessories.
Most importantly, the products are high quality and come from a variety of vendors, which Bud Nation refers to as their "gardens." The location itself is ideal as it's located near restaurants, shopping, and theaters, with the Southcenter mall nearby.
Years ago, Southcenter was an area to stay away from as it was plagued with high crime. However, in the last decade, the city has turned itself around with increased police presence and amazing business investments. Bud Nation is also an active member of the Southcenter community because it involves itself in community service and they genuinely care for the neighborhood.
Another awesome aspect of the company's approach is that the dispensary chooses its marijuana from local vendors; its aim is clearly to help those who are involved in the Washington medical marijuana industry. Bud Nation seeks to build relationships with up-and-coming growers. Put simply, they are local in every sense of the word.
Once inside, it's clear that the company cares about its image: floors are clean and shiny, the lighting is groovy, and budtenders are eager to help you with a purchase. The glass containers are filled with intriguing accessories, such as psychedelic bongs and intriguing pipes.
If you're looking to help out the local community, make sure to stop by Bud Nation; who knows, maybe you'll one day become a part of it.
Address: 9640 16th Ave SW, Seattle, WA 98106
Hours: Mon-Sun, 8am-11:45pm
Phone: (206)-588-2441
This place is a breathtaking blend of futuristic and rustic. The flooring and walls look like the interior of a cabin up in the Cascade Mountains, but the rolling TV menus make it look hip and trendy. I just couldn't get enough of the scrolling TV feature with the daily specials!
The place is spacious and not overstaffed to the point of feeling like a Verizon store.
Moreover, the bong selection is one of the largest I have ever come across. The bongs themselves are intricate and classy, with a hippie look. As for products, it's a great place to shop at because each specific business day has a deal. F
or example, Monday means 10% off all 3.5-gram products, while Tuesdays are 10% off pre-rolls. It's just great for those trying to save a little dough.
As for the staff: they are dressed in a professional manner, but this is not to take anything away from their deep knowledge of the magical leaf. The few staff members present are quick with answers to questions and seem to know the inventory very well.
If you're in the area, make sure to stop by Star 21 Dispensary, as it exudes professionalism and genuine care for customers.
Address: 11042 1st Avenue South, Seattle WA
Hours: M-F 8:15am-12:00pm / Sat 9:00am-12:00pm / Sun 9:00am-10:00pm
Phone: 206-535-7791
Greenside recreational has a cool history. The store started as a medicinal marijuana dispensary on Lake City Way, which is located in North Seattle. As soon as pot was legalized, Greenside Recreational became one of the first pot shops to be licensed in the State of Washington.
The overall feel in regards to the company's history is that of family unity; there are a lot of younger adults working for the company, and it appears very tight-knit. I appreciate the family-centric culture, as it makes the shopping experience more personal, so buying a product from this place is pleasing.
There was a tragedy that occurred at their newly opened Seattle location a couple years ago when the place burnt down. It took months for the company to figure out the best approach to reopening a new store, but the community lent their support for them to set up a new shop.
Incidentally, the Des Moines location is one of two for the company, and it was opened in a strong market. Why? There are a lot of elderly people in Des Moines. The area by the water is inhabited by upper-class baby boomers who don't have a particular aversion to marijuana. I can personally vouch for this as I constantly smell marijuana from my condo neighbors, who are mostly over sixty.
Even though the exterior of the place looks like nothing special, the inside is vibrant and poppin'. Again, I just love the TV menus; it's great for those looking for daily specials and those who have issues reading because the TV menus are large. The setup itself is friendly, and there are five separate counters to discuss products, which is helpful as the place can get pretty busy during the evening.
Greenside Recreational prides itself on fresh products and wonderful customer service. The employees themselves are young, cool, and engaging. As mentioned earlier, it's as if the employees know each other quite well as the company culture appears to focus on family first.
For those living in Des Moines, this is a great place to buy marijuana products because it's one of the few near the city. If you don't want to drive into Burien or Seatac, then drive on over to Greenside Recreational.
Address: 23407 Pacific Hwy S, Des Moines, WA 98198
Hours: Mon-Sat 9am-11:30pm / Sun 10am-10pm
Phone: (206) 878-6470
---
These three South Sound marijuana shops are well-known in the area for their adherence to great customers service and excellent products. If you're in the area, make sure to give them some business!
Bud Nation is a proud partner of Leafbuyer.
Article by: Jason Newell