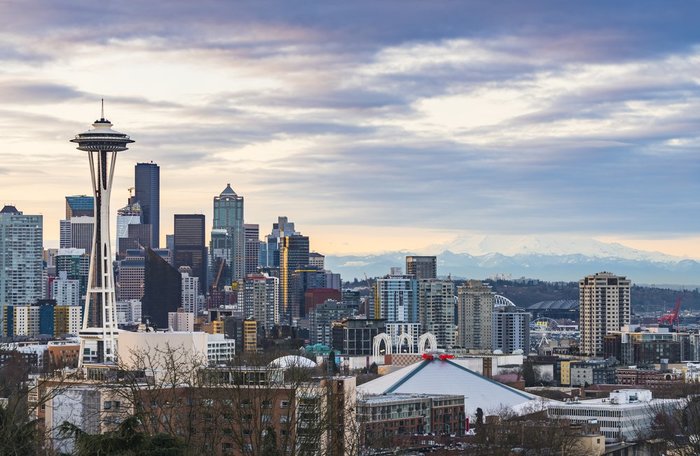 There's just something about Seattle. We saw it with Tom Hanks and Meg Ryan in their sleepless adventure; we heard it through the musical genius of Foo Fighters. Maybe there's magic in the water, or something alluring about the Space Needle; more likely, though, there are heads in the smoky clouds.
The city is the place to be: with everything from gorgeous surrounding environments (including mountain ranges, plentiful water, and evergreen landscapes) to the legendary Space Needle, Seattle has much to offer both locals and visitors. And thanks to Washington's marijuana legalization legislation in 2012, Seattle is also home to a booming cannabis industry lead by dispensaries like Green Fire Cannabis .
Seattle has become one of the many faces of marijuana cities, especially thanks to high-caliber events hosted in the metropolitan area. Many of these festivals and conventions serve a specific purpose: some are to raise hell, others are meant to promote awareness, and a few are there to grow and shape the industry. There's a little something for everyone at these cannabis-related events.
These three popular cannabis events are coming to Seattle in 2018.
Hempfest
Date: August 17-19, 2018
Location: Myrtle Edwards Park, Seattle
Website: click here
Seattle's Hempfest is known as the world's largest cannabis gathering, and it's been growing stronger every year since its inception in 1991. This festival is a marijuana lover's dream: a giant celebration of weed that also advocates for nationwide decriminalization, all in the spirit of herbal love and appreciation.
The three-day festival includes a political rally, concert, and fair with arts and crafts from local artists and businesses. Hempfest also has over 120 bands performing live concerts, prominent cannabis guest speakers, panels of marijuana professionals, and 420 venders serving up both national and local products available for purchase. While fun is a huge component of the event, Hempfest is also an educational tool promoting responsible cannabis policy, reform, and facts regarding both adult use and medicinal marijuana.
CannaCon
Date: February 15-17, 2018
Location: Tacome Dome, Seattle
Website: click here
It is not always easy to be a forerunner in a major national movement. CannaCon hopes to ease the stress of building an empire, especially in a country where the federal government still sees marijuana as a dangerous drug.
For three days in February, cannabis culture comes full steam ahead toward Seattle. This major event serves as a global marketplace for marijuana education, product innovation, and business connection throughout the cannabis industry. CannaCon is a platform for professionals within the marijuana biz to get together and learn together, through immersive learning, panels, and discussions regarding up-to-date industry developments, today's trends, and technology advancement.
Between speakers, seminars, and vendors offering the best of their cannabis creations, CannaCon will bring together some of the brightest and best to Seattle. The goal of the convention is to provide businesses, investors, entrepreneurs, and community members together to explore further partnership growth between marijuana movers and shakers.
CannaCon is on the more serious side of the spectrum. Be warned, if you are looking for a place to get high and zone out while eating a delicious sloppy food truck concoction, this professional convention is not the right venue.
Dope Cup
Date: April 20, 2018
Location: TBD, Seattle
Dope Cup is a 420 celebration like no other, bringing new life to the phrase "my cup runneth over." The annual event, hosted in Seattle, is an iconic celebration for cannabis lovers in the Pacific Northwest and other participating cities. The 21-and-over affair combines competition with fun, putting the delights of cannabis front and center.
The Dope Cup competition ranks businesses within the marijuana industry across 18 product categories. While attendees walk around the grounds scoping out munchie-busting food trucks, listening to live music, playing arcade games, and checking out weed products from local and national vendors, a panel of judges is busy at work. They are testing to see who comes home a national weed champion.
The best-of-the-best of the cannabis industry are decided at the Dope Cup competition, where products are ranked in the following categories: flower, edibles, concentrates, topicals, tinctures, and sublinguals. Each category awards anywhere from four to 20 winners after several rounds of rigorous, scientific judging; then the victors are able to gloat and promote their achievement for years to come.
Get Out There
Cannabis events are happening all over the place in Seattle, both big and small. Be sure to check out local dispensaries (featured on Leafbuyer) to see if they are hosting or sponsoring cannabis-related events.
Weed is known for its soothing and mind-expanding and flavorful properties; through local events, it's also known for its ability to bring people together to have fun, build community, and educate the public. Be sure to stay involved on the local marijuana scene, in Seattle and elsewhere, for more top-shelf cannabis events.