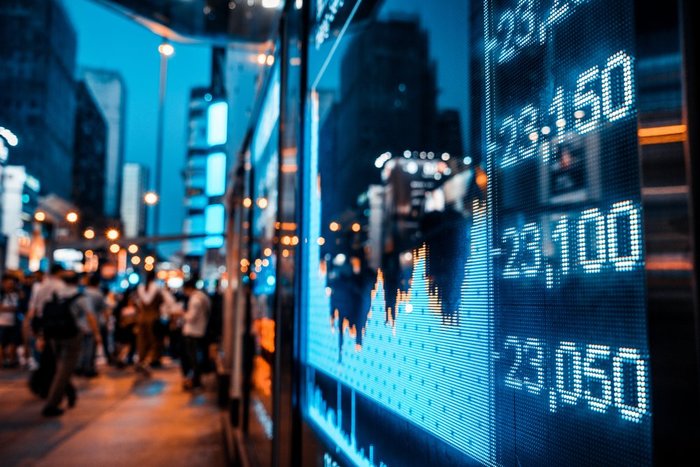 The wave of marijuana decriminalization and recreational cannabis legalization has brought joy to millions of consumers. As of April 2017, seven states and the District of Columbia have implemented, or are in the processes of marijuana reform. Inevitably, cannabis connoisseurs from California, Colorado, Maine, Massachusetts, Nevada, Alaska, Oregon, Washington, and the nation's capital are itching to open or invest in marijuana businesses.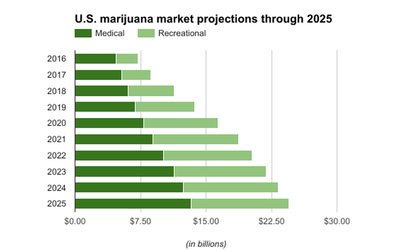 Making Green
Across the nation, the marijuana industry is becoming profitable. According to a report from New Frontier Data, a group of researchers focused on the cannabis industry, projected that cannabis industry employment could create 255,000 jobs by 2020, within three years. New Frontier Data also found that state-by-state sales could reach $24.5 billion by 2025.
Source: New Frontier Data, graphic by The Cannabist
While these projections are not guaranteed, they demonstrate the fact that recreational and medical marijuana businesses can become profitable operations in a number of states throughout the nation. With nearly 60% of the nation now living in areas with some legalized forms of marijuana use and sales.
As the cannabis culture develops, industry professionals and experts aim to establish widely-held standards for organic certification, energy use and labor practices. Marijuana Business Daily claims that the "fragmented" marijuana industry lacks national leaders to guide practices and standards. Groups like the Cannabis Alliance and the Research Innovation Institute are working to establish sound procedures and expectations for industry professionals. In the meantime, the responsibility to grow and produce ethically remains in the hands of individual professionals and businesses.
Each state has its own bureaucratic processes to apply for recreational businesses licenses, which we'll break down below. Each state also presents unique opportunities for ganjapreneurs to enter the oncoming Green Rush.
Washington
According to Washington state, average daily sales clock in at $4,803,503 state-wide. As of April 2017, there have been 982 producer/processor licenses issued and 495 recreational licenses issued. To learn more about the licensing process and which types are available, check Washington state's official website. Businesses must have a license to sell and profit from recreational marijuana.
Oregon
Profits from recreational marijuana exceeded more than $60 million in 2016. The booming market presents enticing opportunities for individuals and groups to get involved. Those interested in applying for licenses should pursue the Oregon Business Readiness Guide for OLCC Marijuana Operations. Instructions, a checklist, an operating plan and more resources can be found online.
California
California lawmakers are taking their time to implement legalization. Officials have until January 1, 2018 to start issuing licenses for recreational marijuana businesses. However, medical marijuana operators and potential recreational operators have an eager and large market for recreational cannabis business. Starting in 2018, individuals and groups can apply for 17 different types of cultivation, stand alone, and other licenses. For more information about California's developing legalization processes, check in with California Growers Association and CalCannabis Cultivation Cultivation Licensing page from the California Department of Food and Agriculture.
Nevada
Dispensaries that sell recreational marijuana won't open throughout Nevada until at least June 2017. The number of recreational marijuana licenses depend on the size of the county. Like Nevada's medical marijuana legislation, individual counties will have the right to vote against marijuana dispensaries. A recent note from the Department of Taxation announced that the department will accept recreational marijuana distribution applications from licensed medical marijuana holders. Applicants must pass a background check, comply with local zoning issues, and need to prove their past compliance with marijuana laws over the past several years. The department anticipates that they will accept application after the state decides on temporary regulation measures in May or June.
Colorado
The booming Colorado cannabis market has become the poster child for recreational marijuana success since the state passed legalized measures in 2014. Colorado recreational marijuana sales nearly reached $1 billion of revenue in 2015, its inaugural year, and topped $1 billion in 2016. Visit the Department of Revenue's website to learn the applicant criteria for retail marijuana businesses and details of the application process.
Maine
Similar to the sale of alcohol, municipalities can decide whether or not to be a "dry town" regarding recreational retail establishments. Lawmakers have issued a moratorium on retail sales to give lawmakers time to set up a regulatory framework and licensing processes. For updates on retails licenses and the Marijuana Legalization Committee's developments, visit Maine's website.
Massachusetts
The Massachusetts government lays out the steps of registered marijuana dispensaries on their website. It can take up to 540 to complete the registration process before businesses can start cultivating and selling medical marijuana. Recreational retail shops won't be able to open until mid-2018 due to legislative pushback from a handful of lawmakers. Check the state's website for licensing updates.
Alaska
Recreational businesses are currently operating where towns have approved operations. Local ganjapreneurs praise the recreational marijuana's capacity as a new market for Alaska's otherwise limited resources for industry income. The Marijuana Control Board (MCB) adopted regulations at the end of 2015 and implemented the measures in February 2016. Interested cannabis business people can learn more about licenses online.