We get it. States are playing democracy incubator to the march of marijuana reform and, it is definitely exciting. For more than 4/5ths the US, recreational marijuana is somewhere between proposed legislation and public support.
Washington is one of those states; yet, unlike every other state thus far which has legalized cannabis for recreational use, there is no legal outlet for recreational consumers to grow their own marijuana legally. Seattle, where over 650,000 residents live and as many as 3.7 million in the surrounding area call home, is especially impacted by these rules. So if not recreational consumers, can medical marijuana cardholders grow marijuana in Seattle? Where?
The Emperor Wears No Grows
Each city in Washington has the capacity to create local ordinances and laws specific to their town, city, or municipality which may further limit or prohibit where marijuana can be grown, sold, or processed. The city code, however, does limit medical consumers in where grow marijuana in Seattle and remarks only on large-scale grows such as those required by licensed cultivation businesses and where those may be located.
The Washington Department of Health (DOH) oversees the medical marijuana program and, therefore, it is the DOH which oversees the licensure of medical consumers, caregivers, and collective marijuana gardens. In most cases, where marijuana is grown in Seattle by a medical consumer depends, primarily, on the number of plants the medical marijuana consumer's recommending health professional authorizes and the size of the growing space the individual consumer or their designated caregiver has to dedicated to their plant.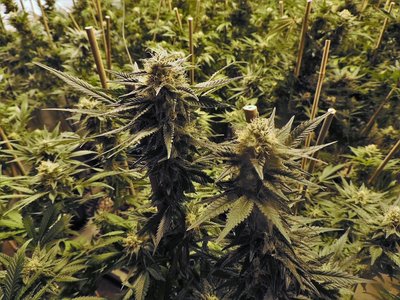 Washington handles medical consumers under two separate licensing structures. One asks a medical marijuana cardholder or their caregiver to voluntarily register on the consumer authorization database while the other does not.
Each one of the two structures provides a medical marijuana cardholder with the ability to grow a limited number of plants at home and possess marijuana in quantities far exceeding the typical recreational consumer (six [6] to eight [8] ounces as opposed to one ounce for recreational consumers).
Here are the differences you should know about:
Medical marijuana consumers registered in the authorization database can enjoy increased legal protections in the event of a legal mishap

Medical marijuana consumers in the authorization database can make purchases sales-tax free, removing more than

$500,000

per month in taxable sales from the state's legal marijuana marketplace.

Medical marijuana cardholders registered in the authorization database may be authorized by their physician to grow as many as 15 plants at home, with the average plants per consumer at six (6).

Medical marijuana cardholders registered on the database may participate in cooperative gardens with up to three additional consumers.

Medical marijuana consumers registered on the database can possess up to eight ounces of usable marijuana from their plants at any time
In contrast, medical marijuana cardholders who decide to opt-out of the authorization database:
Can only grow four (4) plants on average (the physician may authorize more)

Can possess no more than six (6) ounces of usable marijuana, even if a cardholder's physician recommends additional plants.

Must pay all taxes on medical products, a standard rate for both recreational and medical markets of 37%.

May not participate in a cooperative garden
Cooperative gardens are allowed no more than four (4) cardholders or 60 total plants. Cooperative grows are licensed by the Washington Liquor and Cannabis Board and are subject to laboratory testing and seed-tracking, must not be located within a mile of a marijuana dispensary or retailer, and must be at least 1,000 feet away from any schools, playgrounds, recreation and daycare centers, or any facility restricted to people 21 years or older (like a bar or nightclub).
Interest in Growing Meets Growing Marijuana
As of April 2017, figuring out where to grow marijuana in Seattle first requires you to be a medical marijuana cardholder. Since this often excludes large segments of the cannabis-consuming population, Washington – especially in Seattle – has continued to push for at home cultivation and in 2017, if the necessary signatures are collected, a ballot referendum to allow any person 21 and up to grow up to six (6) plants and possess up to one pound (16 ounces) of marijuana for personal use.
Only time will tell if recreational consumers in Washington will be able to parent some cannabis plants. Until then, don't miss out on the best marijuana deals, events, activities, and expos the city of Seattle has to offer.
Whether you are looking for the best strains, edibles, concentrates or, maybe, those precious marijuana seeds, Leafbuyer.com has you covered. And that's not all. The Cannabis Deals Network works to connect you with the best products from the hottest dispensary locations at the most affordable price possible.
We aim to bring you valuable, accurate information in this era of rapid acceleration in the cannabis industry. Follow the legal evolution at Leafbuyer.com.