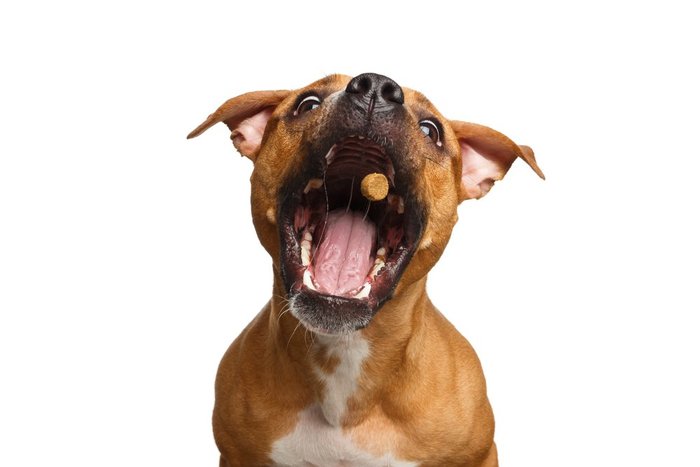 DISCLAIMER: The content on this site is for reference purposes and is not intended to be a substitute for advice given by a health-care physician, pharmacist, or other licensed health-care professional. Click here to read the full disclaimer.
Remember the days of taking a gravity bong hit of some schwag and blowing it in your dog's face? We certainly hope not! But regardless of the past, you should know that those days are long gone. That's right: nowadays you can get your dog relaxed and chilled out legally, in a much safer and more huma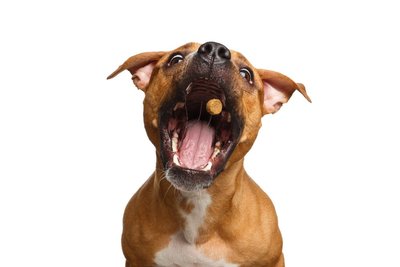 ne way!
A slew of cannabis producers have taken the green revolution one step further and crafted CBD edibles as treats for dogs, giving man's best friend the opportunity to experience the man's favorite plant. None of the pet-friendly cannabis products contain any THC, as these treats aren't trying to give your dog a spacey head high (those are reserved for humans).
So Where Can You Find These CBD Dog Treats?
As it turns out, a wide variety of stores sell hemp products for pets. A quick search on the Treatibles website for the Seattle area revealed that the company's products are available at All the Best Pet Care, a chain outlet that has multiple locations in the greater Seattle area. They're also available at Uncle Ike's Pot Shop, one of the most renowned dispensaries with one of the most expansive product selections in the Emerald City. A handful of additional spots including Natural Pet Pantry and Scraps Dog Bakery keep some CBD pet treats on hand as well.
A search on the producer Canna-Pet's website shows that its hemp pet edibles are available in nearly 30 states, from legal recreational weed locations like Washington and California to the southeastern United States like North Virginia and Kentucky. Shiloh Animal Hospital in Morrisville, North Carolina carries Canna-Pet products, for example. Vet 2 U Enlightened Veterinary Care in Bisbee, Arizona does as well.
Of course, there's also the internet. A quick search for "CBD dog treat" on Amazon offers up Calm Dog Hemp Oil Treats, Calm Pet Hemp Oil, and Love Buds Healthy Pets home-cooked CBD treats. Enter the same query into Google's search engine and a bunch of options will pop up to shop for and purchase directly through Google. Check out the website for online dog product retailer Chewy and you'll find hemp chicken sweet potato jerky by Iconic Paws (you have to admit, that sounds almost as good as an edible for humans!).
The Next Top Dog
The overall trend we're seeing is that everyone from corporate chain pet stores, to veterinary hospitals, to cannabis dispensaries, to the behemoth of Amazon is getting on the bandwagon that leads to happier pets and owners. There are a host of options in most states across the country, as well as the convenience of shopping online so you can change your pet's life for the better without actually getting out of your pajamas.
Believe it or not, the CBD-infused pet product market is booming, with more and more pet owners pleased with the results after giving them a try. Producers like Canna-Pet and Treatibles, along with the likes of Hemp Health Inc., Pet Releaf, Healthy Hemp Pet Company, and more are all creating new products to make household pets happy.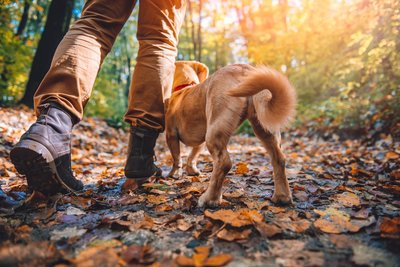 Suppose your puppy joined you for a six-mile hike today and was walking funny when you got back home. Perhaps a Treatibles blueberry dog biscuit containing a micro dose of CBD would ease that puppy's bones so he or she could fall asleep on the couch next to you in comfort. Or, let's say your dog was barking uncontrollably and having some sort of nervousness attack. If you have some Canna-Pet Advanced MaxCBD Liquid handy, you could put a couple of drops in your dog's water bowl and witness the calming effect within minutes.
Because pet CBD treats can be derived from the hemp plant, they are legal to purchase for your pet in all 50 states. The law says that CBD oils that are cultivated using hemp (and not the marijuana plant) are fair game, so you won't have any added stress involved with committing any crimes. As previously mentioned, you also won't be getting your pet "high" in the traditional sense, as CBD does not contain any psychoactive ingredients.
Talk It Over with Your Vet
If you're considering the option of treating your pet with a CBD product, definitely discuss the process with a veterinarian or knowledgeable employee at one of the shops that sells hemp pet treats. Dosage sizes will vary from pet to pet, with larger animals needing a slightly larger intake of CBD to achieve the necessary level of healing. Fortunately, many producers offer their treats in multiple dosage levels to accommodate for pets of different sizes.
If you purchase CBD treats online, don't start administering treatment for your pet until you've done a little bit of homework. With the power of Google and YouTube, you can learn some vitally important information about giving CBD to your pets in less time than it takes to play a game of fetch. So do your research and give your pet the best care possible!
If you live in the Denver, Colorado area, be sure to check out Gold Care LLC for pet CBD products