Seattle Dispensaries: Uncle Ike's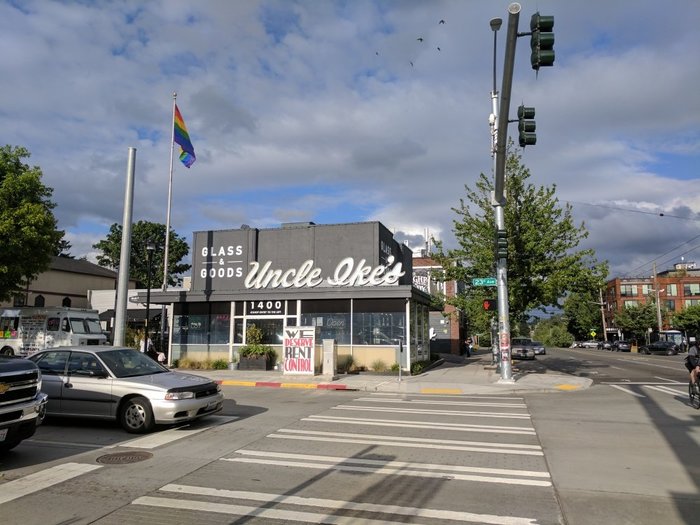 It's a beautiful Seattle summer day and all you need is a great marijuana dispensary to enhance the afternoon. You're heading out to Madison Park to chill by Lake Washington, and the renowned Uncle Ike's pot shop happens to be on the way. It has been called the gold standard of Seattle's recreational cannabis dispensaries, so why not see what all the fuss is about?
At the corner of 23rd and Union in Seattle's Central District, you see a building with giant letters that spell out "Uncle Ike's" in script. This must be the place. You pull into the lot in front of the dispensary and head toward the entrance.
The security guard checks your driver's license to make sure you're over 21 and then opens the glass door to let you into the pot shop. The store is lit up by bright skylights. You see glass cases filled with beautiful buds, tinctures, edibles and more. There are plenty of cannabis treats hanging from the wall as well. Products like the Agent Orange strain from Blue Sky Growers and Phat Panda's Hard Candy Caramel.
There are about eight budtenders behind the counters, walking back and forth grabbing different kinds of weed for different customers. People of all walks of life are there to buy cannabis; some look like tech industry workers or businesspeople, some look like artists, some are in their 20's or 30's and others a bit older. You're standing in line with a bunch of people, one of those crowd control lines that twist around. Apparently other people had the same idea of combining Mary Jane and Pacific Northwest sunshine (Seattle has the bluest skies in the world, by the way).
You grab one of the Uncle Ike's menus and begin browsing at the different flowers, grouped by sativa, indica, and hybrid. You turn it over to the other side and see a list of cannabis-infused soft drinks, candies, chocolates and tinctures. After getting lost in all the different options, the Spectrum Blackberry Widow catches your eye, a budtender becomes available and calls you up to take your order.
You're greeted with a smile by a girl in her mid-20's named Emily. She says what's up and then asks if you need any recommendations. She wants to know what you like to do when you smoke. "Do you like to do creative stuff? Or are more into doing outdoor stuff like hiking when you're high? Do you use cannabis to go fall asleep or get energized?"
You mention that you're heading over to Madison Park to chill with some friends, throw a frisbee, and maybe go for a swim. Emily then pulls out three different strains of beautiful, fresh herbs from the display case. "You should try the Blue Dream by TopShelfWA, it'll give you a racy head high and a burst of energy, which should go good with animated conversation and playing Frisbee," she says. "Or if you want to try my personal favorite, the Cookies & Cream strain is really good for just laying back in the sun."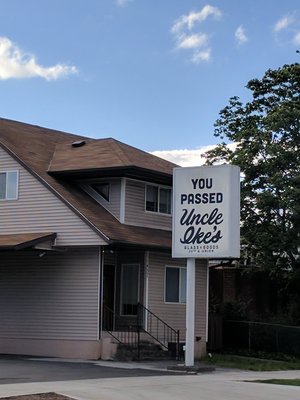 You decide to buy a gram of both, and then you ask for a three-pack of Hemp Crunch 4.20 Bars and a pre-roll of Albino Kush by Lazy Bee Gardens (that will be your nightcap). You hand Emily your ID; in Washington, you show proof of age both at the dispensary entrance and at the point of sale. Emily then asks for $44 in cash, because the dispensaries aren't allowed to accept debit or credit. You fish through your wallet, grab $45, and slip the dollar of change in the tip jar. The security guard opens the door for you on the way out and you're good to go.
On the same lot as the famous Uncle Ike's Pot Shop is Uncle Ike's Glass Shop. Perfect, you need a new chillum. You walk in, browse through some spectacular pieces of artwork that you can also smoke pot out of, and find your way to a glass case with a bunch of pipes sourced from local Washington artists. You find the chillum you want, pay $10 and head to the park.
The destination is in the neighborhood of Madison Valley, an upscale area with mansions, lots of BMWs driving around and some posh bars and restaurants. You get to Madison Park and lay a towel down on the grass next to four of your friends. You mention that you were at Uncle Ike's earlier, and your friend Kyle goes, "Oh yeah, that place has the best selection in Seattle. And they're killin' it on Yelp reviews! It was also featured in Leafbuyer's Top Ten Most Eye-Catching Seattle Dispensaries article. Quite a place!"
A few minutes later the Blue Dream starts to kick in are you are feeling super-social. You and your friends catch up, talk about some new shows on Netflix and discuss struggles at work. Kyle tells you about the Uncle Ike's location in the Capitol Hill district in Seattle, which you should check out tomorrow night before heading to Neumo's for some dancing.
A short Frisbee toss begins, and as the day hits its peak heat of 82 degrees, you decide it's time to jump in the water. It's a picture-perfect scene at Madison Park, made possible by one of the OG marijuana dispensaries in Seattle. Thanks Uncle Ike!