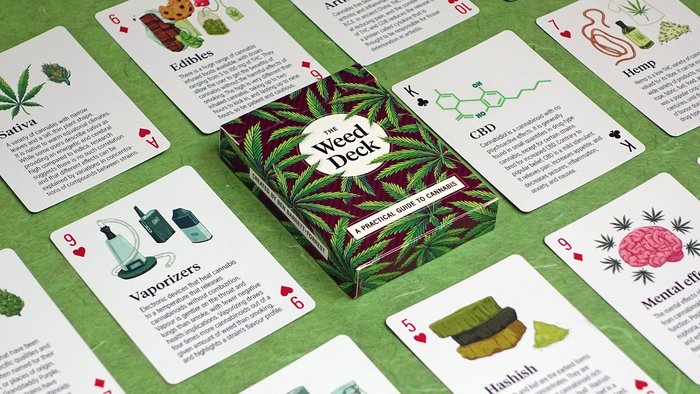 If you're looking to learn some new information about marijuana, whether you consider yourself a novice or a seasoned pro, it can be hard to figure out where to start. Countless websites, books, and other resources may help out, but they vary in reliability and level of ease of comprehension. Have you ever considered a deck of cards? As a groundbreaking new method of teaching cannabis facts, a Kickstarter campaign has surfaced to introduce The Weed Deck: a Playing-Card Guide to Cannabis.
What is The Weed Deck?
The Weed Deck is a collection of 56 playing cards, each of which displays images and text to communicate information about a different element of cannabis. The facts range from the basics to the more advanced, covering subject areas like health effects, chemistry, culture, dangers, anatomy, strains, terminology, ways to consume, plant varieties, helpful tips, and more. Every card is intensely researched and intricately designed to provide a deep overview of all things marijuana, focusing on "accurate and approachable education, to prepare people for the new era of cannabis."
According to the creator of The Weed Deck, "Right now, there are few sources of objective, reliable information, outside of some dense and pricey reference books. The Weed Deck fills that niche, providing accurate information in a fun and digestible way."
The Kickstarter campaign runs until Nov. 1. While it began with a goal of $3,860, it currently holds $6,752 worth of pledged money, as of the time of writing this article. There are 237 backers on the project, with weeks still left before it closes. When The Weed Deck was launched on Kickstarter, it reached its funding goal in just 29 hours. This revealed not only that the deck is a promising idea, but also that its creator is no novice.
Who is Behind the Project?
As his third deck of educational playing cards, British Columbia native Ben Barrett-Forrest created, wrote, and designed The Weed Deck. His other decks include The Design Deck and The Font Deck, both of which were also launched on Kickstarter. He was helped by Ontario native Celia Krampien, who has worked for big clients like The LA Times, as the illustrator of the deck. Social media has been handled by Vanessa Elie.
What Other Options Are There?
To get all the great information off of The Weed Deck cards in a more traditional format, the creators have also released The Weed Book. The book is hardcover and provides more room to the information and illustrations
How Can the Products be Purchased?
The Weed Deck is being produced by Legends Playing Card Co. as "casino-quality card stock with linen texture." Either The Weed Deck or The Weed Book can be purchased from the Kickstarter campaign website for about $12. There are also multiple options to get sets with both, with various quantities, or with Barrett-Forrest's other decks, for various prices. The website notes that the products should be ready for full distribution in time for the Christmas season.