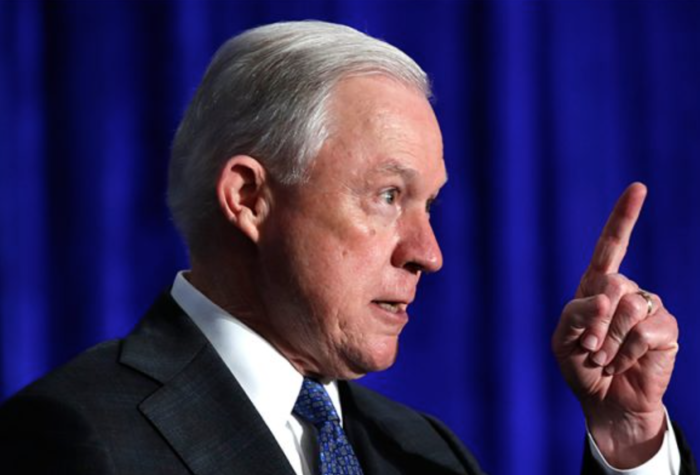 WASHINGTON, DC: Jeff Sessions, the U.S. Attorney General, has rescinded the federal policy which prevented federal law enforcement from prosecuting in states with legal marijuana. The Obama-era policy left legalized marijuana states to regulate and enforce state laws individually. Former Attorney General Eric Holder wrote the Cole Memo in 2013, which stipulated that the federal government would permit states to establish local laws without interference.
The decision is an about-face from what Sessions said last November during a congressional hearing in which he promised that the Obama federal policy on marijuana would remain. He also admitted that cannabis was not dangerous like heroin yet did not use his authority to remove cannabis from same Schedule I classification as heroin. Sessions' decision revokes the Cole Memo, and the Trump administration's assault to dismantle anything Obama continues. Sessions has made comments in the past indicating his negative views on pot, saying he was okay with the Ku Klux Klan until he found out that they smoked reefer (he later claimed he was joking).
Both liberals and conservatives alike were livid by the reversal, including Republican Senator Cory Gardner from Colorado, who said that he was blindsided and will retaliate by delaying Senate approval for Justice Department appointments. Gardener was not even a supporter of marijuana legalization but is adamant about respecting the will of the voters. Washington State Attorney General Bob Ferguson said that Sessions has shown his ignorance regarding state laws and that he was troubled by the decision.
Sen. Cory Booker (D-NJ) said that he is outraged by the decision yet not surprised due to Sessions' views. Governor Kate Brown of Oregon said that that rescinding the law will hurt the economy and that the federal government should not intervene in the will of the voters. She added that the cannabis industry brought 19,000 cannabis jobs to the state.
She vowed to fight any federal interference in the state. Republican Rep. Dana Rohrbacher of California said that the black market will thrive due to the decision, saying that Sessions has just given drug cartels a gift and more violence will be the result. Republican Senator from Alaska, Lisa Murkowski, said that revoking the policy was disruptive and regrettable.
The DOJ Had No Comment
The Department of Justice had no comment when asked if there were any plans to begin mass raids on cultivators and dispensaries. States that have legalized recreational marijuana so far are Alaska, California, Colorado, Nevada, Oregon, and Washington.
Lieutenant Gov. Gavin Newsom (D-CA) said that states that have legalized marijuana should band together and demand states' rights to freedom, calling Sessions' decision a temper tantrum. Along with the states that have legalized adult-use marijuana, Washington D.C. and 29 other states have legalized medical marijuana.
Sessions' Decision Breaks Trump's Campaign Promise
Trump repeatedly promised during his campaign not to interfere in state's cannabis laws. The White House press secretary, Sarah Huckabee Sanders, insists that Trump is not breaking his campaign promise not to interfere in states' rights and is only enabling prosecutors to enforce federal law on big distributors.
Advocates for marijuana legalization say that the industry is simply too big for the reversal on federal policy to stop industry growth. The legal weed industry sold $6.7 billion in 2016, and with estimates that the cannabis industry will be worth $50 billion annually in less than 10 years, it isn't likely that the industry will collapse any time soon. Politicians such as Gov. John W. Hickenlooper of Colorado wondered if U.S. Attorneys would bother wasting time and money to bust legal state-regulated businesses.
Sessions said that the Obama policy made for a safe harbor for weed by allowing states to legalize and called the Cole Memo unnecessary. Sessions' own task force created to advise him recommended that the Obama-era policy continue. It would appear that Sessions does not concur.