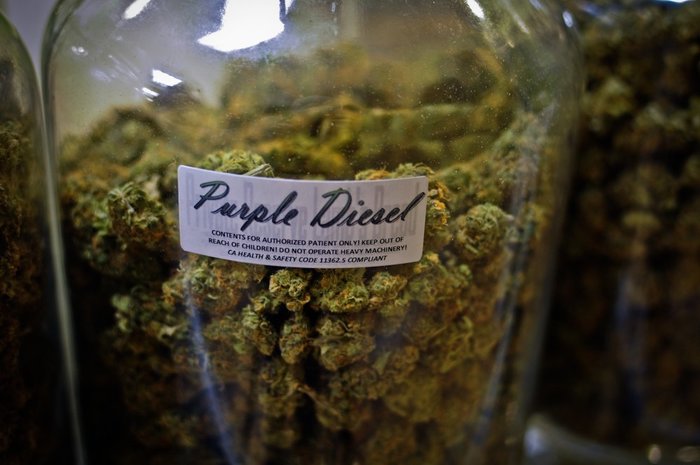 If you're planning a trip to California, odds are you're coming because there's just so much to see and do here. People come to California because they want to be entertained. We have an amazing culture, great food, and a ton of entertainment options. But one thing that sets us apart from other tourist destinations is our massive surplus of recreational dispensaries. However, most dispensaries aren't created equal, which is why we've compiled a list of the must-see dispensaries. The following California cannabis dispensaries stand apart from the rest of our rec stores for plenty of different reasons. They're by far the most interesting and the most involved dispensaries, not only in SoCal, but in California as a whole. Here are our top 5 favorite California dispensaries, and what they do to keep things fresh around here. Check it out:
Harborside makes it into the big 5 because of their mission and for their dedication to the cannabis community in California. Recognized nationally as a brand of quality and compassion, Harborside makes it easy to be a cardholder. Like many of the dispensaries on this list, they pride themselves on growing and sharing the finest quality cannabis products with their consumers. The New York Times says it best: "Harborside, a nonprofit medical marijuana dispensary with locations in Oakland and San Jose, California, is looked upon as a model of how others could operate." They're currently experiencing exponential growth in popularity as their customer base expands because of how much they care for their people.
Harborside was founded in 2006 by Steve DeAngelo and is the largest and most respected medical cannabis dispensary in not only California, but the United States, with over 200,000 registered consumers. They were the first to support cannabis education for seniors, veterans, and families with severely ill children. Harborside was the very first in the country to offer CBD-rich product and the first to treat children with Dravet Syndrome. Harborside is still setting an example for the industry of both diversity and compliance. The company also strives to be sustainable and bring economic justice to the industry as well as promote diversity.
2.

Kushmart
Kushmart, located in downtown Los Angeles, is a brand recognized across the country as well, due largely to the fact that they really push that customer service aside from their stellar social media presence. I don't think I've ever heard of anyone having a truly negative experience here. They really strive to give their consumers the best experience as possible. They carry an exceptionally large variety of edibles from all over the country, including Colorado. They also carry plenty of concentrates made from their own home strains, cartridges, all natural and holistic infused products (think topicals and patches), and plenty more
Consumers at this dispensary get plenty of deals and steals too, but non-members get the goods as well. Veterans can come in and pick up 6 grams of free weed every 90 days, and first timers can get a gram of any strain for $10, an edible, a pipe, or a grinder as well as a backpack with two cards for a free gift. They also offer a daily happy hour and visitor appreciation block, access to an ATM, and the option to speak Spanish with their bilingual employees. Be sure to check out their menu before you stop in, they update it regularly and include photos of the product on the shelf and pricing information. You won't be disappointed if you shop here.
Odds are that you've heard of Exhale Med Center because it's like the Disneyland of medical dispensaries. These guys were featured on Fox News, NBC, and Vulture for their exceptional consumer care. If you've been here before, you know that they have a wide selection of flower, concentrates, and edibles, which allows for consumers to keep coming back for more. They always do their best to take care of you and their budtenders are some of the most knowledgeable, patient people you will ever meet. They will be able to answer just about any question you have with a smile on their face.
Located in Los Angeles, Exhale Med Center is best known for its member deals. Qualified medical consumers and people who become members at this dispensary are treated to all sorts of services, such as therapeutic massage, acupuncture, and yoga. They also offer a lot of resources on alternative healing and guest speakers and peer counselors, so that you're taken care of more than just paying for your product and going home. Exhale Med Center really believes down to its core in the power of this plant and in helping people who need it most and the community they belong to.
HERB is another Los Angeles dispensary with a stellar reputation because they were founded on the belief that California medical cannabis consumers deserve something more than average service and quality that's standard in the industry. HERB likes to go above and beyond. They believe that it should always be quality over quantity, not the other way around, and also in constantly stepping up their game and improving their methods for everything, including growing, and community outreach. They offer responsibly grown and locally sourced cannabis at very fair prices considering what you're receiving. HERB also offers concentrates all natural and cost effective edibles, and anything else you could want, including topicals, tinctures, and more. HERB also has some of the best staff in the state of California. Their knowledge combined with their compassion and love for helping people allows them to put your experience and satisfaction above everything else.
HERB also runs a delivery service so you can get your weed delivered, and offer an extensive website detailing all of their products and services in one place. You can seriously look at each and every little thing they carry, from hash to vaporizers and everything in between. Beautiful photos, too, so be sure to check them out if you haven't already.
Ktown Collective is located in Los Angeles. It's a fully compliant medical marijuana collective that stocks tons and tons of neat stuff. This is one of the first dispensaries in California to allow for recreational sales as well as medical ones, and they show it off. They offer many different varieties of medicinal and recreational cannabis including many Indica, Sativa, and hybrid strains. They also offer hash, concentrates, wax, edibles, pipes, vaporizers, and plenty of equipment for dabbing or enjoying the smoke wherever you may be. The staff here are exceptionally noteworthy due to their friendliness and knowledge on all things weed. They really make you feel comfortable and help you through your choices, whether it's your first time buying weed ever, or you're in the mood to try something new.
The Koreatown Collective also offers highly competitive prices. Seriously, it feels like they're just giving this stuff away sometimes. If you want free samples, giveaways, games, and top shelf specials, the Ktown collective will be an absolute pleasure to visit.
So that's it! The very first addition to our list of must-see dispensaries in all of California. Have you been to any of these dispensaries?Was your experience a positive one? Be sure to let us know what you think! We love hearing your feedback.