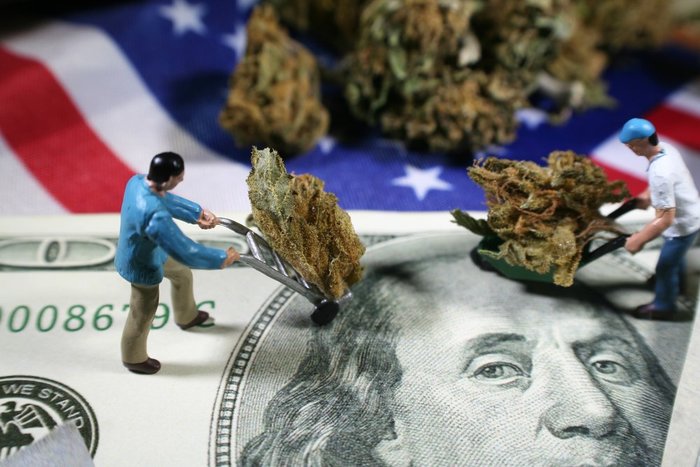 It's widely known that the US Government takes an absolutely insane stance against cannabis. It's currently a Schedule 1 narcotic, on par with heroin in the Feds book. A lot has changed for the better for cannabis users in the last decade, but one thing that remains strikingly ridiculous is the federal government's stance on weed.
It used to be even worse though. We recently found this hilarious list of cannabis 'street names' that used to be listed on whitehouse.gov
Yes, that is the official website of the office of the president. Unfortunately, the original article has been taken down, but we were able to find the old list – we'll post it below.
Many of these names are things we haven't even heard of. Many of them are pretty funny and ridiculous. Like "Assassin of Youth," which is apparently a street term for cannabis.
| | |
| --- | --- |
| STREET TERM | DEFINITION |
| 3750 | Marijuana and crack rolled in a joint |
| 420 | Marijuana use |
| A-bomb | Marijuana cigarette with heroin or opium |
| Acapulco gold | Marijuana from S.W. Mexico; marijuana |
| Acapulco red | Marijuana |
| Ace | Marijuana cigarette; PCP |
| Afgani indica | Marijuana |
| African | Marijuana |
| African black | Marijuana |
| African bush | Marijuana |
| African woodbine | Marijuana cigarette |
| Airhead | Marijuana user |
| Airplane | Marijuana |
| Alice B. Toklas | Marijuana brownie |
| Amp | Amphetamine; marijuana dipped in formaldehyde or embalming fluid, sometimes laced with PCP and smoked |
| Amp joint | Marijuana cigarette laced with some form of narcotic |
| Angola | Marijuana |
| Are you anywhere? | Do you use marijuana? |
| Ashes | Marijuana |
| Assassin of Youth | Marijuana |
| Astro turf | Marijuana |
| Atom bomb | Marijuana mixed with heroin |
| Atshitshi | Marijuana |
| Aunt Mary | Marijuana |
| B | Amount of marijuana to fill a matchbox |
| B-40 | Cigar laced with marijuana and dipped in malt liquor |
| Baby | Marijuana |
| Baby bhang | Marijuana |
| Bad seed | Marijuana; Heroin; peyote |
| Bag | Container for drugs; a package of drugs, usually marijuana or heroin; a person's favorite drug |
| Baker | Person who smokes marijuana |
| Bale | Marijuana |
| Bamba | Marijuana |
| Bambalacha | Marijuana |
| Bammies | A poor quality of marijuana |
| Bammy | Marijuana |
| Banano | Marijuana or tobacco cigarettes laced with cocaine |
| Bar | Marijuana |
| Bash | Marijuana |
| Basuco (Spanish) | Cocaine; Coca paste residue sprinkled on regular or marijuna cigarette |
| Bazooka | Cocaine; crack; crack and tobacco combined in a joint; coca paste and marijuana |
| BC bud | Marijuana from British Columbia; synonymous with any high-grade marijuana from Canada |
| Beedies | Cigarettes from India (resemble marijuana joints/vehicle for other drugs) |
| Belyando spruce | Marijuana |
| Bhang | Marijuana, Indian term |
| Bite one's lips | To smoke marijuana |
| Black | Marijuana; opium |
| Black bart | Marijuana |
| Black ganga | Marijuana resin |
| Black gold | High potency marijuana |
| Black gungi | Marijuana from India |
| Black gunion | Marijuana |
| Black mo/black moat | Highly potent marijuana |
| Black mote | Marijuana mixed with honey |
| Black rock | Crack Cocaine |
| Blanket | Marijuana cigarette |
| Blast | Cocaine; Smoke crack; Marijuana; smoke marijuana or crack |
| Blast a joint | To smoke marijuana |
| Blast a roach | To smoke marijuana |
| Blast a stick | To smoke marijuana |
| Blaxing | Smoking marijuana |
| Block | Marijuana |
| Blonde | Marijuana |
| Blow | Cocaine; to inhale cocaine; to smoke marijuana |
| Blow a stick | To smoke marijuana |
| Blow one's roof | To smoke marijuana |
| Blowing smoke | Marijuana |
| Blue de hue | Marijuana from Vietnam |
| Blue sage | Marijuana |
| Blue sky blond | High potency marijuna from Colombia |
| Blunt | Marijuana inside a cigar; cocaine and marijuana inside a cigar |
| Bo | Marijuana |
| Bo-bo | Marijuana |
| Bobo bush | Marijuana |
| Bogart a joint | Salivate on a marijuana cigarette; refuse to share |
| Bohd | Marijuana; PCP |
| Bomb | Crack; heroin; large marijuana cigarette; high potency heroin |
| Bomber | Marijuana cigarette |
| Bone | Marijuana; $50 piece of crack |
| Bong | Pipe used to smoke marijuana |
| Boo | Marijuana; methamphetamine |
| Boo boo bama | Marijuana |
| Boom | Marijuana |
| Boot the gong | To smoke marijuana |
| Brick | Crack Cocaine; cocaine; marijuana; 1 kilogram of marijuana |
| Broccoli | Marijuana |
| Brown | Marijuana; heroin |
| Bubble gum | Cocaine; crack cocaine; marijuana from Tennessee |
| Bud | Marijuana |
| Buda | Marijuana; a high-grade marijuana joint filled with crack |
| Buddha | Potent marijuana spiked with opium |
| Bullyon | Marijuana |
| Burn one | To smoke marijuana |
| Burnie | Marijuana |
| Bush | Marijuana; cocaine; PCP |
| Butter | Marijuana; crack |
| Butter flower | Marijuana |
| C.S. | Marijuana |
| Cam trip | High potency marijuana |
| Cambodian red/Cam red | Marijuana from Cambodia |
| Can | Marijuana; 1 ounce |
| Canade | Heroin/marijuana combination |
| Canadian black | Marijuana |
| Canamo | Marijuana |
| Canappa | Marijuana |
| Cancelled stick | Marijuana cigarette |
| Candy blunt | Blunts dipped in cough syrup |
| Cannabis tea | Marijuana |
| Carmabis | Marijuana |
| Cartucho (Spanish) | Package of marijuana cigarettes |
| Catnip | Marijuana cigarette |
| Caviar | Combination of cocaine and marijuana; Crack Cocaine |
| Cavite all star | Marijuana |
| Cest | Marijuana |
| Champagne | Combination of cocaine and marijuana |
| Charas | Marijuana from India |
| Charge | Marijuana |
| Chase | To smoke cocaine; to smoke marijuana |
| Cheeba | Marijuana |
| Cheeo | Marijuana |
| Chiba chiba | High potency marijuana from Colombia |
| Chicago black | Marijuana, term from Chicago |
| Chicago green | Marijuana |
| Chiefing | To smoke marijuana |
| Chillum | An object used to smoke opium, hashish, and marijuana |
| Chips | Tobacco or marijuana cigarettes laced with PCP |
| Chira | Marijuana |
| Chocolate | Marijuana; opium; amphetamine |
| Christmas tree | Marijuana; amphetamine; depressant |
| Chronic | Marijuana; marijuana mixed with crack |
| Chunky | Marijuana |
| Churus | Marijuana |
| Citrol | High potency marijuana, from Nepal |
| Clam bake | Sitting inside a car or other small, enclosed space and smoking marijuana |
| Clicker | Crack mixed with PCP; marijuana dipped in formaldehyde and smoked |
| Clickums | A marijuana cigarette laced with PCP. |
| Climb | Marijuana cigarette |
| Cochornis | Marijuana |
| Cocktail | Cigarette laced with cocaine or crack; partially smoked marijuana cigarette inserted in regular cigarette; to smoke cocaine in a cigarette |
| Cocoa puff | To smoke cocaine and marijuana |
| Coli | Marijuana |
| Coliflor tostao (Spanish) | Marijuana |
| Colombian | Marijuana |
| Colorado cocktail | Marijuana |
| Columbus black | Marijuana |
| Cosa (Spanish) | Marijuana |
| Crack back | Marijuana and crack |
| Crazy weed | Marijuana |
| Cripple | Marijuana cigarette |
| Crying weed | Marijuana |
| Cryppie | Marijuana |
| Cryptonie | Marijuana |
| Cubes | Marijuana tablets; crack cocaine |
| Culican | High potency marijuana from Mexico |
| Dagga | Marijuana |
| Dank | Marijuana; the practice of lacing cigarettes with formaldehyde |
| Dawamesk | Marijuana |
| Dew | Marijuana |
| Diablito (Spanish) | Combination of crack cocaine and marijuana in a joint |
| Diambista | Marijuana |
| Dimba | Marijuana from West Africa |
| Ding | Marijuana |
| Dinkie dow | Marijuana |
| Dirt grass | Inferior quality marijuana |
| Dirty joints | Combination of crack cocaine and marijuana |
| Ditch | Marijuana |
| Ditch weed | Inferior quality marijuana |
| Djamba | Marijuana |
| Do a joint | Marijuana |
| Domestic | Locally grown marijuana |
| Don jem | Marijuana |
| Don Juan | Marijuana |
| Dona Juana (Spanish) | Marijuana |
| Dona Juanita (Spanish) | Marijuana |
| Donk | Marijuana/PCP combination |
| Doob | Marijuana |
| Doobee | Marijuana |
| Doobie/dubbe/duby | Marijuana |
| Dope | Marijuana; heroin; any other drug |
| Dope smoke | To smoke marijuana |
| Doradilla | Marijuana |
| Draf | Marijuana; ecstasy, with cocaine |
| Draf weed | Marijuana |
| Drag weed | Marijuana |
| Dry high | Marijuana |
| Dube | Marijuana |
| Duby | Marijuana |
| Durong | Marijuana |
| Duros (Spanish) | Marijuana |
| Dust | Marijuana mixed with various chemicals; cocaine; heroin; PCP |
| Dust blunt | Marijuana/PCP combination |
| Dusting | Adding PCP, heroin, or another drug to marijuana |
| Earth | Marijuana cigarette |
| El diablito (Spanish) | Cocaine, marijuana, heroin and PCP |
| El diablo (Spanish) | Cocaine, marijuana and heroin |
| Elephant | Marijuana; PCP |
| Endo | Marijuana |
| Esra | Marijuana |
| Fallbrook redhair | Marijuana, term from Fallbrook, CA |
| Fatty | Marijuana cigarette |
| Feed bag | Container for marijuana |
| Feeling | Marijuana |
| Fiend | Someone who smokes marijuana alone |
| Fine stuff | Marijuana |
| Finger | Marijuana cigarette |
| Finger lid | Marijuana |
| Fir | Marijuana |
| Fire it up | To smoke marijuana |
| Flower | Marijuana |
| Flower tops | Marijuana |
| Fly Mexican airlines | To smoke marijuana |
| Fraho/frajo | Marijuana |
| Frios (Spanish) | Marijuana laced with PCP |
| Fry | Marijuana cigarettes dipped in embalming fluid, sometimes also laced with PCP; Crack Cocaine |
| Fry daddy | Crack and marijuana; cigarette laced with crack; marijuana joint laced with crack |
| Fry sticks | Marijuana cigarettes dipped in embalming fluid, sometimes also laced with PCP |
| Fu | Marijuana |
| Fuel | Marijuana mixed with insecticides; PCP |
| Fuma D'Angola (Portugese) | Marijuana |
| Gage/gauge | Marijuana |
| Gange | Marijuana |
| Gangster | Marijuana; person who uses or manufactures methamphetamine |
| Ganja | Marijuana; term from Jamaica |
| Ganoobies | State of being stoned and laughing uncontrollably |
| Garbage | Inferior quality marijuana; low quality heroin |
| Gash | Marijuana |
| Gasper | Marijuana cigarette |
| Gasper stick | Marijuana cigarette |
| Gauge butt | Marijuana |
| Geek | Crack mixed with marijuana |
| Geek-joints | Cigarettes or cigars filled with tobacco and crack; a marijuana cigarette laced with crack or powdered cocaine |
| Get a gage up | To smoke marijuana |
| Get high | To smoke marijuana |
| Get the wind | To smoke marijuana |
| Ghana | Marijuana |
| Giggle smoke | Marijuana |
| Giggle weed | Marijuana |
| Gimmie | Crack and marijuana; marijuana joint laced with crack |
| Go loco | To smoke marijuana |
| Goblet of jam | Marijuana |
| Gold | Marijuana; Crack Cocaine; heroin |
| Gold star | Marijuana |
| Golden | Marijuana |
| Golden leaf | Very high quality marijuana |
| Gong | Marijuana; opium |
| Gonj | Marijuana |
| Good butt | Marijuana cigarette |
| Good giggles | Marijuana |
| Good stuff | High potency drug, especially marijuana |
| Goody-goody | Marijuana |
| Goof butt | Marijuana cigarette |
| Grass | Marijuana |
| Grass brownies | Marijuana |
| Grasshopper | Marijuana |
| Grata | Marijuana |
| Green | Inferior quality marijuana; ketamine; PCP |
| Green buds | Marijuana |
| Green goddess | Marijuana |
| Greeter | Marijuana |
| Gremmies | Combination of cocaine and marijuana |
| Greta | Marijuana |
| Griefo | Marijuana |
| Griefs | Marijuana |
| Grifa (Spanish) | Marijuana |
| Griff | Marijuana |
| Griffa | Marijuana |
| Griffo | Marijuana |
| Gunga | Marijuana |
| Gungeon | Marijuana |
| Gungun | Marijuana |
| Gunja | Marijuana |
| Gyve | Marijuana cigarette |
| Haircut | Marijuana |
| Hanhich | Marijuana |
| Happy cigarette | Marijuana cigarette |
| Harsh | Marijuana |
| Has | Marijuana |
| Hawaiian | Very high potency marijuana |
| Hawaiian Black | Marijuana |
| Hawaiian homegrown hay | Marijuana |
| Hay | Marijuana |
| Hay butt | Marijuana cigarette |
| Herb | Marijuana |
| Herb and Al | Marijuana and alcohol |
| Herba | Marijuana |
| Hit | To smoke marijuana; marijuana cigarette; Crack Cocaine |
| Hit the hay | To smoke marijuana |
| Hocus | Marijuana; opium |
| Homegrown | Marijuana |
| Honey blunts | Marijuana cigars sealed with honey |
| Hooch | Marijuana |
| Hooter | Cocaine; marijuana |
| Hot stick | Marijuana cigarette |
| Hydro | Amphetamine; high quality methamphetamine; marijuana; methylenedioxymethamphetamine (MDMA); marijuana grown in water (hydroponic) |
| Illies | Marijuana dipped in PCP |
| Illing | Marijuana dipped in PCP |
| Illy | Marijuana cigarettes soaked in embalming fluid and dried |
| Indian boy | Marijuana |
| Indian hay | Marijuana from India |
| Indian hemp | Marijuana |
| Indica | Species of cannabis, found in hot climate, grows 3.5 to 4 feet |
| Indo | Marijuana term from Northern CA |
| Indonesian bud | Marijuana; opium |
| Instaga | Marijuana |
| Instagu | Marijuana |
| J | Marijuana cigarette |
| Jamaican gold | Marijuana |
| Jane | Marijuana |
| Jay | Marijuana cigarette |
| Jay smoke | Marijuana |
| Jefferson airplane | Used match cut in half to hold a partially smoked marijuana cigarette |
| Jim Jones | Marijuana laced with cocaine and PCP |
| Jive | Marijuana; heroin; drugs |
| Jive stick | Marijuana |
| Joint | Marijuana cigarette |
| Jolly green | Marijuana |
| Joy smoke | Marijuana |
| Joy stick | Marijuana cigarette |
| Ju-ju | Marijuana cigarette |
| Juan Valdez (Spanish) | Marijuana |
| Juanita (Spanish) | Marijuana |
| Juice joint | Marijuana cigarette sprinkled with crack |
| Juja | Marijuana |
| Jumbos | Large vials of crack sold on the streets; marijuana mixed with crack |
| Kabak | Marijuana; Turkish marijuana |
| Kaff | Very potent marijuana from Morocco, Lebanon and other Arab/Middle Eastern countries |
| Kalakit | Marijuana |
| Kali | Marijuana |
| Kansas Grass | Marijuana |
| Kate bush | Marijuana |
| Kaya | Marijuana |
| Kee | Marijuana |
| Kentucky blue | Marijuana |
| Key | Marijuana |
| KGB (killer green bud) | Marijuana |
| Khayf | Very potent marijuana from Morocco, Lebanon and other Arab/Middle Eastern countries |
| Ki | Marijuana |
| Kick stick | Marijuana cigarette |
| Kief | Very potent marijuana from Morocco, Lebanon and other Arab/Middle Eastern countries |
| Kiff | Marijuana cigarette; very potent marijuana from Morocco, Lebanon and other Arab/Middle Eastern countries |
| Killer | Marijuana; PCP |
| Killer green bud | Marijuana |
| Killer weed (1980's) | Marijuana and PCP |
| Kilter | Marijuana |
| Kind | Marijuana |
| King bud | Marijuana |
| Krippy | Marijuana |
| Kumba | Marijuana |
| L.L. | Marijuana |
| Lace | Cocaine and marijuana |
| Lakbay diva | Marijuana |
| Laughing grass | Marijuana |
| Laughing weed | Marijuana |
| Leaf | Cocaine; Marijuana |
| Leak | Marijuana/PCP combination |
| Leno (Spanish) | Marijuana |
| LG (Lime Green) | Marijuana |
| Lid | 1 ounce of marijuana |
| Light stuff | Marijuana |
| Lima | Marijuana |
| Liprimo | Marijuana and crack rolled in a joint |
| Little smoke | Marijuana; LSD; psilocybin/psilocin |
| Llesca | Marijuana |
| Loaf | Marijuana |
| Lobo | Marijuana |
| Loco (Spanish) | Marijuana |
| Loco Weed (Spanish) | Marijuana |
| Locoweed | Marijuana |
| Log | Marijuana cigarette; PCP |
| Love boat | Marijuana dipped in formaldehyde; PCP; blunts mixed with marijuana and heroin; blunts mixed with marijuana and PCP |
| Love leaf | Marijuana/PCP combination |
| Love weed | Marijuana |
| Lovelies | Marijuana laced with PCP |
| Lubage | Marijuana |
| M | Marijuana; morphine |
| M.J. | Marijuana |
| M.O. | Marijuana |
| M.U. | Marijuana |
| Macaroni | Marijuana |
| Macaroni and Cheese | $5 pack of marijuana and a dime bag of cocaine |
| Machinery | Marijuana |
| Macon | Marijuana |
| Maconha | Marijuana |
| Mafu (Spanish) | Marijuana |
| Magic smoke | Marijuana |
| Manhattan silver | Marijuana |
| Mari | Marijuana cigarette |
| Marimba (Spanish) | Marijuana |
| Mary | Marijuana |
| Mary and Johnny | Marijuana |
| Mary Ann | Marijuana |
| Mary Jane | Marijuana |
| Mary Jonas | Marijuana |
| Mary Warner | Marijuana |
| Mary Weaver | Marijuana |
| Matchbox | 1/4 ounce of marijuana or 6 marijuana cigarettes |
| Maui wauie | Marijuana from Hawaii |
| Maui-wowie | Marijuana; methamphetamine |
| Meg | Marijuana |
| Megg | Marijuana cigarette |
| Meggie | Marijuana |
| Messorole | Marijuana |
| Mexican brown | Marijuana; heroin |
| Mexican green | Marijuana |
| Mexican locoweed | Marijuana |
| Mexican red | Marijuana |
| Mighty mezz | Marijuana cigarette |
| Mo | Marijuana |
| Modams | Marijuana |
| Mohasky | Marijuana |
| Mohasty | Marijuana |
| Monte | Marijuana from South America |
| Mooca/moocah | Marijuana |
| Mooster | Marijuana |
| Moota/mutah | Marijuana |
| Mooters | Marijuana cigarette |
| Mootie | Marijuana |
| Mootos | Marijuana |
| Mor a grifa | Marijuana |
| Mota/moto (Spanish) | Marijuana |
| Mother | Marijuana |
| Mow the grass | To smoke marijuana |
| Mu | Marijuana |
| Muggie | Marijuana |
| Muggle | Marijuana |
| Muggles | Marijuana |
| Muta | Marijuana |
| Mutha | Marijuana |
| Nail | Marijuana cigarette |
| Nigra | Marijuana |
| Northern lights | Marijuana from Canada |
| Number | Marijuana cigarette |
| O.J. | Marijuana |
| Oolies | Marijuana cigarettes laced with crack |
| Ozone | Marijuana, PCP and crack cigarette; marijuana cigarette; PCP |
| P-dogs | Combination of cocaine and marijuana |
| P.R. | Panama Red |
| Pack | Marijuana; heroin |
| Pack a bowl | Marijuana |
| Pack of rocks | Marijuana cigarette |
| Pakaloco | Marijuana ("crazy tobacco") |
| Pakalolo | Marijuana |
| Pakistani black | Marijuana |
| Panama cut | Marijuana |
| Panama gold | Marijuana |
| Panama red | Marijuana |
| Panatella | Large marijuana cigarette |
| Paper blunts | Marijuana within a paper casing rather than a tobacco leaf casing |
| Parsley | Marijuana; PCP |
| Pasto (Spanish) | Marijuana |
| Pat | Marijuana |
| Pin | Marijuana |
| Pipe | Crack pipe; marijuana pipe; vein into which a drug is injected; mix drugs with other substances |
| Pocket rocket | Marijuana; marijuana cigarette |
| Pod | Marijuana |
| Poke | Marijuana; to smoke marijuana |
| Pot | Marijuana |
| Potlikker | Marijuana |
| Potten bush | Marijuana |
| Prescription | Marijuana cigarette |
| Pretendica | Marijuana |
| Pretendo | Marijuana |
| Primo | Crack; marijuana mixed with cocaine; crack and heroin; heroin, cocaine and tobacco |
| Primo square | A marijuana joint laced with crack |
| Puff the dragon | To smoke marijuana |
| Queen Ann's lace | Marijuana |
| Ragweed | Inferior quality marijuana; heroin |
| Railroad weed | Marijuana |
| Rainy day woman | Marijuana |
| Rangood | Marijuana grown wild |
| Rasta weed | Marijuana |
| Red bud | Marijuana |
| Red cross | Marijuana |
| Red dirt | Marijuana |
| Reefer | Marijuana |
| Reefers | Marijuana cigarette |
| Righteous bush | Marijuana |
| Rip | Marijuana |
| Roach | Butt of marijuana cigarette |
| Roach clip | Holds partially smoked marijuana cigarette |
| Roacha | Marijuana |
| Roasting | Smoking marijuana |
| Rockets | Marijuana cigarette |
| Rompums | Marijuana with horse tranquilizers |
| Root | Marijuana |
| Rope | Marijuana; rohypnol |
| Rose marie | Marijuana |
| Rough stuff | Marijuana |
| Rubia (Spanish) | Marijuana |
| Ruderalis | Species of cannabis, found in Russia, grows 1 to 2.5 feet |
| Rugs | Marijuana |
| Salt and pepper | Marijuana |
| Sandwich bag | $40 bag of marijuana |
| Santa Marta (Spanish) | Marijuana |
| Sasfras | Marijuana |
| Sativa | Species of cannabis, found in cool, damp climate, grows up to 18 feet |
| Scissors | Marijuana |
| Seeds | Marijuana |
| Sen | Marijuana |
| Sess | Marijuana |
| Sezz | Marijuana |
| Shake | Marijuana |
| Sherman stick | Crack cocaine combined with marijuana in a blunt |
| Shotgun | Inhaling marijuana smoke forced into one's mouth by another's exhaling |
| Siddi | Marijuana |
| Sinse (Spanish) | Marijuana |
| Sinsemilla | Potent variety marijuana |
| Skunk | Marijuana; heroin |
| Smoke | Marijuana; Crack Cocaine; heroin and crack |
| Smoke a bowl | Marijuana |
| Smoke Canada | Marijuana |
| Snop | Marijuana |
| Spark it up | To smoke marijuana |
| Speedboat | Marijuana, PCP, and crack combined and smoked |
| Spliff | Large marijuana cigarette |
| Splim | Marijuana |
| Splitting | Rolling marijuana and cocaine into a single joint |
| Square mackerel | Marijuana, term from Florida |
| Squirrel | Combination of PCP and marijuana, sprinkled with cocaine and smoked; marijuana, PCP, and crack combined and smoked; LSD |
| Stack | Marijuana |
| Stems | Marijuana |
| Stick | Marijuana; PCP |
| Stink weed | Marijuana |
| Stoney weed | Marijuana |
| Straw | Marijuana cigarette |
| Sugar weed | Marijuana |
| Super grass | PCP; marijuana with PCP; marijuana |
| Super pot | Marijuana |
| Swag | Marijuana |
| Sweet Lucy | Marijuana |
| Swishers | Cigars in which tobacco is replaced with marijuana |
| T | Cocaine; Marijuana |
| Taima | Marijuana |
| Takkouri | Marijuana |
| Tea | Marijuana; PCP |
| Tea Party | To smoke marijuana |
| Tex-mex | Marijuana |
| Texas pot | Marijuana |
| Texas tea | Marijuana |
| Thai sticks | Bundles of marijuana soaked in hashish oil; marijuana buds bound on short sections of bamboo |
| Thirteen | Marijuana |
| Thirty-eight | Crack sprinkled on marijuana |
| Thumb | Marijuana |
| Tin | Container for marijuana |
| Toke | To inhale cocaine; to smoke marijuana; marijuana |
| Toke up | To smoke marijuana |
| Torch | Marijuana |
| Torch up | To smoke marijuana |
| Torpedo | Marijuana and crack |
| Tray | $3 bag of marijuana |
| Triple A | Marijuana from British Columbia |
| Trupence bag | Marijuana |
| Turbo | Marijuana and crack |
| Tustin | Marijuana |
| Twist | Marijuana cigarette |
| Twistum | Marijuana cigarette |
| Unotque | Marijuana |
| Up against the stem | Addicted to smoking marijuana |
| Vega | A cigar wrapping refilled with marijuana |
| Viper | Marijuana smoker |
| Viper's weed | Marijuana |
| Wac | PCP on marijuana |
| Wacky weed | Marijuana |
| Wake and Bake | Marijuana |
| Water | Blunts; methamphetamine; PCP; a mixture of marijuana and other substances within a cigar; Gamma hydroxybutyrate (GHB) |
| Water-water | Marijuana cigarettes dipped in embalming fluid, sometimes also laced with PCP |
| Weed | Marijuana; PCP |
| Weed tea | Marijuana |
| Wet | Blunts mixed with marijuana and PCP; methamphetamine; marijuana cigarettes soaked in PCP ("embalming fluid") and dried |
| Whack | Crack Cocaine; heroin and PCP; Crack/PCP mixture or marijuana laced with insecticides |
| Whackatabacky | Marijuana |
| Wheat | Marijuana |
| White-haired lady | Marijuana |
| Wicky stick | PCP, marijuana, and crack |
| Wollie | Rocks of crack rolled into a marijuana cigarette or in a cigar |
| Woolah | Hollowed out cigar refilled with marijuana and crack |
| Woolas | Cigarettes laced with cocaine; crack sprinkled on marijuana cigarette |
| Woolies | Marijuana and crack or PCP |
| Wooly blunts | Marijuana and crack or PCP |
| Wooties | Crack smoked in marijuana joints |
| X | Marijuana; amphetamine; methylenedioxymethamphetamine (MDMA) |
| Yeh | Marijuana |
| Yellow submarine | Marijuana |
| Yen pop | Marijuana |
| Yeola | Marijuana and crack |
| Yerba (Spanish) | Marijuana |
| Yerba mala (Spanish) | PCP and marijuana |
| Yerhia | Marijuana |
| Yesca | Marijuana |
| Yesco | Marijuana |
| Zacatecas purple | Marijuana from Mexico |
| Zambi | Marijuana |
| Zay | A mixture of marijuana and other substances within a cigar; blunts |
| Zig Zag man | Marijuana; LSD; marijuana rolling papers |
| Zol | Marijuana cigarette |
| Zooie | Holds butt of marijuana cigarette |
| Zoom | Marijuana laced with PCP; PCP |