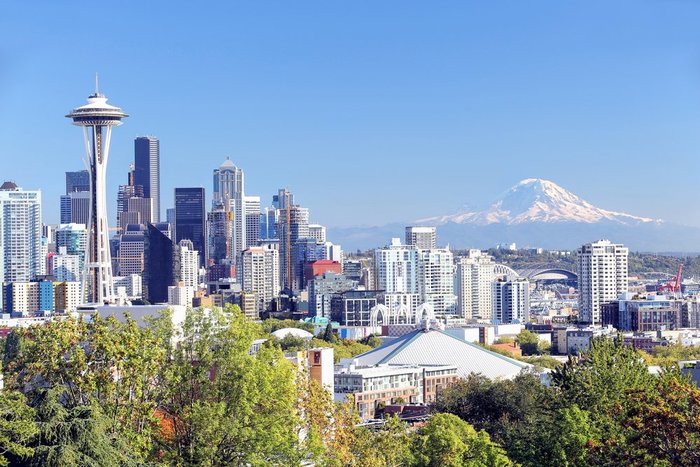 Festivals are centuries-old traditions, celebrating everything from religion, heritage, and freedom, to nature and abundance. Some festivals celebrate life and others are to reconcile with the dead (think Dia de Los Muertos). There are music, art, film, and beer festivals — and a little bit of everything in between.
Every so often a festival takes on a challenge, a cause. When that's the underlying purpose, the event can be both memorable and powerful. The 27th Annual Seattle HEMPFEST is one such gathering. Peacefully inspiring change for nearly three decades, this event is the most sophisticated and socially responsible cannabis rally in history, and perhaps the largest annual, free speech event in the nation.
Make sure to block off August 17-19, 2018 and add the Hempfest to your list of Seattle events to attend this summer.

Hours: Noon-8 p.m. Friday, Aug. 17; 

10 a.m.-8 p.m. Saturday, Aug. 18;

10 a.m.-8 p.m. Sunday, Aug. 19
What is Hempfest in Seattle? 
Unlike most festival gatherings, the Seattle Hempfest has a purpose that runs deeper than celebrating culture, religion, or tradition. Hempfest offers a platform for people to speak out about prohibitionist control of marijuana policies.
From the very beginning, event founders were laser-focused on rallying for change in both state and national cannabis law. The festival is a veritable timeline of policy reform and marijuana legalization in the United States.
According to a statement on the event's website, "Seattle's HEMPFEST event paved the way and tilled the soil for Washington State citizens to legalize cannabis before any other state."
Twenty-seven years in, what began as a grass-roots movement is now the single most attended cannabis reform event in the world.
Hempfest History
Nearly three decades ago, a group of friends, activists, and visionaries had an idea. They called themselves the Seattle Peace Heathens Community Action Group, and they wanted to prove that pot-lovers were also peace-lovers, as well as politically sophisticated. So, they got a permit for a small area at Volunteer Park and put up posters inviting people to attend the first ever Hempfest.
The 1991 Washington Hemp Expo (as it was called that first year) offered speakers and live music. Organizers invited attendees to "Learn the truth about the most misunderstood plant on Earth."
500 people attended, and they knew they were on to something.
The following year, 2,000 people attended. In 1993, Hempfest attracted 5,000 stoners, marijuana activists, and festival-goers. Within three years, they had outgrown Volunteer Park.
Before moving to their now "permanent" location at Myrtle Edwards Park, the fest graced the grounds of Gasworks Park. The irony wasn't lost on the organizers. As the Hempfest website explains, "Gasworks is a former petroleum production site with huge towers and stacks still standing ? ironic for an event promoting alternative sources of energy."
Hempfest founder and executive director, Vivian McPeak, explained the Seattle Hempfest idea was conceived at a six-month peace vigil occupation of Gasworks Park in 1990 (a protest against the invasion of Kuwait), which the Peace Heathens were a part of.
Year after year, the event grew in popularity and notoriety.
With roots now deeply embedded in the social and cultural life of the surrounding community organizers wondered if the festival was affecting more than policy reform. So, in 2014, they commissioned an economic impact study for King County.
Some key findings:
During the festival, approximately $7.1 million was spent by patrons in King County
In 2014, the Seattle Hempfest helped create an estimated 234 new jobs, which translated to over $8 million in labor income
The event generated $1.2 million in state and local tax revenues
That's not too shabby as far as Seattle events go (learn more on the Hempfest website).
Known worldwide as the largest and most politically focused cannabis event in history, Seattle's Hempfest is the undisputed "King of Protestivals."
This year, Seattle HEMPFEST expects over 100,000 attendees.
How to Prepare for Seattle Hempfest 2018
Are you ready?
For those planning a road trip to the beautiful Seattle area, it's a good idea to check out the Hempfest website ahead of time. Recently added to the site is a list of accommodations in the area. The site also includes a list of nearby campgrounds.
Here are some "insider" tips on how to fully enjoy the cannabis event:
Consider alternate transportation. Hempfest organizers recommend biking to the park. Roadways quickly become congested with vehicles, and parking is very limited near the venue. If you absolutely must drive, the website offers detailed instructions on the best routes.
Know your cannabis laws. Seattle Hempfest is a law-abiding gathering that relies on the good judgment of attendees. Although laws are changing for the better, it's still illegal to smoke weed in a public setting. Familiarize yourself with Washington weed laws, especially if you're coming from out-of-state.
If you plan to partake, the safest and best way to enjoy the festivities is to purchase your bud ahead of time. Some of the best dispensaries are located in the heart of Seattle. Let them know why you're there. Some may offer discounts to Hempfest patrons.
Follow the other rules. These are for the safety of you and your fellow hempfesters.
No pets*

No selling cannabis or cannabis-infused products

No alcohol

No weapons

No street vending

Only unopened plastic water bottles are allowed; no glass
Over the past 26 years, Hempfest has maintained positive relationships with local law enforcement and city officials. Respect the legacy and do your part to make sure they are welcome back for another 26 years (or more).
*Hempfest organizers and volunteers pride themselves on being a socially responsible event. They take the well-being of our furry friends very seriously. Do not leave your pet in the car. It is a violation of Washington state law. Please, leave pets at home.
Support the cause. As with most Seattle events, Hempfest costs a lot to put together each year. For the last 26 years, they've relied on sponsors, private donations, and the generosity of people like you. People who believe in its message and want to see the festival continue growing.
Since its inception, the Hempfest has never charged an entrance fee. One big reason: charging admission would classify the event in a different category which adds a long checklist of new restrictions.
The suggested donation is only $10.
Educate yourself. The Hempfest is not a "pot party." The impact on cannabis reform is far-reaching. It's not considered the most sophisticated, socially responsible, and "largest annual cannabis policy reform event in the world" for nothing. Make it a priority to visit the huge Hemposium circus tent where panel discussions take place all three days of the event.
The stages at Hempfest have hosted a colorful variety of speakers over the years.
Have a blast! Hempfest spins peaceful protest, music, political activism and a love for hemp into something that draws thousands over the three-day event.
Part of the fun is visiting with the more than 400 vendors who support the festival every year. Hempfest couldn't afford to continue without these vendors who pay to be a part of the event. That's why it's important for festival-goers to patronize and purchase from contributing vendors rather than street merchants.
Hempfest vendors play a significant role in creating the peaceful and welcoming vibe the fest is known for. Visiting booths is more than shopping. It's a chance to deepen your sense of community with other cannabis consumers and advocates.
"My favorite part of the event is getting to walk around and talk with people from all over the world," shared Nate Foss, Digital Marketing Manager for Leafbuyer Technologies, Inc. "We had a family stop by our booth last year, and they were so excited because they were from Brazil, where cannabis is not legal."
There's such large a variety of unique arts and crafts and hemp products that the venue stretches for a mile-and-a-half along the waterfront. And because organizers are constantly looking for new ways to add value to your experience, they've arranged for locker rentals this year. 
These are no ordinary lockers. Whether you rent for one day or all three, your locker rental includes phone-charging valet service. You read that right! By renting a locker you're guaranteed to have a charged phone throughout the entire festival. (And you don't have to lug your gear, backpack, and purchases around with you.) The Hempfest locker rental page has all the details on reserving lockers and unlimited phone charging.
Also new this year is the cutting-edge, community friendly technology from HeartBeat Silent Disco. Experience musical performances on a new level. Rather than using traditional modes of amplification, they use high-powered transmitters to broadcast to an interconnected network of wireless headphones. Their state of the art 3-channel headphones allows for a broadcast range of 1500 meters in every direction. Individual volume control on each set allows for each user to personalize their sound experience.
Speaking of listening to music, it's time to unveil some of the kick-ass musicians taking the stage at Seattle Hempfest 2018:
Norway's Rocky Kramer from Allied Artists

A smokin' list of hip-hop artists from the FUBU tour, including Tall Paul, Danny Boy, Dane Dilla, and Keith Murray

The British blues-rock act, Climax Blues Band
To stay up-to-date on new additions to the 3-day lineup follow Hempfest on Twitter @seattlehempfest
Become a Part of Hempfest History
What's the absolute, best way to enjoy the festival, meet new people, and make a difference? Volunteer.
Since its inception, Seattle Hempfest has relied on the blood, (from minor cuts and abrasions, of course) sweat, and tears (of joy) from volunteers.
No staff is paid to work the at Hempfest.
"Not general staff, crew coordinators, or directors," says McPeak. "We've been busting our butts for 27 years to end the drug war, and we can't put on such a huge show without the help of over 1,000 general staff volunteers."
There are 118 volunteer-powered crews that make Seattle Hempfest a success year after year. Visit the Volunteer Page to find out how you can help keep the spirit of Hempfest alive and growing.
So, whatever happened to the Peace Heathens?
"I am the only person left from the founding of Hempfest who still is involved in the annual planning and operation of our event," says McPeak. "I can only think of 3 others from the original 20 Peace Heathens who still participate on the staff of Hempfest during the event, so that makes 4 of us total."
The original band of brothers and sisters may have gone their separate ways, but their message is still strong and clear.
You can hear that message, along with listeners from five different continents, on McPeak's weekly global Potcast.
See you at Seattle Hempfest 2018!