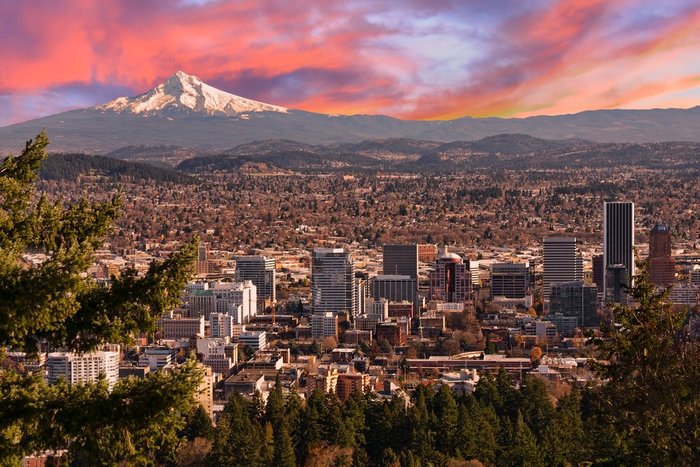 When people think of Portland, their minds tend to go straight to the city's reputation for quirkiness. Cultural oddities like "keep it weird," Portlandia, and suspender-wearing, coffee-sipping hipsters made this Pacific Northwest city a haven for existing beyond the norm.
What many people fail to think about, however, is the beauty that Portland holds.
It's a gorgeous place, a scenic oasis surrounded by miles of natural perfection. Portland still has plenty of strange qualities and, somehow, they seem to melt away into panoramic experiences. Tranquility meets greenery, mixing waterfalls and mountains and parks. Another excellent addition? Some weed.
That's right. Adding cannabis into the scenic sensations Portland offers can really enhance the overall sightseeing experience. A hike is no longer just a hike after smoking a refreshing bowl. A garden can be transformed into an even more mind-altering experience after first eating an edible.
Here are four beautiful locations in Portland made better by cannabis.
Portland Japanese Garden
When Portland became a sister city to Japan in 1958, it didn't take long for the two cultures to meld and mix. Soon the Portland Japanese Garden was born, built into a forested hillside in the city's Washington Park. The garden is considered one of the best public Japanese gardens in North America, thanks to its authenticity and beauty — more than 12 acres of land are covered with eight separate gardens and a cultural village.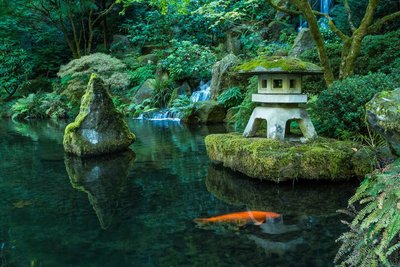 Take a walk through the Strolling Pond Garden — the largest area — after taking a hit from a relaxing strain. An already tranquil space, filled with koi fish and Heavenly Falls and historic artifacts, this section will take the mind on a transformative journey before reaching a state of true euphoria.
Go through the Natural Garden to experience many land features, like streams, ponds, and waterfalls, and listen to the sounds of running water with an elevated mind. The body's spirit is sure to follow, connecting to the earth's natural state through one of mother nature's favorite herbs.
The purpose of visiting the Portland Japanese Garden is rooted in discovering a sense of harmony, peace, and tranquility. Adding cannabis into the equation will deepen the experience, resulting in a beautiful recognition of peace.
Laurelhurst Park
Laurelhurst Park's accolades speak for themselves: This park, located in the self-titled Laurelhurst neighborhood in Portland, has been dubbed "the most beautiful park on the West Coast" by the Pacific Coast Parks Association, and became the first park to make an appearance on the National Register of Historic Places.
It sounds like a pretty good place to be high.
The park is considered a beautiful escape with plenty to do during a day off. Cannabis enthusiasts can enjoy duck watching, hiking, and annual events that bring the community together. Park attractions include sports features (including tennis, basketball, and volleyball courts, a soccer field, and a horseshoe pit), off-leash dog areas, a historical site, trails, picnic tables, public art, and a stage.
Laurelhurst is ideal for times of marijuana-influenced reflection and social experiences since there are many opportunities to either stray off the main path or get involved in the local fun, while still being within a beautiful spot in the city.
Multnomah Falls
A breathtakingly beautiful spot in Portland is Multnomah Falls, a two-tiered waterfall located just outside Portland, in the Columbia River Gorge. Oh, it sure is gorge-ous.
Multnomah Falls flows from the underground springs from Larch Mountain over basalt cliffs, towering 620 feet — the tallest in Oregon. A switchback trail leads visitors to the top, before descending to an observation deck that peers into the depths of the falls.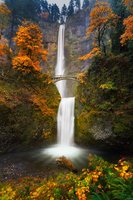 For this memorable site, an energy-producing strain of cannabis is recommended for hiking. Users should feel ready to get up and go, to hit the trails and experience all that Portland's natural beauty has to offer, sans any lethargic feelings. Both Multnomah's upper and lower falls require a surge of motivation to conquer, so do so with the perfect marijuana complement. Enjoy the crashing waters heightened by the natural aid of weed.
Forest Park
Welcome to the jungle. Or, really, welcome to the urban forest. Forest Park is Portland's natural escape, located just west of downtown. The park extends more than eight miles, traveling on hillsides and over the Willamette river.
Cannabis can heighten a wander's journey through the park, blowing his or her mind with the beauty of more than 5,000 acres worth of trails traversing the forest. As the seasons change, the already vibrant colors will pop even more with a dose of marijuana; changing fall colors will burn crisply, spring flowers will bloom in intense pastels, and summer green will shine with pure saturation.
Forest Park is the 19th-largest park in the United States, which gives admirers time to explore and reflect, and try to spot the 62 mammal and 112 bird species that call the area home.
For all Portland adventures into scenic spots, look to Leafbuyer for local dispensaries and deals offering complimentary strains.