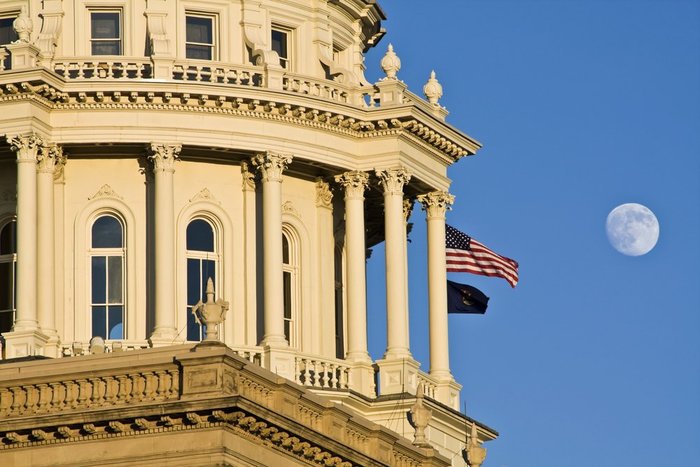 LANSING, Mich. – The Coalition to Regulate Marijuana like Alcohol petition was approved by the Michigan Board of State Canvassers on Thursday, according to CBS News Detroit. The vote was unanimous (4 to 0), with the panel noting that the petition had collected the needed number of signatures to qualify; it collected 277,370 valid signatures, while only 252,523 signatures were needed.
The measure would legalize recreational marijuana in Michigan by allowing those 21 and older to possess up to 2.5 ounces of marijuana (How many grams in an ounce?), although it would not override businesses' own employee drug policies, and smoking marijuana would still be prohibited in public. Residents would also be allowed to grow up to 12 marijuana plants. The measure also allows for local governments to determine whether or not to allow marijuana businesses locally.
The approval means that the measure will be placed on the November ballot and voters will get to decide if marijuana will become legal in the state. A survey last March showed that 61 percent of residents supported legalizing marijuana, with only 35 percent saying that they did not. Another poll had the number of marijuana supporters at 72 percent.
The high approval rating from voters prompted some Republican legislators to consider approving the measure before it even reaches the ballot. Republicans are discussing approving the measure as a means to control future amendments to the legislation.
Voter-approved legislation requires a two-thirds vote for an amendment, whereas legislators would have the power to amend laws with just a majority vote, which the Republicans have currently.
A spokeswoman for Senate Majority Leader Arlan Meekhof (R-West Olive) said that no decision has been made regarding approving the measure before November. The lawmakers have 40 days to consider any bills related to the measure. Republican House Speaker Tom Leonard said that approving legislation sooner doesn't have any support and that he thinks marijuana legalization will be decided by voters this November.
Senate Democrats see any move from Republicans approving the legislation before November as a way to steal the voters' will and deny them a chance to vote their views. Minority Leader Jim Ananich (D-Flint) called it outright voter suppression.
State Could Earn Millions or Billions Annually
Legalizing marijuana in the state could bring millions of dollars to the state. Experts estimate that recreational marijuana sales in Michigan could bring $1 billion in annual sales revenue. The measure proposes a 10 percent sales tax on marijuana that would be in addition to a 6 percent state sales tax.
Michigan voters approved the Michigan Medical Marihuana Act in 2008. The state's medical marijuana program is regulated by the Bureau of Medical Marihuana Regulation. If the measure passes, marijuana will be regulated in the same manner as the state's medical marijuana program but regulated by the Department of Licensing and Regulatory Affairs.
The Department has already sent more than 200 cease-and-desist letters to any medical marijuana dispensaries that didn't have proper licenses. The letters instructed the shops to close, and the letter show opposers to legalization that the agency is capable of enacting strict regulations which could be transferred over to recreational marijuana.
The medical marijuana program has more than 1 million cardholders and more than 40,000 caregivers registered. Medical marijuana revenue is estimated to earn $700 million this year in the state, and if recreational marijuana is legalized, the state could potentially earn billions of dollars overall.
The petition's spokesman, John Truscott, said that prohibition doesn't work and that voters will now be able to get rid of outdated laws this November. He added that taxing and regulating marijuana works.
Michigan will be the first midwestern state to legalize adult-use marijuana if the measure passes.