Marijuana K-Cups? Yes, Please!
If you like to wake and bake, you'll love marijuana K-cups. Cannabis-infused drinks are all the rage these days, and several companies are now making single-serve coffee pods infused with cannabis. You can now get your morning coffee and cannabis all at once, and they are compatible with the Keurig single-serve coffee maker. Even though the pods aren't licensed by Keurig, people are still calling them Marijuana K-Cups, and they are loving them.
A company called BrewBudz has made 100-percent compostable marijuana K-cups. Composting is good for the environment because it turns organic properties into a natural fertilizer for the earth's soil. It also has a ripple effect, because the soil then can protect watersheds, which minimizes the impact on the climate.
BrewBudz and scientists created the compostable marijuana K-cups by using organic mesh and organically roasted bean skins as packaging. They used the bean skins to make a ring that holds the pod together. The pods leave no toxins and break down in about 5 weeks.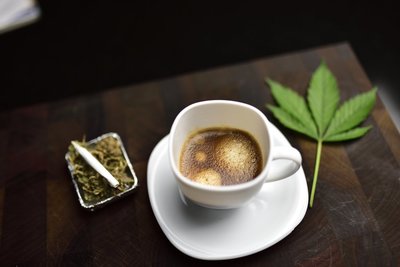 Each marijuana K-cup will set you back about $7, and they come in three different dosages: 1o mg, 25 mg, and 50 mg of THC (tetrahydrocannabinol). You also have your choice of sativa or indica, and new users should start at the lowest dose to avoid unwanted side effects. They have one flavor currently, West Coast Dark Roast, and they will soon have Hazelnut and French Vanilla. The marijuana K-cups are made with 100 percent Arabica coffee beans, and you can also get marijuana cups infused with tea or hot cocoa! Care for a Mary Jane Decadent Dark Chocolate Hot Cocoa with marshmallows, anyone?
They offer marijuana-infused Black Tea in regular and decaffeinated, and will soon offer Chamomile and Green Tea. You can have a nice cup of marijuana tea anywhere you please, and nobody will even know. Here is a list of other places that offer marijuana K-cups:
Ganja Grindz Coffee Company
Ganja Grindz Coffee Company is currently available in California, Oregon, and Arizona. They have marijuana K-cups (they call them brew cups) and marijuana-infused coffee filters. They are compatible with the Keurig 2.0 and they only use 100-percent non-GMO, shade-grown, sundried, locally roasted coffee beans for all of their coffee products. Arizona medical marijuana cardholders can try their new agave syrup, Ganja Grindz Remedy!
The product is infused with 420 mg of THC and 42 mg CBD crystals. It completely dissolves when added to any beverage and comes in a bottle with a child-proof dropper. Get yours in Agave, Tangerine, or Watermelon flavors. Also available from Ganja Grindz are cannabis-infused cold-brewed bottled coffee containing 75 mg of THC, 100-percent-natural Spiced Apple Cider, and Chai Tea Latte Brew Cups. High Times awarded them First Place at the High Times Cannabis Cup.
Therapy Tonics & Provisions
Therapy Tonics & Provisions have marijuana K-cups, cannabis coffee, and an assortment of cannabis-infused drinks available. They include Mexican Mocha Cannabis Milk, Semi-Sweet Cannabis Espresso, Chamomile Mint Cannabis Luna Tea, Vanilla Caramel Cannabis Coffee, Indian Spiced Chai Latte, and Coconut Matcha Cannabis Vegan Tea.
The Semi-Sweet Cannabis Espresso has 120 mg of THC, and the Chamomile Mint Cannabis Luna Tea has 25 mg of THC. All the other cannabis drinks have 80 mg of sativa THC. Find out where to buy yours here.
Pot-O-Coffee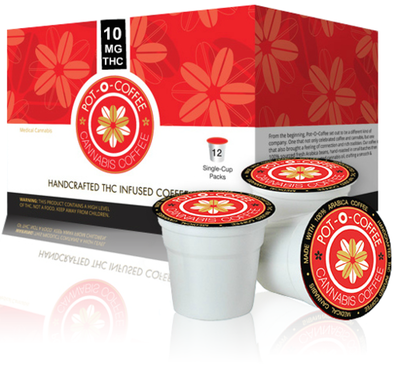 Pot-O-Coffee offers cannabis infused with a CBD and THC blend with coffee, cocoa, and green tea. You have the option for 10 mg, 50 mg, or 100 mg doses. So far, the marijuana K-cups are available in California, but will soon be available in Colorado, Oregon, Nevada, and Washington.
House of Jane
The House of Jane are the makers of Jane's Brew Coffees, which is cannabis infused high-grade gourmet coffee. The House of Jane makes their products with a high-quality CO2 cannabis oil that leaves no aftertaste. Their marijuana K-cups are called C-cups, and they are offered in indica, hybrid, or sativa. They have a 14:1 CBD to THC ratio and come in 20 mg, 80 mg and 200 mg pods that last from 3-5 hours. They also have creamers, sweeteners, tea, hot chocolate, and instant mixes. All their products are lab tested and quality assured.
Uncle Ike's Pot Shop
If you live in Seattle, you can try cannabis coffee at Uncle Ike's Pot Shop. Uncle Ike's has $10 single-serving coffee pods infused with 10 mg of THC, and they sell like hotcakes. They also serve cannabis-infused Apple Cider, Cranberry Soda, Cherry Soda, Lemonade, Mango, Strawberry Lemonade, Pomegranate Blueberry Acai, Root Beer, and Lemon Ginger Soda. They range from $6 to $40, depending on whether you want 20 mg, 40 mg or 80 mg of THC, and a 6- or 12-ounce drink. All of their cannabis-infused drinks are labeled with the CBD to THC ratio so that you can measure the psychoactive effects. They are handicap accessible, and you can bring in your leashed dog.